Thank you, Ricky Ponting – one last time
1.17K //
03 Dec 2012, 18:56 IST
Australian cricket over the years has always had a few surreal semblances: Mark Taylor, Steve Waugh and Ricky Ponting, all former captains were dropped from their One-Day teams, which led to their eventual retirements from the shorter format. Further, the highest number of consecutive Test wins under both Ponting and Steve Waugh was 16; Mark Taylor and Don Bradman have both achieved the highest Test score by an Australian – 334. Today, Ricky Ponting, just like Sir Don Bradman, did not get a fairytale ending to his stellar career.
Over the last few days – ever since he made the announcement of his retirement – I  have read numerous accolades on the great Ricky Ponting; some have been overwhelming, some peachy, some filled with veneration while some still reeked of tartness. Tributes and appreciation poured in from cricket fans all over the world, irrespective of whether or not they have been fond of or braced Ponting over the years.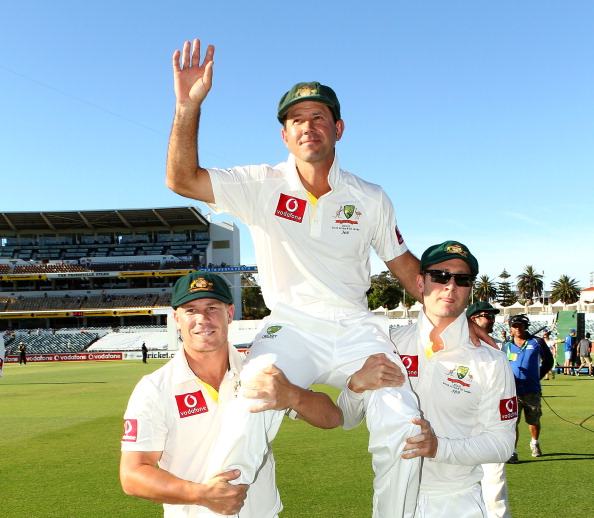 Ricky Ponting has been a true ambassador of the 'Australian spirit'. His never-say-die attitude has seen the Australians sometimes achieve what was perceived to be impossible. Ever since John Buchanan introduced it, and Steve Waugh pushed the concept of 'anything is possible' in the camp, the team has carried it forward. Ponting himself has been quite pivotal in keeping the spirit alive during his reign. Tenacious and uncompromising, he went about his business of leading the team with astute skills. He was one of the most straightforward and blunt captains who possessed the bravado to call a spade a spade; be it addressing the alcohol issues he had earlier in his career, his inadequacies, or his failures. He acknowledged, addressed and moved on.
His achievements as captain and as a cricketer are phenomenal – right up there with any other great, if not better. The 27,483 runs that he has stocked across Tests and ODIs, wouldn't have meant as much to him as the victories did. His performances, when it mattered most, are an echo of his ability to rise to the occasion, like in the final of the 2003 World Cup or even the 156 at Old Trafford to draw the third Ashes Test in 2005. The extent of his contributions to the team stretch beyond the scores he has recorded; his role as a skipper and a sensational fielder have ensured him being involved at every stage in the game. The average of 51.85 that he has finished with doesn't mean much to anybody who has come to love his game over the years; what has mattered the most has been his approach, involvement and love for the game.
His achievements during the span of his career are numerous, like being named 'Player of the decade' in both Tests and ODIs, most Test catches (191), most Test centuries by an Australian, most runs (1,544) in a calendar year (2005) by an Australian, being the only batsman in history to score centuries in both innings of his 100th Test match etc. but being a part of 3 World Cup wins, twice while leading, winning 108 Test matches, the most as a captain (48) and registering most ODI victories as captain (162), would mean much more to him, given how personal glory was always secondary for this Australian. The tears in Michael Clarke's eyes when asked about Ponting's decision to quit, was evidence enough of how much Ponting's presence meant to him and the team.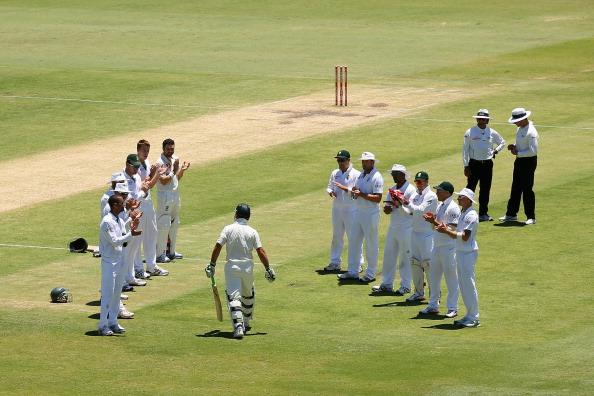 Ponting's career was far from being a piece of cake; he faced different challenges over different times in his career and dealt them head-on.  He copped criticism and took responsibility when the team was down, and lavished praises on his team when they succeeded. He was renowned to have been a team-man throughout his career and his support of his teammates was instrumental in bringing out the best in his troops. He brought to the game his rustic, rugged, tough and obdurate roots from a small town in Tasmania that were far from the polished demeanor of the city-life, which formed the robust culture in the team and in his game.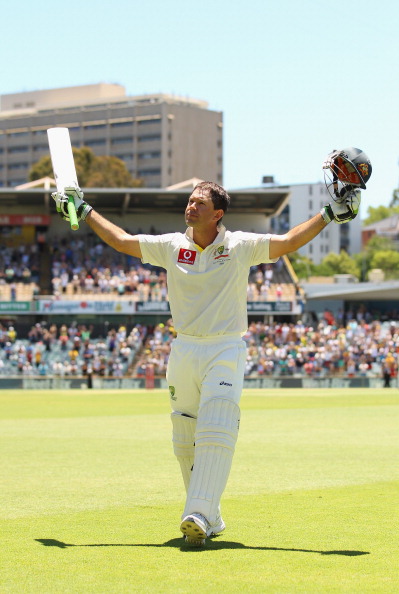 Fairytale ending or not, an Australian victory or not, I knew that the moment he'd leave the WACA for one last time sporting the baggy green would be emotional – not just for me, but every other fan who has watched him over the years – but it was more than just that. The South Africans made the moment emotionally overwhelming when they gave Ponting the 'guard of honour' when he walked in for the one last dash; that potentially summed up the esteem and stature he held among his opponents in international cricket. The battle on the field could make him as fierce as a lion, but these little moments are what make cricket the game it is. When he walked back today, raising his bat one last time, acknowledging the standing ovation that he received, he walked into the nigh, sealing his pact with international cricket.
Ponting has left a legacy that cannot be emulated in years to come, and has left a nonpareil void. One thing I know for sure, a part of my cricket-loving spirit has been left behind today; Test cricket for me will never be the same again.
One last time – Thank you, Ricky Ponting.