The beginning of the end - Sachin Tendulkar's retirement
1.17K //
27 Dec 2012, 21:02 IST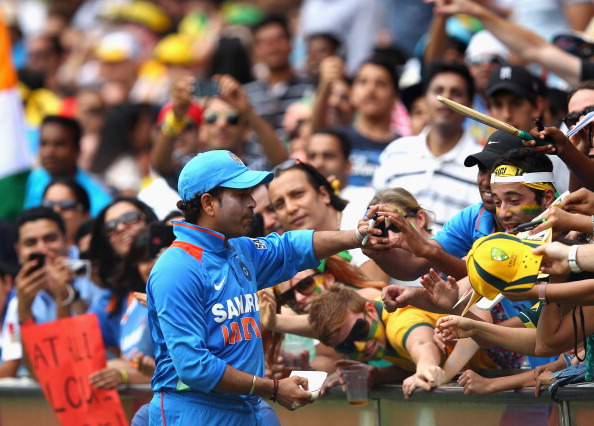 Matthew Hayden: "I have seen GOD, he bats at no.4 for India in Tests."
Ravi Shastri: "He is someone sent from up there to play cricket and go back."
These are some of the quotes by a few cricketers about the Little Master and these are big names in the cricketing world. The likes of Ravi Shastri and Matthew Hayden were also great players of their time. Thus, we can understand the stature of our Little Master.
Sachin Ramesh Tendulkar, once a young middle class Mumbaikar, became a demi-god for his supporters, including me. The heart and soul of the Indian team finally decided to end his One day International career recently. A man who carried the burden of Indian Cricket for the last 2 decades, will never be seen wearing the coloured Indian jersey again. It is similar to a family member bidding us farewell, because we have considered him as one of our own. We may feel that he could have played on but it had to happen one day or the other, and it finally did. He will still continue to torment the bowlers in Tests but watching him play in the One Day format of the game has always been special, irrespective of his current form. Form is temporary, Class is permanent – Sachin Tendulkar is the perfect example of this phrase. He has left a huge huge void in the Indian team which can't be filled. Whenever a great player retires, we say that he has left a big void to be filled. In Sachin's case, it simply won't be filled. There was only one Sachin and there will be only one Sachin forever!
He has been my hero since my childhood days, not only for the way he plays but for the kind of human being he is. A very humble and soft spoken man, his nature is in contrast to his batting style. I have grown up watching the Little Master thrashing his opponents with such ease that would be unmatched by others. I remember his knock against Zimbabwe, where India needed 199 to win in 5o overs. He, along with Sourav Ganguly took to the Zimbabwean bowling attack. Henry Olonga was took to the cleaners by Sachin, smashing him all over the park. Bowlers used to feel helpless when Sachin was in full flow. He is just flawless. He changed the way ODIs were played altogether.
The most worshipped cricketer of all time, wherever he went, he would get so much respect and adulation from the crowds who came to watch him. I'm sure now after his retirement, the number of viewers watching ODIs would go down drastically. Most of them watched India only because they could see their God play. This reminds me of the Natwest Final in 2002 in England, when we were chasing a huge total of 326. Mohammed Kaif's father also switched off his television set when Tendulkar got out stumped, even when his own son was left to bat. That is the belief we have in Sachin tendulkar. Till the time he is at the crease, we have hope that he'll guide us to a win and do something miraculous. When Sachin plays well, the whole country celebrates, just as Harsha bhogle said once, "If Sachin plays well, India sleeps well."
This is certainly the beginning of the end. Eventually, he will retire from Tests too, a day which I believe is not far away. That day probably would be my last as a cricket viewer. There won't be another such glorious chapter in the history of Indian Cricket and I am extremely lucky to have been born in the Tendulkar  era! We love you Sachin, you will always be remembered for being the Legend you are. Thanks for everything!