The current Australian cricket team - an overview
902 //
25 Mar 2012, 22:34 IST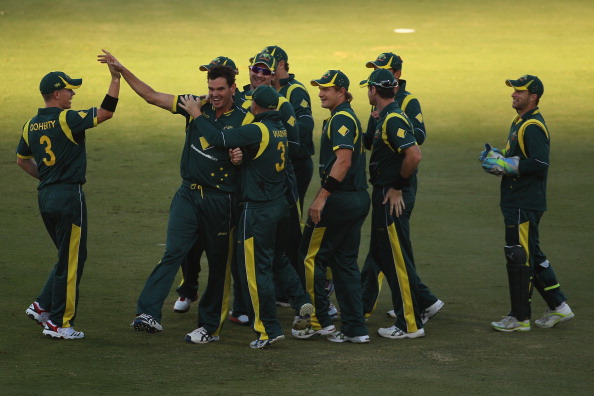 After four long years, West Indies have finally managed to inflict a defeat on Australia in an ODI and now have got an unassailable lead over Australia by leading the five match ODI series 2-1, with one game rendering no result. Australia would be playing to equal the series against West Indies.
The fact that West Indies was able to beat Australia for the first time in five years implies that  the one time world beaters or so called invincible Australians are now looking down the barrel.
One may argue that still Australians are the world beaters since we saw them annihilate the Indians in the test series and also win the tri nations series involving India and Sri Lanka. But, going further back, they have allowed New Zealand to square the test series against them. They have started losing the prestigious "Ashes Series" to England nowadays.
Coming back to their victory against Indians, it does not mean anything as the latter are notably not good travelers and some of their dependable seniors were at the fag-end of their career. Again if you look at their performance in the tri series it was not something exceptional as it used to be five years back. They had lost to Sri Lanka three out of the four times they competed in the league stage and also got beaten once in the best of three finals. Australia, including the best of three finals, at the end had beaten them only three times.
A team which won the world cup three times in a row starting from 1999 is now nowhere close to be a team what it used to be. Both Steve Waugh's team and Ricky Ponting's team had conquered all the frontiers of test playing nations.
The team under the captaincy of Waugh and Ponting looked invincible both in tests and ODIs and had success all over the world. The team had the luxury of batsmen who were intimidating like Mathew Hayden and Adam Gilchrist. It had bowlers like Glen Mcgrath, Jason Gillespie and leg spin Wizard, Shane Warne. With such precious resources in all the departments of the game, they maximized the utility and kept on winning matches after matches. The retirements of such great players had left a big vacuum that Australia is still struggling to fill.
This is what happened to the West Indies team of 1980s which struggled to find replacements for their bowlers like Holding, Garner, Marshall and Roberts. They failed to come up with the same sort of bowlers and now they have lost their aura in cricketing world.
But, in the case of Australia, one can argue that the Australian domestic system is so strong that they may be able to find good players who could fit into the roles played by Hayden, Gilchist etc. They have found a few players but more than a couple of years have passed since all the greats of Australia have retired and still we are yet to see a batting and bowling line up which troubled the world a few years back.
Of course, Australians have a decent team which comprises of aggressive players like Shane Watson, David Warner, Michael Clarke but if you analyse the present team with that of the team they had from 2000 till 2007, it is only half as good.  The replacements that they have found so far is may be, say for example, this can be equated with West Indies finding bowlers like Patterson, Courtney Walsh and Curtly Ambrose etc during mid 80s. Also, there were batsmen like Richie Richardon and Carl Hooper with the help of whom West Indies were managing the show. They have had some decent victories with that team but were never able to have the same world beater tag which they once proudly wore.
Similarly, I feel if Australians are going to persist with the on going team and has any idea of persevering with them then they are in the danger of going down further, challenging the place of the current West Indies team. With this present team, Australians can only manage the show but I don't see them winning like they used to do before.
Already, the consistency has disappeared from the Australian side. Once on a TV commentary, Ian Chappell was asked when Australia were world champions, if ever would England be able to win an Ashes Series. To this, Chappell replied jokingly that it was not going to happen in his life time. But if one looks at both the sides, it is pretty easy to bet against Australia. It is unlikely that Australia is going to regain the Ashes in the immediate future.
I hope this one time world beater side does not go the way West Indies have. It is better that they press the panic button now itself so that they don't go down in a game that they once dominated.