The different layers of MS Dhoni's indifferent innings of 51 from 96 balls
2.98K //
14 Jan 2019, 23:24 IST
As the unlikely clear sky blanketed the Sydney Cricket Ground amid an enthralling fixture between Australia and India, an unlikely chaplet of Aussie supporters were seen jumping up and down in merriment. Why wouldn't they?
After a long summer that not only sucked out their chants and outnumbered them at their own backyard, an inspired bowling performance spearheaded by young Jhye Richardson had knocked the stuffing out of the mighty Indians, the same group of professionals who have been running all over their opponents since 2016 in the ODI format.
An Australian side that is missing the big boys in Mitchell Starc, Josh Hazlewood, Pat Cummins and has undergone repackaging for the nth time now, applied themselves to their full potential and dug a victory out.
Usman Khawaja anchored the innings, Marcus Stoinis gave it a real rattle in the end, Shaun Marsh executed a few mouth-watering strokes and Peter Handscomb, who has drawn major criticism for his technique in the recent past, buried his haters, at least for now.
A total less than 300 on a beautiful track looked more than achievable for India, who in them, have the best limited overs batsmen in Virat Kohli and Rohit Sharma. While the latter did strike a big century, a few of the skipper's troops went in for early showers.
Shikhar Dhawan was sent packing by a classy full length delivery from Jason Behrendorff, whereas Ambati Rayudu was trapped in front by Richardson. 'King' Kohli, as they call him, played a loose shot that absolutely no one in the stadium envisioned, but no one is talking about him. Oh yes, that's just a blip.
---
Why blame MSD?
Who they are chirping about is MS Dhoni. After India were down to a paltry 4-3, in stepped the former captain, the former leader. He played a staggering number of dot balls early on, but that was not because he looked flummoxed on the crease, but because Rohit Sharma was going along pretty well on the other side.
He then got a free hit to attack, and he did so in splendid fashion, depositing the ball into the crowd.
If India had lost either Dhoni or Rohit to the new ball, the margin of Australia's win would have been embarrassing. Had he gotten out, the entire cricketing fraternity would have thrown along recent debacles and questioned his place in the World Cup. Oh, his World Cup spot. Instead, Dhoni's innings gave the visitors a chance.
Much to Dhoni's disappointment, we are chucking more negative statistics that positives, regardless of the partnership he stitched with Rohit and his own contribution.
---
As Virat Kohli says, it's all about the positives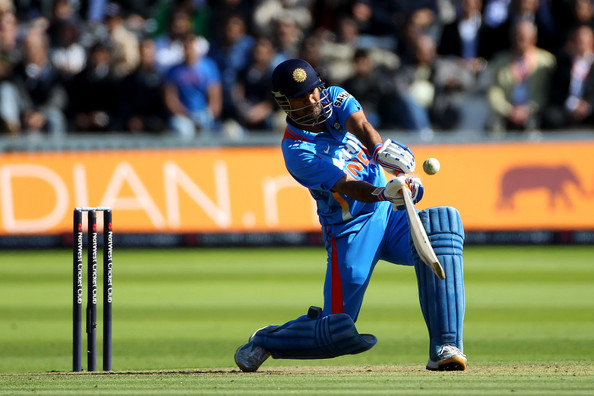 On that note, let's take a look at the positive aspects of his 51 of 96 balls. He came out to bat when his team were absolutely nowhere, and as he always does, the World Cup winner soaked it in, made the opposition bowlers earn their scalps and got his eye in.
Meanwhile, Rohit was sailing through, looking unruffled. Then why on Earth should Dhoni try to take the attack to the opposition? Soon, he upped his rate and started nudging the balls around for valuable singles.
He then got to his fifty, but unfortunately, lost his wicket. When Dhoni got out, the innings was in the 33rd over. There were 17 overs to go, with Dinesh Karthik, Ravindra Jadeja and Bhuvneshwar Kumar to follow. Who has the right to say MS Dhoni did not do the job?
We are so used to seeing him last till the very end that we tend to forget the priceless contributions. Yes, he dug in. Yes, he stuck in. Yes, he mustered a fine-tuned partnership. And still, everyone is putting his place in the World Cup squad in jeopardy.
---
Analyzing the numbers with morality
When Dhoni came in, the required run rate was just over 6. When he was dismissed, it was 8.5. With Rohit Sharma at the crease and three players who can bat to come coupled with an asking rate that wasn't too daunting and the fact that that six wickets were in hand, Dhoni certainly did his job.
He might not have got the fans off their chairs or done much help to the chase in terms of the asking rate, but with 17 overs to spare, India had Rohit Sharma and six wickets in hand, courtesy of the Jharkhand-born batsman's involvement. At least, he kept India in the game and thereby, spared their blushes.
Dhoni has apparently struggled against spin in recent times. In the last four years, against spin, he has scored just over four runs in every six balls played on an average. Firstly, it is his style of play. The willow-wielder likes to get his eye in because he knows full well that he can make up for lost time and deliveries.
It doesn't work all the time, but a sense of assurance, a foundation, is definitely laid on a platter. Moreover, comparing Pant's tender Test career so far to Dhoni's strike rate against spin in ODIs is baseless, as Dhoni has played more matches and has done so in various circumstances and situations.
The man himself, likes to shift gears in the final 10-12 overs or so, and that is when the faster bowlers operate, not spinners. Hence, owing to his nature to start off slower than others, this theory too, is justified and along with the statistics, put to bed.
Next, comparing his conversion rate to Rohit's was unsubstantiated too. Rohit is a player who has played almost all of India's cricket in the international level, while prior to this, Dhoni's previous match in blue colors was way back in November. Also to mention, the former bats at the top of the order.
And who knows, they both might have settled into a certain game plan to divide the share of work. Maybe, Rohit would be the one to approach the proceedings with a little more approach.
---
MS Dhoni's World Cup scenario
In the simplest of senses, it is better to draft in Dhoni, who has the X-factor, the experience, the finishing prowess, ability to lift the team and more so, a complete package that is a must for the premier event.
Meanwhile, India's new darling, Rishabh Pant, is just three ODIs old. It's time we realize MS Dhoni's true worth, besides his role as a leader and a prolific hitter of the cricket ball.
Now, to put the cherry on the icing on the top of the cake, MS Dhoni was wrongly deemed as out. His feet were jammed to the ground when Behendorff's ball smashed his pads, but the ball was clearly pitching outside the line of the stumps.
Despite the above, we are all sitting inside four walls and trivializing the man who continues to serve the nation with purpose, conviction and application in his own special yet silent ways.