The end of the most beautiful legacy
1.01K //
25 Dec 2012, 17:03 IST
1989 was the year when the master blaster started his international innings against arch rivals Pakistan. At that time, nobody would have even imagined that this young player of just 16 years will contribute 23 years towards cricket. Nobody would have thought that almost all the records will be under one name  - "Sachin Tendulkar". And interestingly, he is quitting the scene just ahead of another series against Pakistan. Sachin has announced his retirement from the ODI format of the game, but will continue playing the longer version of the game.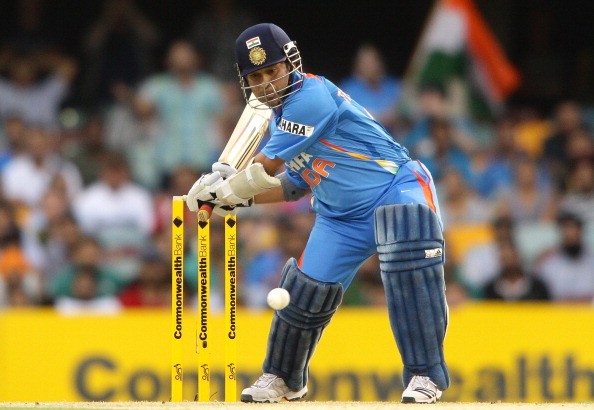 His journey in ODIs was like a beautiful picture which can be portrayed from start to an end. Sir Don Bradman once said "I see myself in Sachin". The way he used to play attracted more and more people to watch his game. He was the only bowler to bowl medium pace, off spin and leg spin. The first person on the planet to score 200 in an international match, most number of 100's, most number of runs in cricket, most number of man of the matches in World Cup, most World Cups played by a player and the list goes on. It's like a dream, watching Sachin playing on the field.
Tendulkar remains, by a distance, the most worshipped cricketer in the world. During the Australian tour of India in 1998, Matthew Hayden said "I have seen God. He bats at no. 4 in India in Tests." It was the dream of every bowler to take the wicket of the greatest batsman in the world, "Sir Sachin Tendulkar". Tributes started flowing as soon as he announced his retirement. Former India captain Sourav Ganguly noted that he could have played the upcoming series against Pakistan. Anil Kumble said it would be tough to see an Indian ODI team list without Tendulkar's name in it. Javagal Srinath mentioned that Tendulkar changed the way ODIs were played, right from the time he opened in New Zealand in 1994.
Now I think cricket will be divided into 2 eras, one before Sachin (BS) and second after Sachin (AS). We all know that he would be  retiring eventually, but this was so shocking that nobody could believe it. We will all miss this legendary cricketer from One day cricket but it feels good that he will continue playing Test cricket. Sachin not only showed his class in one day and Test cricket, but also in T20 cricket, which is considered the fastest form of cricket. In the 2010 edition of Indian Premier League, Mumbai Indians reached the final of the tournament. Tendulkar made 618 runs in 14 innings during the tournament, breaking Shaun Marsh's record of most runs in an IPL season. He was declared player of the tournament for his performance during the season. He also won Best Batsman and Best Captain awards at 2010 IPL Awards ceremony.
After his retirement from the ODIs, Sachin Tendulkar, in an emotional message, thanked his fans on Twitter for being supportive during his 23-year ODI career. Master Blaster tweeted: "Words are not enough to express my thanks to each of you for all the love & support I have received over the years…& especially now in the last couple of days. Your expressions have brought joy to my heart…& at times a tear to my eye! "Those magical moments of our ODI journey will stay with me for the rest of my life. Thank you so much."