The legend of Rahul Dravid
1.18K //
12 Mar 2012, 14:18 IST
Ever since I was a kid and started understanding cricket, I was never a Tendulkar fan. There was a time when he hadn't even scored his first ODI century and his highest score was 84. I remember my friends talking about him as the best ever in history and I always used to go with Viv Richards or Brian Lara. For that matter, I never supported the best in the sport. In the Sampras era, I was a big Goran fan and then in the early Federer era, I was a big Safin fan. Even today I am more a Sehwag and a Kohli fan just for the simple reason that these folks bring the 'thrill factor' to the game which is basically the reason I watch.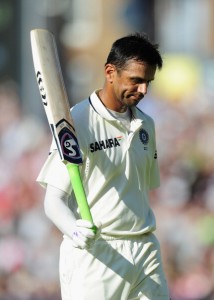 I have never been a big fan of consistent players because it removes the uncertainty from the game that I thrive on. When I was working in my previous company, one of my managers used to say 'Excellence is not an act, it's a habit' and I used to counter him saying it's an act.. It's always moments of excellence that people talk about, consistency is the last resort of the unimaginative and the mediocre.
Sports as a discipline has this uncanny ability of producing greats and role models for two reasons. One, because there are sporting greats who raise the bar of success and set examples both on and off the sporting arena. Second, because these heroics are often witnessed "live" by the admirers from the comfort of their houses, through the television. It is the second reason that is pretty much exclusive to sports and hence most people have their first role models as sporting greats. And yet, even in sports, the rift between a hero and a role model is pretty wide. A hero transforms into a role model when an admirer wishes "I want to emulate him/her", not because of the latter's success but by the virtue of being able to identify with the hero's struggles and achievements and a general admiration for the hero's demeanor – Pranay Kotasthane.
Through my childhood, I somehow managed to scrape through life peacefully with some God given talent and hard work was never a word in my dictionary. As time passed, I came across this personality that we all know as – Rahul Dravid. I started idolizing him coz he represented a personality that millions could only dream of becoming. It's very tough to be a 'Dravid'. I recently heard that the Dabangg director refused to direct Dabangg-2 because he felt that Arbaaz Khan walked away with all the accolades. This has pretty much been the story of Rahul Dravid's life.
Now, how many of us have the courage and the will to continue in a corporate world where such a thing is happening? At least half of the reasons for quitting jobs falls into the 'someone else taking credit' category. It is tough to be yourself when all that you do is not being noticed. Dravid thrived in this environment. When Sachin scored his 50th test ton, very few knew that Dravid had accomplished a milestone that only Sachin and Ponting had managed in Test cricket – scoring 12,000 runs. Yet, there was no mention of this even on a single news channel.
This was the 'go to' man whenever India were in trouble and yet the media managed to blame him whenever he was out of form for small periods. There was an amazing anecdote on why Sachin cannot be a good leader. He never wakes up thinking 'Am I going to be in the playing 11 today?' It's precisely the same feeling that half of the team has and when you have never felt the same, it's hard to understand what they are going through. When there was no one to lead, Dravid was again chosen to be the captain. When there was no one to keep wickets and India felt the dire need of an extra batsman, Dravid was asked to keep wickets. The man has the highest number of catches in the slip quadrant and is still among the better fielders in the team.
What amazes me more than anything else about this man is how he reinvents himself. It was almost like he was born with no talent and thrown to the cricket ground and had to manufacture every single stroke by the book. They said he wasn't a fit for one days and he batted at no3,4,5,6,7 and proved himself everywhere. Then they said he is a misfit for T20′s and he did reasonably well batting at all positions from No.1 to 7 and delivering when RCB needed him the most.
Also, living in a culture where we make and break heroes at the speed of light, he taught us how important consistency is over flashes of brilliance. When you watched him come out to bat, meticulously padded up with inner gloves even while batting, when you saw him struggle his own self and some great bowlers and how he came on top of it all, it made me believe that one could do great things by being conventionally exceptional too.
I was very disappointed with Mallya when he didn't pick Dravid to play for RCB. Without Kumble and Dravid, I don't have any reason to support RCB. But now that Rahul has retired from all forms of cricket except IPL, I will be religiously following all of Rajasthan Royals' matches. Even if the whole world becomes Sudhir Kumar Chaudhary, there will be at least one Parkal Suhas Kamath shouting the name of this legend who has been an idol and a classic example of 'Men are born to work and prosper, not to rest and rust.'