The story of Yuvraj Singh
9.41K //
11 Dec 2012, 21:14 IST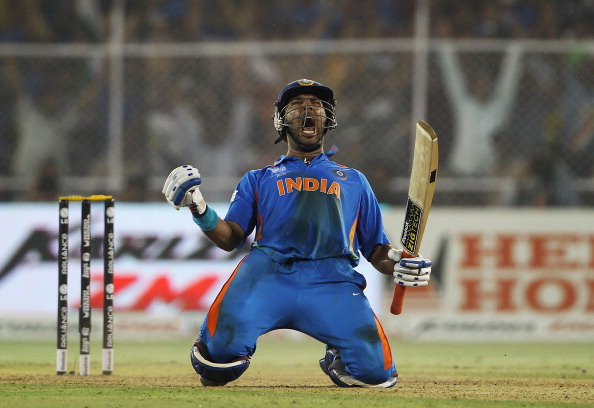 The Prince of Indian cricket turns 31 tomorrow (12th of December). He has been a part of the Indian team for long, but has just hit the prime age for a cricketer. The chief architect of two World Cup victories for India might still have his best years ahead of him, but the last week has not been the best for him as he was dropped from the test team. His quest of conquering the Test arena still remains unfulfilled.
Yuvraj Singh, the ultra stylish left-hander is among India's best batsmen in limited overs cricket and a more than handy left-arm spin option. With over 8000 runs and 109 wickets to his name in ODIs, Yuvi has been India's biggest match winner over the past decade. He has had his share of injuries, controversies, or drop in form, but nothing takes away the sheer value he adds to the Indian Team.
Making his debut as an 18 year old against Kenya in the 2000 Champions Trophy, Yuvraj's class was on display right from the very onset of his career. His innings of 80 against the Aussies in his 2nd match was all class. In spite of a few good innings spread over the next 2 years, Yuvraj Singh was not a permanent fixture in the team till 2002.
Then, the Natwest Trophy finals happened. India vs England. England made 325. India, in reply, was tottering at 146-5. This was the match where Yuvraj Singh made his name known to the world. He, along with Mohammed Kaif, orchestrated a stunning run chase and took India through. Though Yuvi was not batting till the end, a star was undoubtedly born.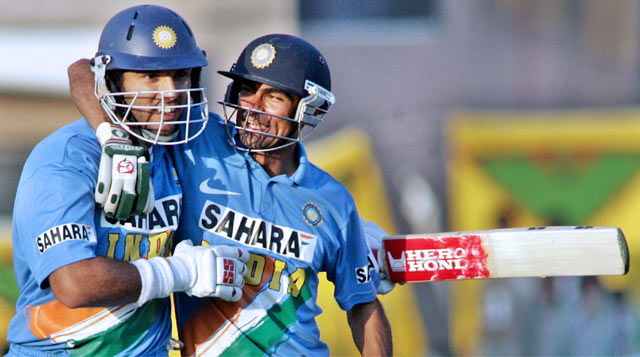 He had a decent outing in the 2003 WC and contributed in India's run to the final. He subsequently made his test debut in late 2003. He could not cement his place in the team and made sporadic appearances till 2006. However, in the ODI arena, Yuvraj's reputation kept growing by leaps and bounds.
It was in the 2005-06 season that Yuvraj made the transition from a Star to a Superstar. He was among the best finishers in world cricket at that time, and was almost single-handedly winning matches for India. His three consecutive Man of the Series awards against South Africa, Pakistan and England lay testimony to that fact.
He had a very good run the entire year and had become India's leading limited overs batsman. The 2007 World Cup was going to be his place to shine, but India were knocked out in the first round. Then came the 2007 T20 World Cup. Yuvraj was in supreme touch. The 6 sixes he hit in an over against England will always be one of the finest moments of his career. His 50 in that match came in 12 balls, a record which is quite capable of standing the test of time. His innings of 70 against the Aussies in the semis was breathtaking and instrumental in India's victory. Yuvraj's brilliance was among the key factors leading to India lifting the first ever T20 World Cup.
His good form was rewarded with a recall to the test side in December 2007 against Pakistan. In the company of his former skipper Ganguly, he scored 169, coming in when India were reeling at 61/4. Hopes of a successful comeback to Test cricket were raised but he still was not able to convert his promise into performances. The test appearances remained sporadic, owing to health of form related issues. His stature in limited overs cricket kept growing though. And then came the drop in form in 2010.
Since then, the story of Yuvraj Singh's career wasn't so different from a typical Bollywood movie. He was horribly out of form, unfit, his fielding had declined significantly, his commitment to the team's cause was questioned and he was almost certain to be dropped from the Indian squad for the World Cup 2011. Eventually, he made it to the squad and the entire nation thanked its stars for that selection. He was back to his best in the World Cup. Not his flamboyant best, but his effective best. His bowling in the tournament was a revelation. He was India's 2nd highest run scorer, 2nd highest wicket taker, won 4 Man of the Match awards and also was declared the Man of the tournament. Yuvraj Singh was well and truly back!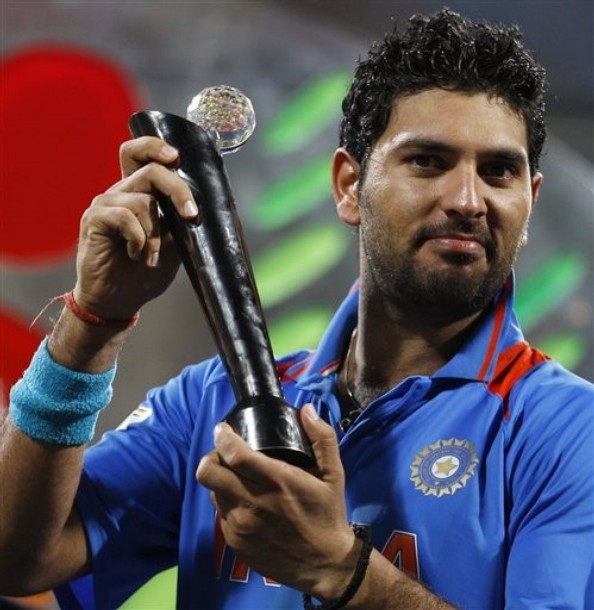 But fate had other ideas. If the emotional turmoil he was in prior to the World Cup was not enough, he was to be put through much sterner tests. During the World Cup, he was coughing blood and was not keeping well. He ignored it, sighting stress as a reason. He toured England in July despite his health issues. He suffered with an injury in the 2nd match and was sent back home. It was only then that a visit to the doctor for his finger injury led to him being diagnosed with a rare form of germ-cell cancer.
The only cure for this illness was chemotherapy. Yuvi went to USA to undergo his treatment. Chemotherapy, as everyone would know, has diverse side effects and leads to extreme fatigue, hair loss and weakness. Being able to come back to normal health was going to be a great challenge in itself. In Yuvraj's own words:
There were times when chemo would eat my body but I told myself that I have the strength and courage to win and come out stronger. I thought I'd go back and play for India.
Yuvraj showed strong will to overcome the odds and don the Indian colours again so soon after recovering.
His dream did eventually come true on 8th September, 2012 when he stepped back onto the cricket field against New Zealand in a T20 international. Yuvi's return to International cricket from his fight against cancer was lauded by peers across the globe.  His first big hit on his comeback was a huge six over wide long-on off Vettori. He was then chosen for the T20 WC in Sri Lanka. He did not set the tournament alight with his bat like in the 2007 edition, but his bowling was crucial in India's stay in the tournament.
Yuvraj's dream return got even better when he earned a recall into the Indian Test Squad for the series against England. This was his chance at redemption in the Test Arena. He had a good start as he made 76 in the first innings in Ahmedabad. However, the script has gone a bit awry after that and Yuvi has been dropped for the final test of the series. His stop-start career in tests has reached yet another roadblock. The potential he has shown still remains to be translated into a successful Test career.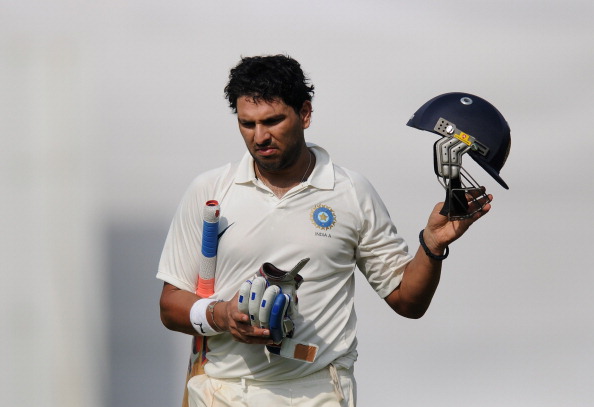 Yuvraj Singh will always be remembered as one of the best ODI finishers in the history of cricket. He has helped India win quite a few matches and those memorable World Cups in 2007 and 2011. However, to cement his status among the greats of Indian cricket, he needs to have a sound Test career behind him. He is 31 and has at least 5-6 years of top flight cricket left in him. He still has time to make it large in the longer version of the game.
On his birthday, here is wishing that Yuvraj Singh's best is yet to come and that he manages to grab that still vacant No.6 batting spot for India in Tests. And I almost forgot, Happy Birthday Yuvraj Singh.