The worst is yet to come for Indian Cricket
956 //
09 Dec 2012, 17:23 IST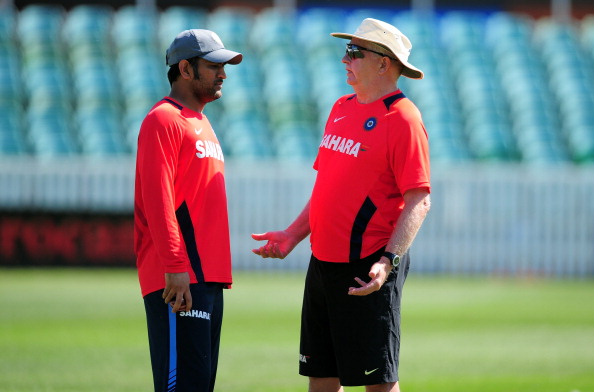 It may be less than two years ago, but the time when the Indian cricket team were World Champions and the leading test side in the world seems ages ago. Now that we stand amidst the ruins of our team's performances, or the lack of them, over the last two years, one is inclined to think – Eight consecutive overseas test defeats, a hammering in ODI and T20 competitions abroad and now a looming test series defeat at home. Can it get any worse? With the multitude of problems that plague the team and Indian cricket at large, it sure feels like it will get a lot worse before it gets better.
Since the captain is the first to get the credit for the team's success, he should definitely get the brickbats if the team performs badly. That dictum somehow doesn't seem to apply to MS Dhoni even though he himself has played a stellar role in the team's deteriorating performances. Dhoni's test average against West Indies, Australia and England over the last 18 months has been in the 20s (way below even Ashwin, who almost averages 40 in tests). Even in ODIs and T20s where he is considered by some to be a legend, he's been batting too slowly and at times, costing the team dearly by leaving the chase all too late. His degeneration from Captain Cool to Captain Clueless has shown in his defensiveness, poor strategy and bewildering team selection. Once hailed to be his biggest strength, his man management skills have also come under the scanner (like the rotation policy fiasco and the VVS laxman retirement fracas).
I would tend to believe that a non performing captain of an underperforming team would have his task cut out – he would be doing everything to keep his place and captaincy safe. But Dhoni seems to be more worried about what kind of pitches suit the subcontinental legacy than trying to win test matches through gritty performances. Even in Australia, where the team was routinely getting humiliated, he seemed more interested in discussing till when he should play (or rather rule) all forms of the game and when he should retire from any one of his choice. And while Dhoni seems to cavalierly go about his business, the BCCI and selectors fall in line every single time. By continuously downplaying the defeats abroad and making up excuses for almost everything, Dhoni is taking Indian cricket back, exactly opposite to the way in which Sourav Ganguly built the team from ruins in the early 2000s. Presumably, the only reason why he still remains captain is his proximity to BCCI president, N Srinivasan and their Chennai Super Kings connection.
Just as Dhoni's lack of leadership is costing us, the team is suffering from serious lack of quality. While Sachin has one leg in the retirement grave, Sehwag and Gambhir are more intent to talk about their past laurels than to put in big performances. Zaheer is on his way down and Ashwin's batting seems to be much better than his bowling. While Ojha is an honest trier, poor Yuvraj and Ishant are just not cut out for test cricket. Kohli and Pujara seem to be the only players who you can expect something from. Apart from the lack of quality in bowling and consistently poor form of the batsmen, the thing that shocks us the most is that, like the captain, none of the veteran players (Tendulkar, Sehwag and Gambhir in particular) seem to be stung by the losses. Not once have we heard these three accepting the fact that they have been batting poorly and that their collective form is letting the team down.
How have things come to such a pass? How has the team with the world's best middle order forgotten to make 300 runs in an innings abroad? How has the team, which was considered the final and unconquerable frontier by the greatest test captains, now being run ragged by opponents who are historically the worst players of spin? Why don't we have a credible captaincy alternative in place of Dhoni? Why couldn't the selectors find a stable no.6 test batsman in four years after Ganguly's retirement? Why isn't India producing any decent bowlers – pace or spin? Why do we have a coach like Duncan Fletcher who has done absolutely nothing since he took over two years ago ? The answer is simple – The BCCI does not care! As long as it earns its millions from IPL, who cares about planning for the future of India's test team? What the BCCI fails to realize is that a continued emphasis on IPL at the expense of test cricket will mean two things – India will produce ordinary bowlers who will always look to contain rather than attack, and batsmen who might score a few quick ones but will always find it tough to graft in difficult conditions. While these deficiencies will haunt them in tests as they have been doing, smarter teams will take advantage of these weaknesses even in limited overs cricket. The evidence has been there to see in India's ODI efforts in England, Australia and the T20 World cup. With the next World Cup in Australia, the Indian ODI team will have its hands full trying to be a major competitor.
It will also be interesting to see that till when does the Indian cricket fan stand by an underperforming side. Will he be content to see the IPL or will he demand more from the authorities that run Indian cricket? Will he continue to drive TRP ratings, big advertising deals and lucrative endorsement contracts for players or will he ask for a more consistent performances? Many would argue that the Indian cricket fan will always watch cricket – But will he do so in the absence of a Sachin Tendulkar? Will the lack of legendary figures like Dravid, Dada, Laxman and Kumble reduce his passion for the sport? In a way, similar to the match fixing scandal, maybe Indian cricket (and its related economy) will need to burn before it is reborn from the ashes. However, with a tough home season ahead, things seem set to get worse before they get better!