Top 10 U-20 cricketers who can define the future of Indian cricket
These are the players that are being most-talked about in the domestic circuit today and have the potential to go on and become household names one day. Read on to find out more about them and their performances till date.
10. Sarfaraz Khan (15)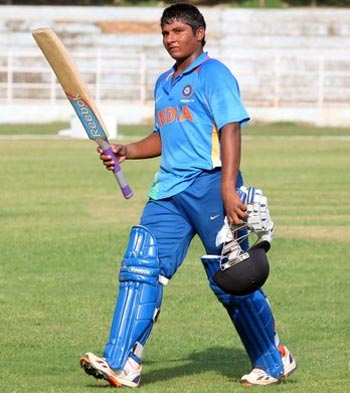 Career stats
Under-19 ODIs
Matches: 11
Runs: 241 Average: 48.20 High Score: 101
Wickets: 8 Average: 15.12 Best figures: 4/27
Sarfaraz scored 101 (17 fours) against South Africa Under-19s to give India Under-19s victory, as they chased down a target of 269 in less than 40 overs with 4 wickets left in the U-19 Quadrangular tournament this year.
Sarfaraz is a very young talent from Maharashtra who is very hungry for runs. He scored a record 400* in the Harris Shield, bettering the scores of Wasim Jaffer, Vinod Kambli and Sachin Tendulkar. He dreams of playing in the national Test side. He is handy with the ball too, and once took 4/27 vs Sri Lanka U-19.
9.  Aamir Gani (17)
Career stats
Under-19 ODIs
Matches: 9
Wickets: 11 Average: 17.81 Best figures: 3/25
Gani took 3/25 on debut against Australia Under-19s to seal India's win and guarantee a place in the finals of the U-19 tri-nation series in July. Australia were restricted to 191 and India won the game by 7 wickets.
Gani is the captain of the Bengal U-19 team. This lad promises to be a future bowling prospect, as his performances reflect. He can deliver crucial breakthroughs and bowl with discipline. The Varanasi-born player was picked for the squad for the top-end U-19 series in July 2013, and the team's tour of Sri Lanka in July/August.  He says, "I like to keep things simple. That is the main reason for my success".