When one-day international cricket first took flight in the 1970s, India struggled to adequately compete in the game but it changed soon enough and in 1983, the team went on to become the world champions against all odds.
Over the past decades, India have had its ups and down in the format of the game but generally they have been one of the leading sides in the new millennium.
One of the key factors in the team's success has been the presence of the finisher at the number 5 and 6 positions during this time and many of them have batted at both positions at some point or the other.
Here are 5 of the finest to have batted at those positions.
#5 Rahul Dravid
He is one of the greatest batsmen that India has ever produced and although he struggled in one-dayers in the early parts of his career, Rahul Dravid eventually became an indispensable member of the team.
He played in 344 one-dayers for India between 1996 and 2011 (effectively he had given up the game in 2007 but returned for the one-day internationals in England due to his superb show in the Test series) and he remained a top order batsman for most of his career.
However, towards the latter part of his career, Dravid moved to number 5 and became one of the best finishers in the world cricket during that time. He played in the middle-order in 95 games and was well known for providing the innings with the final flourish or guiding the team home in case of a chase.
He developed plenty of attacking strokes during that time and his superior technique meant that if India lost early wickets, then he could come straight in and stabilise the innings. In those 95 games, Dravid made 2735 runs at an excellent average of 45.58 and recorded a strike rate of 75.67.
#4 Ajay Jadeja
The former right-handed batsman was India's man for the finishing overs in the 1990s and in a career spanning eight years (1992-2000), Ajay Jadeja played in 196 one-dayers.
Out of those, he batted at either number 5 or 6 on 111 occasions and became one of the best in the world due to his ability to often ensure that India finished their innings well. He did not have the best technique and struggled against genuinely quick bowling, but he was effective and was well known for being a menace in the slog overs.
He ran hard, had the ability to take singles at will and last but not the least, Jadeja was a calculating player who knew exactly how to manage the game. Last but certainly not the least, he was a great improviser and had the gift of finding the gaps towards the closing stages of the innings.
One of his most famous innings was the assault on Pakistan's Waqar Younis in the 1996 World Cup semi-final when he made 45 off 25 deliveries to take India's score to a mammoth 287. He made 2820 runs at the position and averaged 36.62. Jadeja had a decent strike rate of 75.92.
#3 Suresh Raina
He might have been a bit in and out of the side over the past few seasons but in his pomp, Suresh Raina was one of the deadliest middle-order batsmen, who could swing games at number 5 or 6 with regularity.
The left-hander debuted for India back in 2005 and soon became an important member of the team, due to his superb stroke-play, hard running between the wickets and the ability to hit boundaries or clear the ropes in the slog overs. He has played at either of 5 or 6 on 159 occasions (out of 223 career games) and for a long time, he proved to be a vital cog in India's one-day team.
Although he did have troubles against the short ball, he remained a superb finisher for India and gave the team plenty of rousing finishes throughout his career. On the other hand, he is a very intelligent batsman and reader of the game, which made it possible for him to pace big chases accordingly.
In the 2011 World Cup, his innings in the quarter-final against Australia in a tense chase and the half-century in the semi-final against Pakistan were absolutely vital in India's wins in those knockout games. At these positions, Raina made 4108 runs and while his average of 35.41 might be underwhelming, he made it up with his superb strike rate of 94.13.
#2 Yuvraj Singh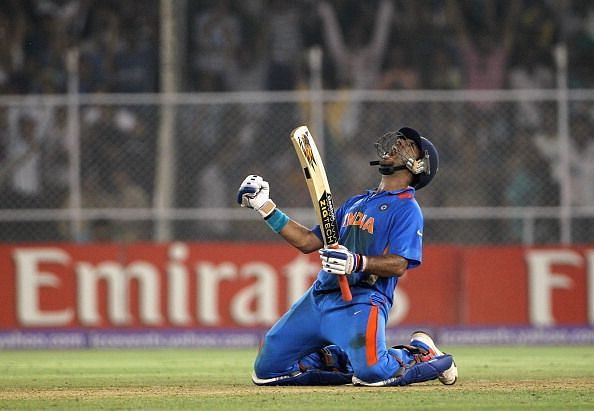 The very first time when Yuvraj Singh batted for India back in 2000 and made a scintillating 84 against an Australian bowling attack fronted by Glenn McGrath and Brett Lee, it became clear that India had discovered a special player.
Eventually, he became one of India's most important players in the one-day side and among the best finishers in world cricket. The left-hander was a majestic batsman in his prime and what made him such a hugely dangerous opponent was that he could hit sixes off fast bowlers, a skill not many in world cricket seem to have.
Only the best hitters in the world can consistently hit fast bowlers around and Yuvraj revelled in it. The fact that he was a superb timer of the ball helped as well. On the other hand, he was a superb runner between the wickets and could easily complete an extra run whenever he had the chance.
However, it was his power hitting that made it possible for India to finish their innings with a huge flourish. At the number 5/6 positions, Yuvraj made 4808 runs in 169 games at an average of 38.46 and he recorded a strike rate of 86.31.
#1 Mahendra Singh Dhoni
While it is true that Australia's Michael Bevan was the player for whom the term 'finisher' was coined, it is perhaps Mahendra Singh Dhoni who embodies it in modern day cricket. He has batted at plenty of positions for India but it is the number 5 or 6 positions that will remain his biggest legacy due to the way in which he finished off matches for his side with such regularity.
Since his debut in 2005, he has played in 312 one-dayers and out of those, he has batted at 5 or 6 in 219 games. His batting has evolved over the years but in his prime years, the wicketkeeper-batsman used to be a superb power hitter and could hit any bowler in the world for sixes when the need arose.
On the other hand, his reading of the game, his running between the wickets and turning the chase into a psychological battle transformed him into a one-day international legend.
The former Indian captain is still going strong in the Indian one-day side and although he might not be the player that he used to be at his peak, Dhoni's intelligence as a batsman is still a huge asset for India. He is India's highest run scorer in those positions with an aggregate of 6649 runs, at a quite outstanding average of 49.25 and a strike rate of 85.35.