Top women cricketers of all time
For the most inane reasons, women's cricket has never received its due in international circles. Gender disparity in the real world was chucked out ages ago, yet this form of cricket still receives step motherly treatment.
The earliest recorded game of this aspect of cricket has been traced back to 1745, between the villages of Bramley and Hambledon in Surrey, England. Since then, interest in the game among the members of the gentler sex grew in leaps and bounds, leading to the formation of the International Women's Cricket Council (IWCC) in 1958 and it eventually merged with the ICC in 2005.
Sian Davies and Sally Slowe broke the gender barrier in April 1970 while attending the Easter coaching classes conducted by the MCC. Nine years later, Lord's hosted the first women's Test match between England and Australia.
In another first, the first ever Cricket World Cup was organized in 1973, two years before the men's version. The ladies also played the first ever Twenty20 international game, and hold several other records that were set much before their male counterparts could reach those milestones.
Here is a look at some of the top women cricketers of all-time:
Betty Wilson (Australia)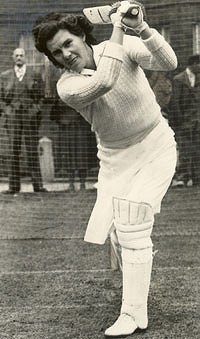 Considered to be one of the game's first ever female all-rounders, Elizabeth Rebecca Wilson went on to represent her nation in Test cricket during ten years from 1947-48 to 1957-58, playing eleven Tests in that period.
Betty was a superb exponent of the willow, becoming the first ever player (male or female) to score a  hundred and take ten wickets in a single Test match in her final season of international cricket. An outstanding off-break bowler as well, she also took the first ever hat-trick in a women's Test.
Her performances led to her induction in the Australian Sporting Hall of Fame in 1985 at the age of 64, the first female cricketer to be allotted that honour. A legend in every sense of the word!