Virat Kohli: Mr.Consistent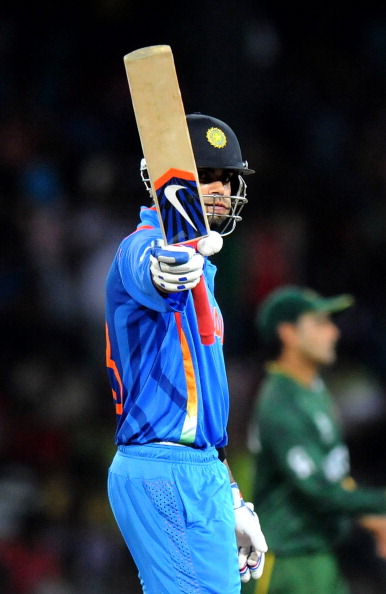 Virat Kohli – the lad from Delhi – has been the most consistent batsman for India in the last 2 years. He averages over 52 in ODIs, with a strike rate of around 87.0, which is simply phenomenal. The good thing about Kohli is that whenever he comes on to bat, he is really calm and composed, and can switch gear at will. He has a wide array of shots which makes him a potent player. When he is at his destructive best, he  makes the best bowlers look ordinary. He is from a younger generation that doesn't wilt under pressure and loves to face challenges.
As a skipper of the U-19 team, he guided the team to World Cup glory in 2008. The transition from U-19 to senior level never been a smooth ride for the players in past. In the past we have seen a number of U-19 cricketers making it to the senior level at an early age, but soon, they were lost into oblivion. Kohli was no exception. After his heroics in the U-19, he was considered the next big thing in the Indian cricket fraternity. As a result, he got to play for India at a nascent age of his cricket career. Owing to frequent injuries to our regular openers, Kohli was made to open the innings for India . Having played most of his innings as a middle order batsman, opening the innings was definitely going to be tough for this youngster. Unfortunately, he did not perform to his potential, and was soon shown the door when our first-choice openers were back. He kept on getting a few chances here and there, mostly in place of an injured player. He marked his arrival on the international scene by scoring a century under pressure in the second innings against Sri Lanka in 2009. It was truly a gem of an innings, wherein he mustered a colossal partnership of 224 with Gambhir, and won the game for India. Since then he has never looked back. He has amassed runs whenever he has come into bat, and  hasbecome the cornerstone of the Indian batting line up. He has truly been Mr. Consistent for India since 2009.
His delightful cover drive is a treat to watch. He can handle spinners and pace bowlers at ease. Add to that, he is a brilliant fielder; be it backward point, slip or in the outfield, he is an asset to the team. He is naturally aggressive; that is apparent when he comes in to bat or field. Being a fighter, he never likes to lose, and wants to give his best whenever he's there on the park. Lately, he has been more than effective with his medium pace bowling.
Even though he takes his game seriously which is reflected by the number of runs he has scored in the last two years, he lives his life to the fullest. When he is not playing cricket, he loves to party and hang out just like any youngster of his age. He just knows when to switch on and off, which is so important for a cricketer, especially if he plays for India. Thanks to the BCCI, Indians play a huge number of matches through out the year, and add to that, 2 months of IPL. This can really stress you out. So you need some time to go out and recharge your batteries.
Success does not come easy. It requires a lot of hard work and dedication. The same rule applies to cricket. You need to practice day in and day out to hone your skills. Fortunately for budding Indian cricketers, you do not have to go far, for you have Kohli to look up to. Kohli is an ardent student of the game of cricket. He always tries to elevate his game by taking useful tips from senior pros in his team. As Kevin Pietersen – his teammate in the IPL – once pointed out that if Kohli gets out cheaply in a game, he just goes back and tries to rectify the mistake that he had made. He keeps bothering his fellow teammates and coach for their useful tips, so that he can make improvements in his game. This is real dedication.
His batting seems simply flawless at the moment. He has matured, and it's not the same Kohli who used to vent out expletives on scoring a century. This is good news for Indian cricket. Aggression should not be confused with sledging and abusing. A matured Kohli is the need of the hour, for he is a captain in the making. Owing to his terrific performance with the bat, he has been made vice-captain of Team India. Who knows, a few years down the line, he might captain India to another World Cup triumph.