West Indies tri-series 2013: Match 3 – India vs SL – The Quick Flicks
3.40K //
03 Jul 2013, 14:43 IST
When Sri Lanka meet India in a one day international, the buzz and the excitement is sorely missed. Cricket-obsessed fans don't necessarily make a beeline for entry into the stadium either.
The reason is just that both countries have played against each other about a trillion times in the last few years, and that has resulted in fans losing interest in the fixture. It shouldn't surprise anyone if one day, a match between India and Sri Lanka is held on Mount Roraima – located on the triple border point of Brazil, Venezuela and Guyana.
In yesterday's encounter, played between Sri Lanka and India, the men from Emerald Isles took sweet revenge for the loss in the Champions Trophy semifinal with a thumping win.
Here're some snapshots from yesterday's game:
Reminiscing the bygone era of lightning fast tracks at Jamaica
Just like great fast bowlers from the West Indies, those lightning fast tracks in the Caribbean region too have become extinct. There was a time when the track at Sabina Park was known for pace and bounce. Who can forget all those towering giants from the Caribbean making batsmen look like a cat on the hot tin roof on a trampoline wicket at Sabina Park. The sad part is that tracks in the Caribbean have lost their bite uniqueness.
India gets a taste of its own medicine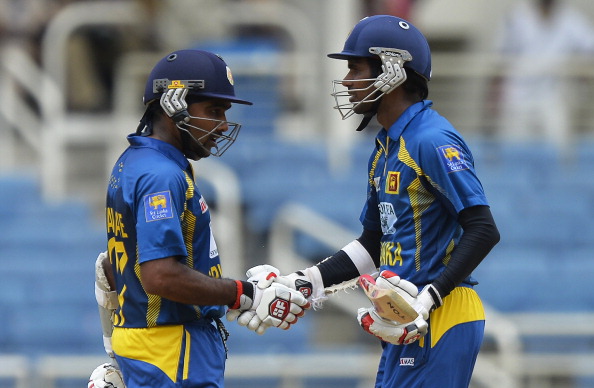 Over the years, Indian batsmen have put many opposition attacks to the sword. Yesterday, they got a taste of their own medicine, as the Sri Lankan duo of Jayawardene and Tharanga smashed a listless Indian bowling line-up to smithereens.
There must have been immense pressure on Tharanga, as he is on a comeback trail, but he played a mature innings. Tharanga looked to play himself-in before unleashing his wide array of strokes. It is always a proud moment for any opener to carry his bat throughout the innings.
Those jaw-dropping shots he played over the mid-wicket region against Indian pacers, in the end overs, would make it into any highlights show.
In his one-day career, he has shown the uncanny ability of forging big century partnerships for the opening wicket. One can vividly remember him, and the marauding Jayasuriya tearing apart England's bowling attack in '06. Yet, he has not found a regular place in the Sri Lankan set-up.
On the other end of the spectrum, Jayawardene, the elegance personified, played with finesse and flair. Yesterday, the way Mahela, with some twinkling footwork, played crisply lofted shots against quicks, and then used the pace of Ishant Sharma to deftly guide the slightly older ball past the third man, showed us that he can play strokes in a 360 degree-arc. When Mahela bats, it seems like a google map of field placements has been fitted in his brain.