Why I don't want Tendulkar to retire
2.64K //
09 Dec 2012, 18:10 IST
He's 38 years old. His recent lean patch is going on for a tad too long. His critics are as vocal as they ever have been. Even some of his fans have deserted him and joined the critics. But some fans will always be by his side. Sachin Tendulkar will always have my support, come what may. If I have my way, Tendulkar will never retire.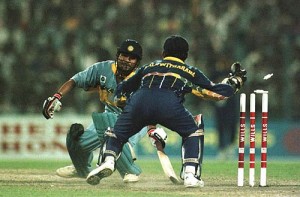 It all started about 18 years ago. The 1996 World Cup was on. I was 8 years old and had just been introduced to the game of cricket. And somehow, I instantly fell in love with it. India's first match was against Kenya. India won comfortably with Tendulkar leading the way with the bat with an unbeaten 127. I had little knowledge of what the perfect technique was or how a shot should be played, but Tendulkar's batting looked good to the eye. Everything seemed to be in place. And as I learned over the years, that's how it should be. As the tourney progressed, he played a few more knocks – a quickfire 90 against Australia  a wonderful 137 against Sri Lanka, and my admiration for the man kept growing. His dismissal for 60 odd in the semis meant that India had been knocked out. Somehow, tears came down and I too joined the nation in mourning. But Sachin had left his mark.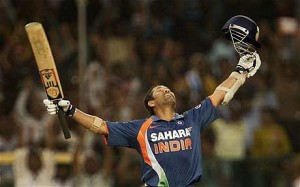 For the next few years, Indian cricket was pretty much all about Tendulkar. School on matchdays was torturous. If it were a day match, prayers were said, asking God to ensure India batted second. If it were a day-night match, a mad rush followed after school to reach home as soon as possible to watch Tendulkar bat. There are too many memories of Tendulkar from the years passed by, some which still bring a smile and some which make the eyes moist. I leapt in joy when he took on Shane Warne and co in Sharjah during the twin centuries – dancing down the wicket to Warne and depositing him over the fence, lofting Damien Fleming and Michael Kasprowicz straight over their head into the sightscreen. I watched with awe when he took the attack to Donald and Pollock during the 169 at Capetown, and when he thrashed Henry Olonga all over the park in Sharjah; and when he again took out Warne, this time in India, and when he notched up a flawless 111 at Melbourne, and when he scored a century in the decider of the famous 2001 India-Aus test series; and when he unleashed a series of upper-cuts and pulls during a 155 at Bloemfontein. I pumped my fist when he took on Wasim, Waqar and Akhtar at Centurion in 2003, and when he announced his return to form with a 241 at Sydney; and when he took India home in both the final of the CB series in 2007-08. I stood up and applauded when he became the first man to 200 in an ODI and when he kept a rampaging Dale Steyn at bay during a masterful 146 at Centurion. I shed a tear when his 136 at a fourth day track in Chennai against Wasim, Waqar and Saqlain fell tragically short of securing a victory, when he couldn't do much in the 2003 World Cup final and India fell just short of the ultimate cricketing glory; and also when at Hyderabad in 2009, a repeat of Chennai 1999 happened with the team collapsing after Sachin's exit for a classic 175. I shed a tear on the 2nd of April 2011 too, but this time there was joy, there was fulfillment. His dream had come true, and a billion celebrated with him.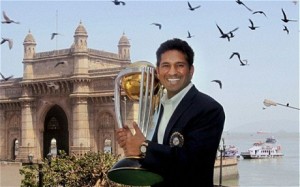 The childhood desire to see Sachin take on opposition attacks is there still today. I'm working in the corporate world, in my mid 20s, but even today I want him to do well. I'm still disappointed as ever when he fails to score. He is the sole reason that despite being from Kolkata, I support the Mumbai Indians in the IPL. On the 8th of December 2012, a long cherished dream was to come true – I was about to watch Tendulkar bat in front of my eyes. I woke up early in the morning and I was off to the Eden Gardens. The second Indian wicket to fall, Pujara, was a run-out. As soon as the word 'OUT' came up on the big screen, the ground started echoing with chants of "Sachin…..Sachin". And it kept getting louder. It was obvious that I wasn't the only one who wanted to watch the master play. He wasn't out in the middle for too long though. A paddle sweep, a few forward defences and he was gone. But it was all worth it. I had seen the master bat. A section of the crowd gave him a standing ovation as he walked back after what might have been his last test innings at the Eden. It was a gesture to thank him for his service to the game and for the smiles he had spread over the years.
Today, as I write this article, my eyes have become a bit moist. There are way too many memories associated with this man. I used to stand with a bat in front of a mirror as a child trying to match my stance with his. Every child in the locality wanted to be a cricketer, everyone wanted to be Tendulkar. Its not that the other stalwarts like Dravid, Ganguly or Laxman have done any less for Indian cricket. But Tendulkar has been around since the day I took to cricket and he has been there ever since. He still brings out the child in me. He's the last among a host of treasured childhood memories. The day Sachin Tendulkar retires, I'll know that my childhood is finally over. Cricket will never be the same again.