Why India loves Harsha Bhogle
19.15K //
21 Nov 2012, 10:38 IST
We have always had this thing for commentators. Sure, old hats like Michael Atherton and Ian Botham are respected in Dear Old Blighty, the people Down Under felt sick until their cricket matches were not complemented with Richie Benaud's disarming baritone. As for Tony Cozier, they call him the Bible of West Indian cricket in that part of the world. In India however, cricket commentating is more than just a job. You better be a good boy if it's your voice coming out of radios and television sets in this country; for here, people hate as quickly as they love. You don't mess up sitting with that fancy mike in the commentator's box. Not in India, where a commentator's voice acquires God-like omnipresence every time the Indian cricket team takes the field.
Let's put it this way – had Dean Jones pulled his little 'terrorist' stunt with an Indian cricketer, he would have found out the true meaning of terrorism. He would have made himself an enemy of the second-largest population in the world, that is of course, after the BCCI had barbecued him.
Harsha – the 'Tendulkar' behind the mic
Harsha Bhogle – now there's a man India loves. Arguably, the most popular commentator the country has ever produced. Here's an example of how he rolls: Michael Vaughan makes a mess of Sachin Tendulkar's stumps after the latter has played a gem of an innings. A dismissal as soft as they come and people are crestfallen. Shoulders droop in front of TV sets, and in comes Harsha, "Oh what a shame! It was reminiscent of a soldier who survived the war when all the bullets were flying by his nose and then got run over by a bicycle in his native town!" This man can generate laughter out of a Tendulkar dismissal.
There are certain mandatory qualities you must possess to be a good commentator. You need to be unbiased and objective, you need to keep prejudice far and away, and while you must have the ability to inject the game with your enthusiasm and energy, you cannot be too aggravated, even if say, a Chris Gayle monster crashes through the glass and nukes your face. You can have an opinion, but you cannot step on toes – this is where Harsha Bhogle does so well. In his own words, he's a 'team player'. "I'd like to think I am professional and humble about what I do," he once said, "often the two words go together." The fact that he can steer discussions and debates his way with the subtleness of spring, makes him the top-dog of the 'few good men'. For those of you didn't know, that, is the name given to the crème de la crème of Indian commentators, along with the likes of Alan Wilkins and Geoff Boycott. Now this is a group that has India's cricket greats battling for vocal supremacy – Gavaskar, Shastri, Sanjay Manjrekar and Sixer-Siddhu. Bhogle holds these snotty kids together.
I call them snotty because these people have raised storms as frequently as they have created awkward silences. Shaz had famously unleashed hell at Nasser Hussain when the latter voiced his support for le DRS; for a while that drew everyone's attention from England's ongoing slaughter of India at Edgbaston last year. In the same Test, Gavaskar, a known anti-white folk, made a cringe-worthy statement even as the cricketing world hailed M.S. Dhoni's gesture of recalling Ian Bell after a controversial run-out, "Why must it always be India that has to show sportsman's spirit?" See what I mean? Let's not even get started on Siddhu paaji.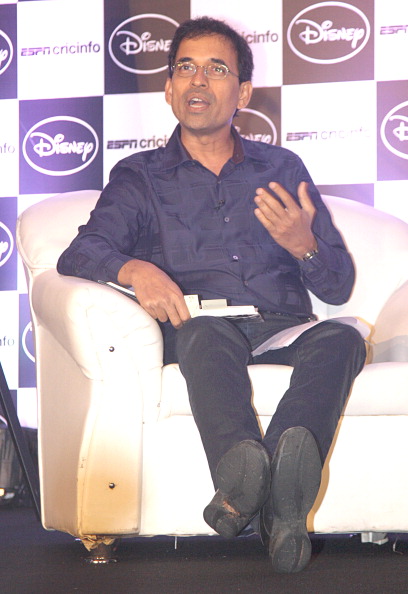 Harsha Bhogle on the other hand, is an artist, for he recognizes commentary for what it is: an art-form. You don't have to be a provocateur to grab attention; Bhogle weaves his magic with understated passion, working in tandem with the other guy with the mike, and delightful wordplay that is designed to entertain rather than offend. According to Outlook, he is one of 'eight people who have changed the way their profession is perceived.' Truer words were never said (though I don't know who the other seven are).
The many skills of Harsha Bhogle
Born and raised in Hyderabad, Bhogle obtained his graduation in Chemical Engineering and is an alumnus of the Indian Institute of Management, Ahmedabad. He worked as an advertising executive even as he commentated for the All India Radio at his hometown. In 1991, he was the first Indian commentator to be invited by the Australian Broadcasting Corporation for India's pre-World Cup tour. ESPN-STAR Sports found him in 1995. The rest is history.
All-rounders in Indian cricket are rare and rightly celebrated. There are those on the field, and those off it (N. Srinivasan, for example). Harsha Bhogle comes in the latter category, if one considers his professional life for the past decade. Aside from being a world-renowned commentator, he is a journalist, author, cricket-analyst, presenter and host of a dozen TV Quiz and talk-shows, and columnist.
A couple of facts not many may be aware of: He has an advanced Diploma in French, he actually played cricket for three years in his university-team, and he hosted the FIFA 2006 World Cup for ESPN-Star India.
His love for cricket is as fierce as you'd come to expect from any in India – this was evident when he issued a rare scathing criticism of Tony Greig when the latter delivered the MCC Spirit of Cricket Cowdrey Lecture at Lord's earlier this year. In his speech, Greig had made several unflattering comments about Indian cricket and its governing bodies. You rarely see Harsha Bhogle going to the offensive, which he did in a newspaper column the next day, and Greig ended up eating the proverbial humble pie.
He respects the game in all its different incarnations and principles. He approves of T20 cricket, unlike an overwhelming majority of purists, and says the format "demands versatile, thinking, athletic cricketers". He pointed out that the DRS shouldn't have kicked up the storm it did, for technology "doesn't score runs or take wickets". And he considers Anil Kumble's maiden Test ton to have been the most romantic moment in Indian cricket.
People don't talk that way anymore. In a world spinning out of control, where his peers resemble kicking, screaming infants more often than not, Harsha Bhogle stands in a corner like a Renaissance man. The guy who draws an ardent group of listeners in a party with his easy smiles, good humor and an unassuming air; he is the chilled-out dude whose words sparkle with wit and wisdom.