Are we witnessing the swansong of MS Dhoni?
2.18K //
25 Mar 2015, 09:35 IST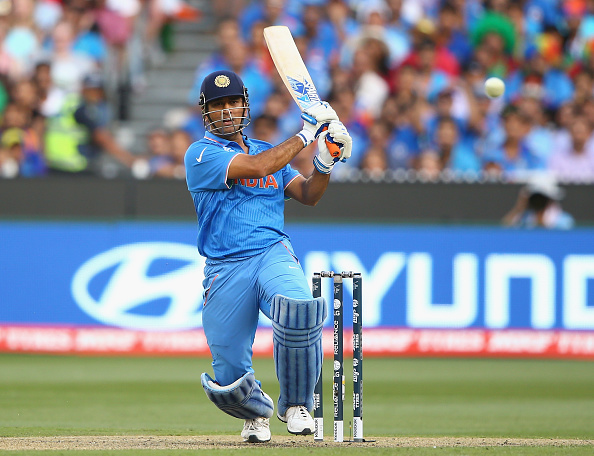 NOTE: The views expressed in this article are that of the writer and not of the website as a whole.
The quarter-finals were when the Asian exodus started. Exodus of legends of the game from the sub-continent in the gentleman's game. If it was Sri Lanka's Kumar Sangakkara and Mahela Jayawardene against South Africa, then it was Pakistan's Shahid Afridi and Misbah-ul-Haq's turns against Australia. Both these teams have lost artisans of the game.
Some would nitpick me for calling Afridi an artisan, but who else in modern day cricket was as charismatic as this Pathan. Sangakkara and Jayawardene were collectors of runs, tirelessly working to gather and garner, with those artistic flicks and chips. Misbah was a faithful soldier, who never scored a century in limited-overs cricket but lent a solid backbone in times of distress.
India's form in this tournament has been that of a different parallel universe. India have steamrolled all opponents along the way, picking up 10 wickets in every single match. There has been less sentimentality to their game and a power boost in terms of tenacity and intensity.
The first game was an emotional potboiler against Pakistan, but the recurring games haven't been bereft of emotion either. South Africa were beaten with the pace battery continuing their from the Pakistan game. As for other major rivals, the West Indies were the only ones who gave India a mighty fright, but just at the right moment, the skipper MS Dhoni came good.
Cricketers like MS Dhoni are a rare breed
Coming to Dhoni, tracking his journey from Ranchi to the Sydney Cricket Ground was never going to be easy. As a person and a cricketer, such characters don't come along often. Ask KR Banerjee, one of the first people to discover Dhoni, primarily when he needed a wicket-keeper. Be it by accident or luck, that move paid off. As told to Andy Wilson, of the Guardian: "Dhoni was always a confident boy. Not many words – if you asked him his name, he would say his name and nothing else. In the classes, he was quiet."
Seeing how players choose the big stage of the World Cup to generally hang their boots, it shouldn't come as a surprise to the Indian fan if Dhoni walks off into the sunset. As we have already seen, players like Dhoni come once in a lifetime. To understand why this author is choosing to explore this possibility is mainly three-fold in nature.
Firstly, the fact that he has handed over the Test captaincy to Virat Kohli. Secondly, the recent tribulations and challenges faced by him with the respect of legal proceedings that took place and inadvertently got him involved. Thirdly, a young family and because he would want to walk away on his own terms.
Understandably, the latter part of my third reasoning is very weak in nature, but when it comes to the first part of this argument, it is quite a probability. Now, I would gladly be proven wrong in this assessment as Dhoni may still continue to captain the team in the shorter formats of the game.
Dhoni tends to make calculated decisions
But pointing out to my earlier observation and the manner in which he handed over the captaincy of the Test team - there may or may not have been pressure on Dhoni, when he retired mid-way through the Test series, but it seemed that the decision was calculated in the sense that he had already made his mind up.
Why would Dhoni retire? He is only 33, and has a lot of cricket left in him. The answer would be very simple and very unsatisfactory – it is because he can. The Ranchi-born lad has never looked flustered under pressure, such is the way he carries himself. And to walk out on his own terms is something he would like to do. And logically, it would make sense as well, the core of the team is pretty young and with Kohli as a leader, the team can move to the next level.
In response to the second question, Dhoni has always avoided controversies, preferring to shut up rather than give a tasty sound bite. He doesn't wade into areas where his knowledge is weak. Being the Indian cricket captain has its own travails and stories attached to it, and yet he has handled himself and the position with charm, elegance, and witticism.
The past year though has been tough, with small injuries as well as legal wrangles (although none of them had a direct effect on him). The fact that his name was drawn into some of the controversies would make him wary.
Family calling for the Indian captain?
Finally, a young family would be an apt reason for his retirement. The other day, my friend pointed out to me when I was discussing the topic of Dhoni's retirement and said, "He would want to be young enough to play with his kids, he has played against the world, but he would rather give up everything to play with his kids".
The point he made, only made Dhoni sound more humane and logical. Thinking about, it would seem to make sense. Dhoni isn't getting any younger, and while these may seem as the ponderings of two naive Indian fans, it still maybe a valid point.
Adam Gilchrist and Michael Hussey, and loads of professional cricketers have quit citing a young family as one of the primary reasons. After all, childhood comes once in a lifetime and any parent would like to be a part of their children's childhood.
As a semi-final against the host country Australia beckons, Dhoni has larger issues to focus. Be it the weather forecast for Sydney or the line-up he intends to play with. As a captain, he has been a privilege to watch, be it from the long-haired hero to the crew cut captain lifting the World Cup, it has been a memorable ride.
In the event, that he doesn't retire, this article is going to look like 'an egg on my face' piece and in the event it does, you heard it here first.