Work with long term goals on your mind - An open letter to MSD
2.60K //
18 Nov 2012, 20:01 IST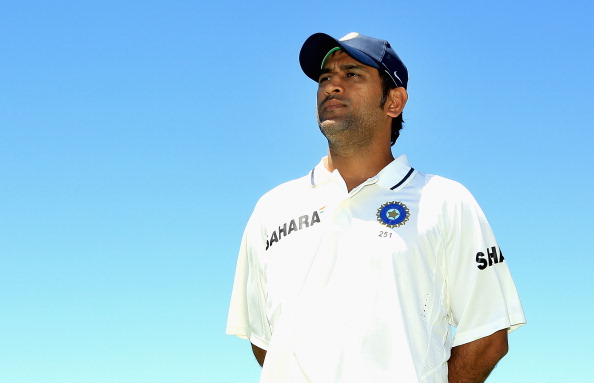 So this is where you wanted to land and this is what you wanted, huh? The revenge series is going on and the Englishmen have their backs against the wall. They were forced to follow on thanks to some wonderful spin bowling by your trump cards – Ashwin and Ojha – in the first innings. As expected, your batsmen did exceptionally well, especially your openers, who compiled another quick century partnership. Sehwag retained his form, scoring a run-a-ball 117 runs before getting out.
And more importantly, Dravid's replacement seems to be doing quite well too. He has scored the first double century of his career. Since the top order performed so well, your single digit score also went unnoticed. Besides, you finally earned back the privilege of declaring your team's innings too.
Well, this is India and it all happens for you here, doesn't it? So much so, that you won the World Cup for your team too, playing in the subcontinent. The cricket fans will soon forget the 8-0 drubbing which your team had to endure at the hands of England and Australia in another four months. The English team is already here and does not look good either, having got bundled out under 200 in their first innings. They seem to be playing well in the second innings, as I write this article, but it is only a matter of time, isn't it? Once you get those last five wickets quickly – with the form that Sehwag and Gambhir are in – no target is going to be out of reach for your team, anyway.
Even if you do not win this match, at least you have ensured that your team will not lose. The next three Tests, I am sure, will not go in the opposite team's favour either. Somehow, India will pull the series off and the cricket fans will applaud you for avenging the defeat which India suffered more than a year back in England. Suddenly lady luck, which seemed to have divorced you, is knocking your door once again. Just before this series, you had a weaker Kiwi side at your disposal, and as expected, your team had them mercilessly executed.
Now you are hosting England, who may resist a bit, but then I am sure they are not going to make it. Next in line will be the Australian side which does not have many experienced batsmen apart from Clarke and Ponting who can excel on Indian pitches. So the stars are shining brighter for you, aren't they? Once again, eulogies will come pouring on you, praising your captaincy, and you will be reckoned as the best captain in the world.
But honestly, can you proclaim it is your captaincy which does the trick? The way I see it – I think it is your decision to insist on slow turners which makes you a better captain. I don't want to mince words Mr. MSD and so frankly speaking, all I want to say is – you opted for your tracks and the results are happening on their own. Your captaincy in India ends with choosing the surface you want to play on. I may sound harsh but it is the truth. Again, I am not degrading you as a captain (maybe you are a good captain but it can never be put to test on surfaces which we see in India).
My question is simple. Why do you want favourable surfaces, Sir? Just because you lost in England and Australia, playing under their conditions, you want to have the typical subcontinent pitches for taking 'revenge'? Well, I don't think it is wrong in paying them back but how long will your team be called "Tigers at home, cats abroad?" Don't you want your team to be called "world beaters?" Don't you want to earn that compliment for your team?
Wasn't it humiliating to see your side losing so badly in Australia and England? What are your plans for rectifying it? Let me tell you one thing – every side would like to have a home advantage over the visiting side and there is nothing wrong with that. Even the Australians and the Englishmen do it and so do the South Africans. But then, when they play outside home, they don't struggle as much as you do playing elsewhere. The Aussies have won series in South Africa and England and similarly England and South Africa have had their success Down Under. They somehow manage to do it. The only place which gives them a spot of bother is the Indian peninsula. But let me make it clear – they may play better here than your team did in England and Australia.
So please rethink your strategies and try to focus on long term goals rather than short term achievements. Please do not fear losing in your own backyard. The defeats you are going to suffer if you opt for better pitches of international standard will be the stepping stones for your team's success later.
Above all, do not forget your team performed disastrously in England and Australia in spite of having experienced technicians like Dravid and Laxman in your side. Now that those two stalwarts have already retired, your team becomes even more vulnerable if they have to undertake a tour abroad. Only Tendulkar is remaining in your side and though he is a master batsman – at his age, you cannot expect him to recreate the old magic. None can question his technique and balance overseas but then a lone person cannot do much for his team. And if he retires, just think about your team. Can you name one person in your team who can thrive overseas as a batsman?
You may have your hopes rested on Kohli and Pujara, the talents for the future. Again, if they are indeed the future of your side, then don't you think those two players need experience playing on sporting wickets? Of course, Kohli scored a century in Adelaide last year which was the only positive for your team on the tour. But a lone century is not going to earn him the same credibility which Tendulkar and Dravid have earned. He needs to do it consistently before you can rest all your hopes on the youngster.
In Pujara's case, it is even worse. Apart from a single tour, he hasn't been tested in overseas conditions. He is a great talent, no doubt, but then if he is not provided with the proper practice of playing on swinging and bouncy tracks, he will also cut a sorry figure playing abroad. So it is high time for you to decide on the future of your side. In fact, it is the best time for you to take some bold decisions. In a couple of years' time, your team will be filled with youngsters. Right now, your team is in a work in progress. It is the perfect set up for you to demand pitches which match international standards. This will help the youngsters get their skills tested and, in turn, help them be better prepared for the future.
You are already reckoned by many cricket experts as the best captain India has ever produced. So that credibility is not going away from you just because you lose a couple of series at home. The fans are not oblivious of the fact that you won for your country the first ever T20 World Cup and our second ODI World Cup. I am not a great fan of your batting but in my mind, without doubt, you are one of the best captains for our country.
If you develop your side by having them play under testing conditions, you will be remembered as a great leader even post-retirement. The fans will say it was you who made your country the world beaters in cricket. Like Steve Waugh's men, who once came here calling it as their final frontier, your team also (does not matter really who the captain is then) will go on an overseas tour, naming it as a lone territory to be conquered. Who knows, the Indian team may even end up doing so. The laurels will still be with you and every columnist and commentator will remember you as a captain who brought in the much needed change in the team.
Do you want to be called as one of the best, or THE best captain of the Indian team? It is all in your hands, MSD.