Yorkshire would defeat current England team: Geoffrey Boycott
2.20K //
06 May 2015, 16:28 IST
Former England opener Geoffrey Boycott has slammed the England team after their 1-1 draw in the recently concluded 3-match Test series against the West Indies, suggesting that even a full-strength Yorkshire side would get the better of England at present. After a disappointing World Cup campaign, where they couldn't make the knockout stages, English cricket fans had hoped that a return to playing Test cricket would bring about a change in fortunes and help the players regain their confidence.
But that hasn't been the case as they failed to beat a West Indian outfit that has been languishing at the lower half of the ICC Test rankings for quite some time. With bigger tests in the form of New Zealand and Australia to follow, England will have to make drastic improvements in the near future in order to even compete against those sides.
Boycott, however, doesn't seem too optimistic about England having the ability to do so. Responding to a follower's tweet which said that Boycott's home county Yorkshire, who are the current county champions, would beat England at the moment, Boycott concurred and named the Yorkshire starting XI that he thinks would prove too good for England.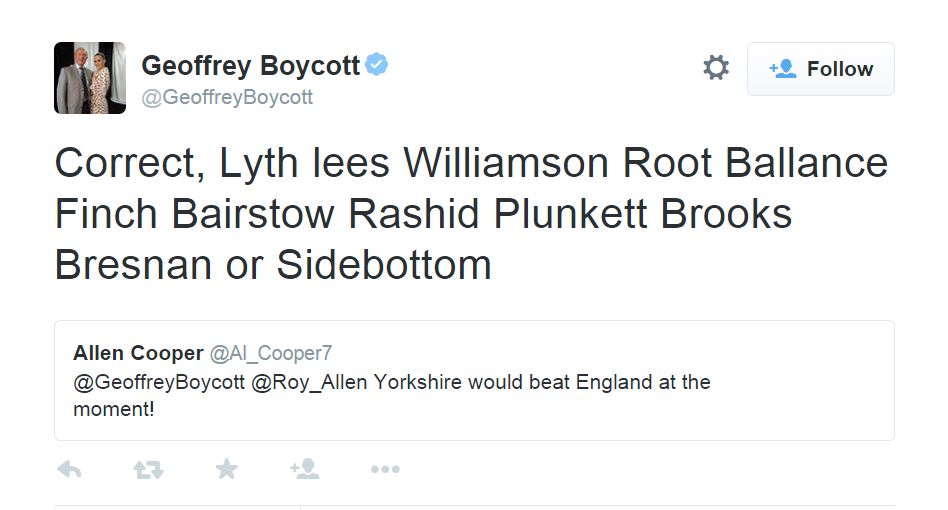 On Tuesday, the 74-year-old had also hit out at skipper Alastair Cook, saying that the left-handed opening batsman thinks too highly of his abilities as captain without there being any reason for him to do so.
"Every time Cook opens his mouth, he sticks his foot in it," Boycott wrote in his Telegraph column.
"Cook acts as if he is the best captain England have ever had. He is living in cloud-cuckoo land about his captaincy ability. He thinks he is untouchable."