Yuvraj Singh – India's greatest cricketer in ODIs
4.05K //
29 Dec 2012, 14:51 IST
We had one of the world's greatest cricketers, Sachin Tendulkar retiring from the ODI format last week after serving the country for 23 years. Many ex-cricketers and media have rated him as the greatest ODI batsman, with Vivan Richards coming close second. There is no doubt about Sachin Tendulkar's greatness and he has won many games for India. He has scored maximum international runs and centuries in both formats of the game. But for me, Yuvraj Singh has been the greatest cricketer in the shorter format for India. His contribution has been immense in the ODIs. Like Sachin, he has also won many games single-handily. We can't judge Yuvraj based on the number of centuries. He mostly bats between no. 5 and no. 7 ans comes to the crease in the last 20 overs of the innings. Yuvraj Singh's batting is like modern era music. He is aggressive and entertaining, the Salman Khan of our Indian cricket team.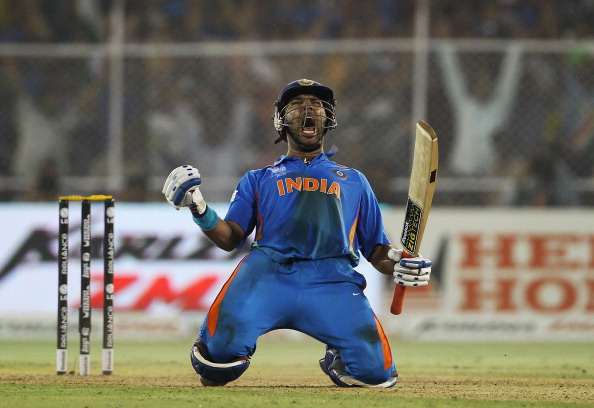 Yuvraj Singh has played a big role in India's World Cup victories in 2007 and 2011. We have also seen him working hard on his left arm spin and he has become a very useful contributor in the bowling department too. He has completed a double of 8000 runs and 100 wickets in the ODI format. We can never forget his six sixes in Stuart Broad's over against England in T20 World Cup in 2007. He is a true match winner. If he contributes, India surely wins. We have seen him propelling India to a win from difficult situations. That makes me rate him higher then Sachin Tendulkar. We know Sachin was an opener but he had played plenty of matches at no. 4 and 5 earlier in his career. If we compare that record with Yuvraj Singh's statistics, we'll know the difference.
In shorter formats, some of the great cricketers from India have been Kapil Dev, Sachin Tendulkar, Mohammad Azharuddin, Ajay Jadeja, Mahendra Singh Dhoni, Yuvraj Singh and now Virat Kohli. For me, Yuvraj Singh has been an undisputed king. His match winning cameos have been much more important than big hundreds. A cricketer has to be judged by how many games he has won for his team rather than how many runs he has scored against his name. I think Yuvraj Singh has not completely done justice to his career. He should have cemented a place in the Test side with his talent. Yuvraj has made several comebacks to Test cricket but he has not consolidated his place there. We need to give him a longer duration to settle down. For example, Justin Langer and Mathew Hayden for Australia; they took time to settle down but today we remember them as the greats of Australian team. Yuvraj Singh should get a couple of Test series to prove himself. We should look him as an all-rounder. He is any day far better than Ravindra Jadeja or Suresh Raina. Yuvraj can be a match winner in Tests too. He still has at least three to four years of cricket left in him.
Yuvraj Singh can be also looked upon as the Captain in shorter formats for Indian team. His aggression can help the Indian team to regain their top position. Why are we looking at only Gambhir and Kohli as Dhoni's replacements? Gambhir has not been consistent and his place in Indian team is itself in doubt. Virat Kohli on the other hand, is still young. We need to give him some more time. Whereas Yuvraj Singh fully deserves a place in the side and the claim to captaincy. Yuvraj has seen many ups and downs in his career, not to forget his fight with the dreaded disease cancer. On all occasions, he came out triumphant. He can be the captain of our next team to the World Cup. Without doubt, Yuvraj Singh is the greatest cricketer of shorter formats for India.