Yuvraj Singh - Missing In Action
899 //
25 Nov 2012, 21:36 IST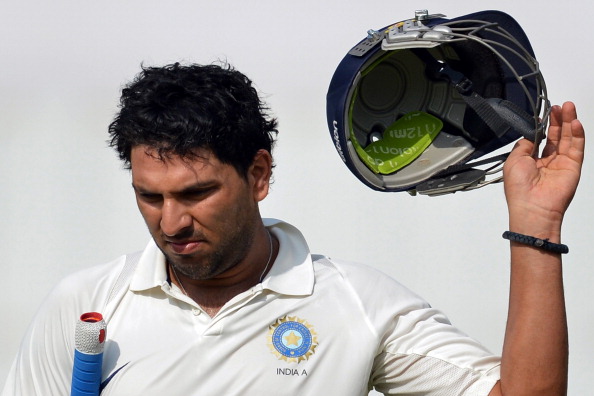 Have you ever wondered how much would you average against an Australian team minus Shane Warne, Glenn McGrath or Dennis Lille and Jeff Thompson? Surely Siddle, Johnson, Hilfenhaus, Lyon, Krejza would not have given sleepless nights to most of us with some amount of fitness and an ability to discern the handle of the bat from the toe. Some of us could have even dreamed of breaching the magical milestone of the double figure mark.
What if the cricket was happening in the Pacific island of Australia? Well, surely the pitches have more bounce but against the non-life threatening bowling of the gents above and with the 300-style battle gear that is called the modern batsman's protective clothing, we surely could have squirted a few edges off our happy bats here and there. So let's divide the double digit dream by half and agree that the beautiful figure of 5 would have done our collective abilities proud.
But of course, these are not numbers that do justice to Test quality players; in fact, these are not numbers that do justice to the slightly rotund secretary of our local Resident's Welfare Association who has been threatening to construct a proper pitch in the colony ground from the time when 'Who Will be the Next Indian opener?' was the favourite punditry game of cricket whiz-fans.
But that's where you will be proven short-sighted and bereft of any knowledge of the game you claim to love. Because that, ladies and gentleman, is the career average of a certain Yuvraj Singh in Tests against Australia, in Australia.
His average reminds us most potently of that godfather of cricket, Sir Bradman. He has what the Don wanted most, a 4.  Admittedly, this average has been carefully constructed in Australia as a taunting reminder of what the Don could never have. So it was a master plan in the Mental Disintegration tactics department, only about 50 odd years too late.
Contrasted with his vertigo-inducing spurt of growth in runs when he plays the same opposition in India, and he almost quadruples it, to a very inspiring 15. So the reason for the Aussies not winning a series here for so long is not Laxman or Ishant Sharma, but the luck that Yuvraj bestows upon them by making his salutary 15 runs.
Frankly, Ojha would be a better choice, given his stratospheric average of infinity against the Aussies on account of their utter inability to find where his off stump is and why is his bat so far away from there. In case the reader wonders, Ojha is yet to be dismissed by Australia.
Yuvraj has top scored in 2 out of his 58 innings, and he can't even complain about lack of time like he does in ODIs, because heck man, this is a test match. You've got all the time you need. He has been the second-highest scorer in 3 or 4 more innings and that's it. The rest of his career has been a majestic compilation of single digit scores and ugly wafts to third slip or gully. At least David Gower looked like he wanted to hit them there and looked good doing it.
He has never looked like making runs on a pitch that is not a featherbed, and never looked like taking a wicket on one that was turning.
What are we doing playing him in the team when Rahane and Tiwary warm the benches and Raina is dropped?
Yuvraj Singh has become a designation instead of a player. Unfortunately, the state abolished the princely states many years ago and there is no longer room for a Prince in Indian cricket.