Gepard is the Captain of Silvermane Guards in Honkai Star Rail and is one of the best examples of how powerful a tank character can be in this game. He is a part of the Landau family and is also the little brother of another popular playable character named Serval. However, unlike his big sister who is a damage dealer unit, Gepard excels in keeping his allies shielded at all times.
Gepard is a 5-star character obtainable only via Gacha, and he wields the Ice element alongside the Preservation Path. Most of the other characters that belong to this class fall under similar roles, where they can either taunt enemies or protect their allies from incoming damage.
This article lists the best builds for Gepard in Honkai Star Rail.
Disclaimer: This article is subjective and relies solely on the writer's opinion.
---
What is the best tank build for Gepard in Honkai Star Rail
1) Skills
It should be noted that Gepard's application of shields to his allies relies heavily on his total Defense. Therefore, this guide lists items applicable for shield builds, but players can choose also to build him for Ice DPS if they choose.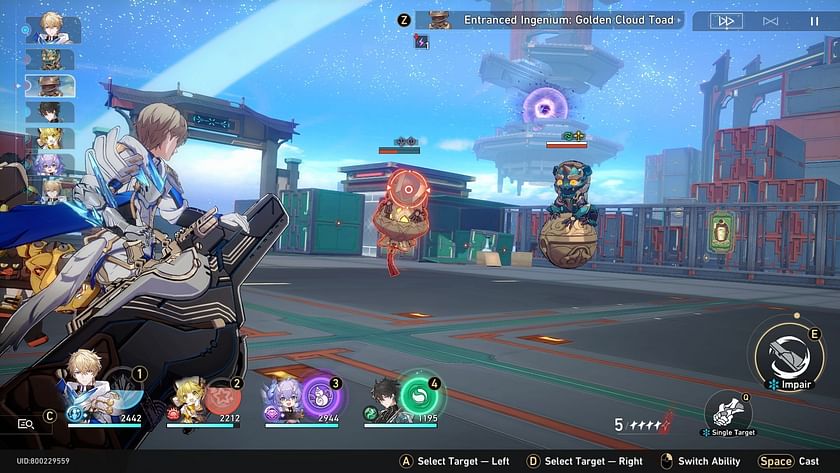 Gepard's technique can apply shields to all allies before starting a battle, absorbing damage equal to 24% of his Defense. Hence, aside from his ultimate and technique, Gepard's normal attack and skill scales off his total attack damage.
---
2) Light Cones
For Light Cones, the BiS (best in the slot) for Gepard is the "Moment of Victory," which increases the wearer's defense and effect hit rate by 24%. It increases the chances of enemies attacking the wearer and enhances the defense by an extra 24% after getting hit. All of the aforementioned stats are for level 1.
The F2P 5-star option is the Texture of Memories, which can be availed from Herta's Shop in exchange for eight Herta's Bond. It applies a shield to the wearer if they get attacked and have no shield protecting them. However, this particular Light Cone stat scales off max HP, meaning players have to sacrifice a bit of defense on Gepard while using this item.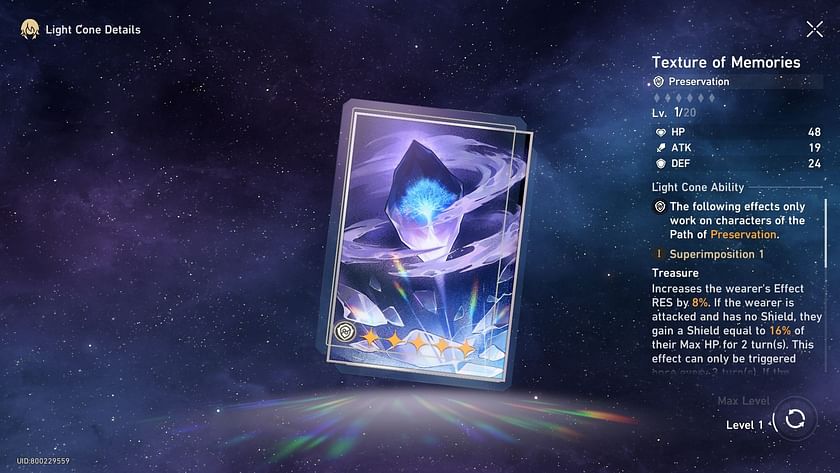 For 4-star, the "Landau's Choice" is the BiS, as it increases the number of times an enemy will attack the wearer while reducing the damage taken each time.
This Light Cone can be identified by an image of Serval protecting her little brother Gepard back when they were kids.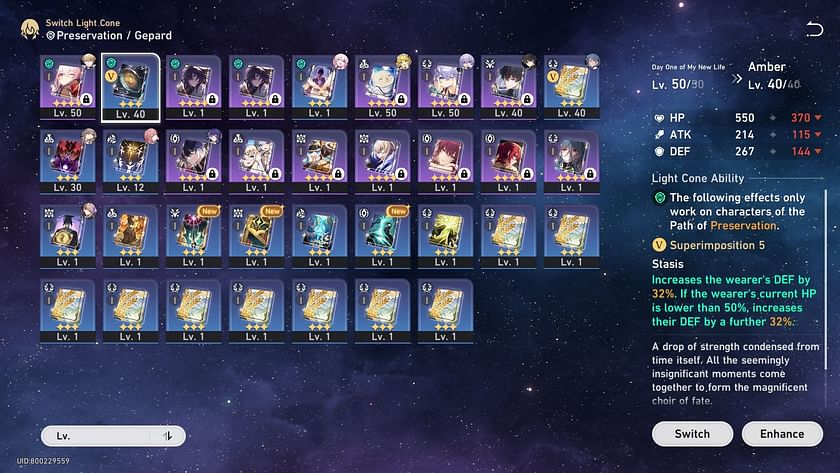 Lastly, the "Day One of My New Life" should be a great 3-star option. It can increase Gepard's overall Defense by 32% at max rank, with an additional 32% once the wearer's current HP reaches less than 50%.
---
3) Relics and Planar ornaments
The best relic set for Gepard is called Knight of Purity Palace. It increases the wearer's DEF by 15% with two pieces, alongside 20% damage-absorbing capability with four pieces. Players can farm for these relics within the Path of the Holu Hymm Cavern, located in the Cloudford section of Xianzhou Loufu.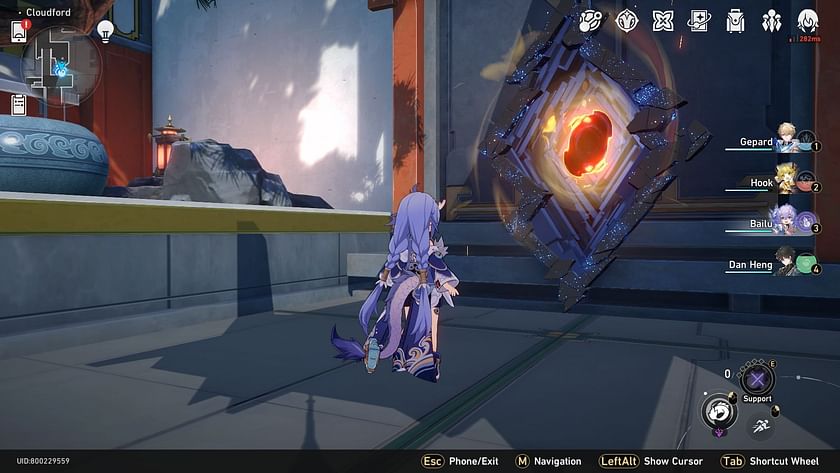 For the Planar ornaments, the two-set Belobog of the Architects increases the wearer's DEF by 15%, with an additional 15% if their effect hit rate is 50%.
Edited by Rachel Syiemlieh