Disney Dreamlight Valley is an interesting game, bridging life sims and the acclaimed universe of Disney cartoons. After seeing success with an early access release, publisher Gameloft has unveiled the roadmap for the title's upcoming 2023 final release. Players can look forward to more content over the coming months.
These include more iconic Disney characters to meet and new worlds to explore. There are also certain additions, such as a multiplayer element.
---
All players should know about what's coming to Disney Dreamlight Valley ahead of 2023 launch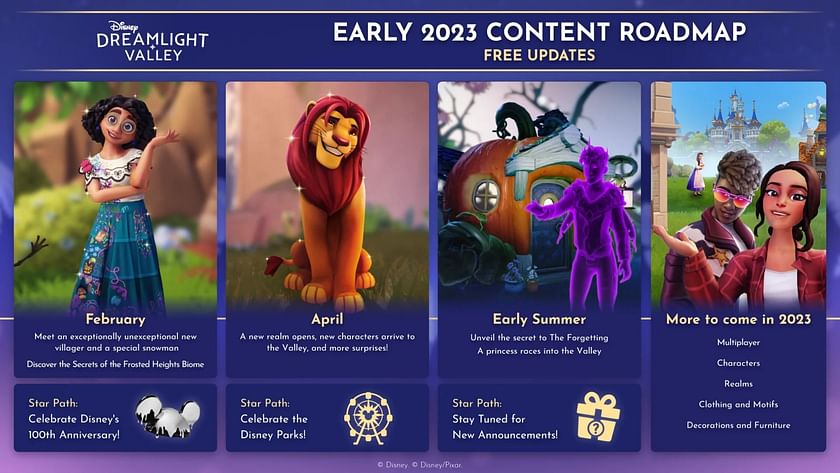 The roadmap has been split for the upcoming months. Here's how it goes:
February 2023: Update 3 introduces new characters like Mirabel Madrigal (from Encanto) and Olaf (from Frozen). Players will also be able to explore the brand-new Frosted Heights biome
April 2023: A new biome from The Lion King will make an appearance, as well as the iconic Simba
Early Summer 2023: New update further expands the main plot of the game and divulges the secret behind the mysterious resident of the pumpkin house
More to come in 2023: Planned features range from new characters and realms to more clothing, accessories, furniture, and decorations. On top of that, multiplayer will also be a highlight, allowing players to cooperate as they help Dreamlight Valley grow into a vibrant, happy community.
Additionally, the Star Path will also see frequent updates. The battle pass-esque system will celebrate Disney's 100 Anniversary in February, while April will see a shift to Disney Parks. Gameloft aims to reveal more about this aspect of Disney Dreamlight Valley in the near future.
---
What is Disney Dreamlight Valley about, and what platforms is it on?
Taking on the role of a customizable avatar, players are tasked with growing the titular Dramlight Valley into a welcoming space for everyone. This includes bringing together renowned Disney characters who have lost their memories to a curse that must be banished. Players will engage in various activities, from farming and cooking to exploration and side missions. Players can even own pets.
Disney Dreamlight Valley is available on PC, PlayStation 4, PlayStation 5, Xbox One, Xbox Series X/S, and Nintendo Switch via an early access release. The final launch sometime later in 2023 will see the game go free-to-play.
Edited by Dinesh Renthlei