During a recent IRL stream, Tim "EsfandTV", co-owner of OTK and a popular Twitch streamer, encountered an unusual moment. As he was leaving the Westfield San Francisco Shopping Center, he held the door open for a thief without realizing it.
It wasn't until two security guards started screaming and chasing after the individual that EsfandTV realized what had happened. In a comical response, he likened himself to Uncle Ben, a character from Spider-Man, for inadvertently aiding a crook:
"Did I just pull (an) Uncle Ben?"
---
Streamer EsfandTV inadvertently aids thief during IRL stream
IRL streams can often be wild and unpredictable, as they showcase real-time and unchoreographed actions. Such was the case in EsfandTV's recent IRL stream, where he encountered a thief making a run out of the Westfield San Francisco Shopping Center.
The thief appeared to be carrying a bag and an iPad. Naturally, Tim was courteous enough to hold the door open for the individual. Seconds later, two security personnel appeared while screaming:
"Get him, he just took a whole computer thing."
(Timestamp: 06:20:10)
Reacting to the unrest, the streamer said:
"Oh my gosh...Dude, this is literally what happened to Uncle Ben. I feel such a Ben. I was just being friendly. Oh no, I was just being friendly, I was helping the door open."
He continued:
"What a piece of garbage human being, dude...Just stealing. I just helped the door open."
---
Here's what fans said about the moment
The clip was shared across the popular live-streaming subreddit r/LivestreamFail, garnering many reactions. While some were amused by the comical comparisons to Uncle Ben, others remarked on the lawlessness of a major city like San Francisco: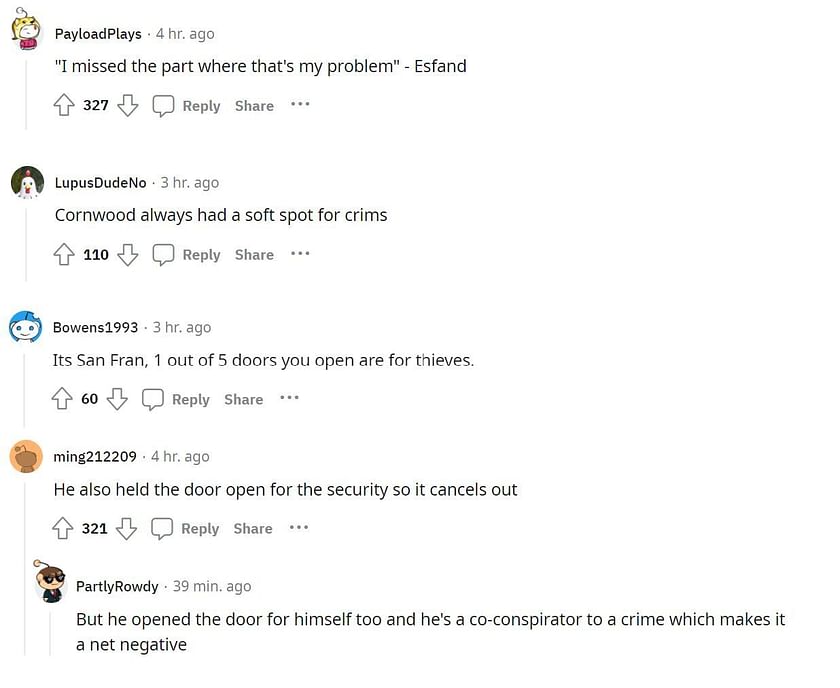 ---
IRL streams and burglary often go hand-in-hand. During his live stream in August 2022, Twitch streamer Cody "DSKoopa" had an unusual experience when he helped a man apprehend a thief in broad daylight in Seattle.
Sometimes, streamers themselves become victims. In June 2022, while streaming live on Twitch, Russian streamer Chaikinna had her phone stolen by a thief during an IRL stream on a beach.
During a livestream in January 2023 in Argentina, Jinnytty was robbed of her phone, but she managed to recover it.
Edited by Dinesh Renthlei