According to Genshin Lab revenue data, Hu Tao and Yelan's reruns have become the best-selling Genshin Impact banners on the Chinese iOS market when their sales are put together. It is vital to mention that their Event Wishes still had six days left when this news broke. Thus, the gap between their banners and Raiden Shogun and Ayato's from Version 3.3 should widen as time passes in terms of sales.
For reference, here are some figures offered by Genshin Lab from when this article was written:
Hu Tao and Yelan: $38,074,093
Raiden Shogun and Ayato: $37,919,130
Ayaka rerun: $35,939,066
Nahida and Yoimiya: $34,017,290
Raiden Shogun and Kokomi: $33,560,259
Raiden Shogun: $33,020,905
Yelan & Xiao: $32,177,144
Venti: $30,632,752
Wanderer and Itto: $27,126,505
Zhongli & Ganyu: $26,780,298
Do note that the numbers mentioned above are solely for the Chinese iOS market. Other regions may present different figures regarding best-selling banners.
---
Hu Tao and Yelan now number one Chinese iOS revenue-generating banners for Genshin Impact
Yelan's banner is known as Discerner of Enigmas, while Hu Tao's is called Moment of Bloom. Combining both results in them being the highest revenue generators in the Chinese iOS market in terms of banners, overtaking Raiden Shogun and Ayato's spot.
Discerner of Enigmas and Moment of Bloom began on February 7, 2023, kick-starting the second phase of Genshin Impact 3.4. Just for reference, the previous Event Wishes from the first phase (Alhaitham and Xiao) made $18,361,860 in the Chinese iOS market.
Hu Tao and Yelan have more than doubled that figure and still have some time left to increase their sales.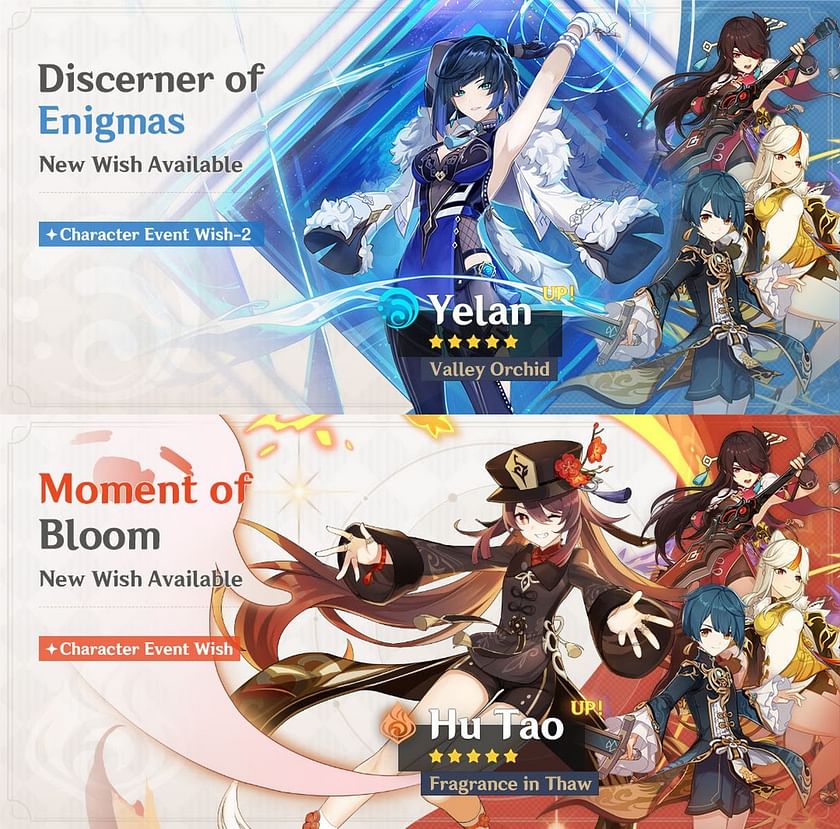 Both Discerner of Enigmas and Moment of Bloom will end at 2:59 pm on February 28, 2023. The time is relative to each server, meaning there will be a few hours of difference between the servers for Asia, Europe, and NA.
Hu Tao and Yelan are considered top-tier within the metagame, a trait that isn't normally shared for the average banners. Not to mention, the former character wasn't summonable for nearly a year, which further contributed to their sales numbers.
The following two Event Wishes that will begin afterward will feature Dehya and Cyno, which will occur in Genshin Impact 3.5 on March 1, 2023.
---
Paimon.moe data

There is no way to determine which character was more instrumental to the revenue in China's iOS market: Hu Tao or Yelan. However, players can still make some inferences based on other data. Case in point, Paimon.moe shows some global figures.
Yelan is more popular based on this metric since far more people summoned her than Hu Tao by comparison. This source is the closest thing that Genshin Impact players have for estimating which character played a bigger role in generating revenue.
There are rumors that future Genshin Impact updates could have three banner phases rather than the standard two that gamers see now. If that ends up being accurate, then it would be very difficult for any Event Wish to overtake Hu Tao and Yelan's number one spot. This is because fewer days would mean there are fewer opportunities to generate as much revenue.
Poll : Did you spend money on Hu Tao or Yelan's banners?
259 votes
Edited by Soumyadyuti Ghosh