YouTube streamer Darren "IShowSpeed" has finally responded to an ongoing discussion concerning the creators that the Sidemen are considering inviting to their charity football match. During a recent Sidecast episode, the Sidemen discussed potential returning participants for their charity football match. Surprisingly, JJ "KSI" was not keen on including Darren in the event.
KSI claimed that the YouTube streamer had "fallen off" and therefore did not need to be present at the event. In response, Darren expressed his thoughts by stating:
"I looked up to you."
---
Will IShowSpeed play in the Sidemen Charity Match 2023?
The 2022 Sidemen charity match proved to be a resounding success story. The livestream reached a peak of over two million concurrent viewers, making it the group's most significant livestreaming endeavor to date.
Notably, IShowSpeed was one of the stars of the event, contributing to an entertaining day for the enthusiastic crowd. The upcoming charity match scheduled for September 9, 2023, is expected to showcase an impressive lineup of prominent figures once again.
However, KSI has cast a shadow of uncertainty over the possibility of IShowSpeed's return. In a recent YouTube video on his channel, KSI referred to the streamer as a "loose cannon." Furthermore, during a recent podcast, he said:
"Really? I don't know, man. I think we miss him, honestly. I think, bro, he's fallen off, let's be honest. Bro, back in the day, or last year, he was everywhere. Now he just stinks."
IShowSpeed responded by stating:
"I don't even know if I can look up to this guy anymore, bro. Like, why doesn't this guy like me?"
(Timestamp: 00:11:11)
He added:
"Like, I get we generally joke around and stuff, but it's like he doesn't generally like me, bro. I don't know what it is, bro. It's like he doesn't genuinely like me. Like, bro, I joke around with my friends, but it's like when KSI jokes, I don't know if it's just some Nigerian-English type of humor. But that's crazy."
---
Here's what fans had to say
Fans took to the comments to state that the event would not be as interesting without the streamer in it. Here are some of the top comments: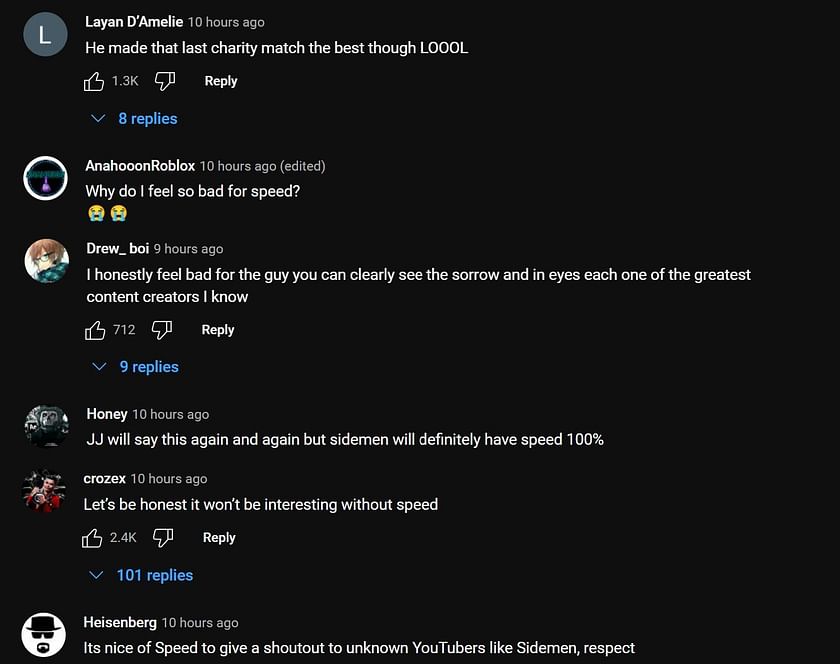 ---
Despite the strong remarks made by KSI, it remains uncertain whether he is simply joking. The duo is known for their playful banter and friendly rivalry, so there might be an element of lightheartedness to his words.
Edited by Siddharth Satish