YouTube streamer Darren "IShowSpeed" has leaked people's phone numbers multiple times on livestream, and his latest victim is English YouTuber JJ "KSI." They got on a call recently, and Darren inadvertently displayed KSI's incoming call, with the phone number visible on the screen, to his viewers.
IShowSpeed apologized during the FaceTime conversation, but KSI remained perplexed. Eventually, he understood that his number was compromised. Readers should note that Darren has leaked KSI's phone number previously as well.
---
IShowSpeed tries to ratio KSI following another debacle
IShowSpeed has once again made a bit of a mess by revealing KSI's phone number to the public, only a couple of days prior to the latter's big-money fight against Joe Fournier. Seconds after receiving the call, Darren vehemently apologized and said:
"No, I'm sorry, I swear to god! No, I'm sorry. No, I'm sorry, f**king hell."
KSI, who still hadn't grasped the situation, said:
"Why are you calling? What's up?"
The Ohio-born YouTuber continued:
"I'm sorry, I swear to god I'm sorry. Wallahi I'm sorry. You'll see in a minute. Why would you call me? What is this number? On my life, why did you call me? I swear on my life..."
The situation soon became clear to KSI, who then promptly hung up. He went on to post a couple of tweets expressing his frustration.
Darren took the opportunity to try and "ratio" him. For those unaware, "ratio" refers to a reply getting more likes than the original tweet. Unfortunately, he fell short of a few thousand likes.
---
Here's what the fans said
The video clip went viral after being uploaded to YouTube and other social media platforms. Fans flooded the comments section, highlighting the apparent disappointment on KSI's face. Here are some of the top comments: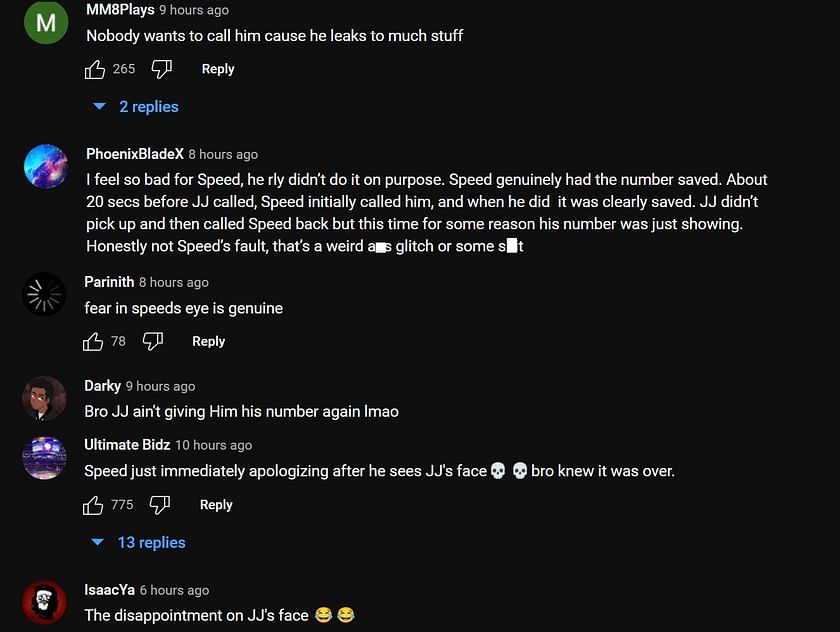 IShowSpeed's fumble was also shared on Twitter. Here are some of the reactions:
---
As previously stated, this is not the first instance of the YouTuber leaking someone's phone number. In July 2022, he leaked KSI's number for the first time. Fast forward a few months later, he exposed the phone number of professional footballer Alphonso Davies during one of his livestreams.
Edited by Mohini Banerjee