During a livestream on March 19, 2023, Twitch sensation Felix "xQc" reacted to YouTube icon Jimmy "MrBeast's" latest video. In it, the Kansas native challenged a "real assassin," stating that the latter would receive $100,000 if he could stab the former with a rubber knife by the end of the day.
After watching the 12-minute video, Felix claimed that it appeared to have a "big layer of fakeness." He then stated:
"Yeah, I don't know how to feel about it. I think it's just bad."
---
xQc believes MrBeast's "real assassin" video should have not made the cut
During a Just Chatting segment of his broadcast On March 19, xQc watched MrBeast's video titled, I Paid A Real Assassin To Try To Kill Me. The YouTuber called it the "craziest video" and provided context:
"Behind me is an assassin, and if he stabs me with this rubber knife, by the end of the day, he wins 100 grand. This video is going to be the craziest video you've ever seen. We have a real tank, an entire carnival, I'm blowing up a bank, and so much more. All to escape this real assassin."
After watching it, xQc shared his thoughts and acknowledged that some bits of MrBeast's videos were "fake." However, when it came to this particular piece of content, the Twitch star believed that there was a "big layer" of fakeness:
"Chat, guys, I almost watch all of MrBeast's videos. I get that there is part fake. I guess there's just like - I understand, they don't care about how fake it is for entertainment. Okay? But I just feel like, this video particularly, it's just my personal feedback about it. Okay? I just thought that the layer of fake was kind of like, so big."
According to the 27-year-old personality, MrBeast's most recent video should not have made the cut:
"I was feeling that the format of this video, and the video itself, it was like, I think they make a lot of videos and some that don't make the cut. I feel like, this one... shouldn't have made the cut, to be honest. It just feels very... I don't know..."
Timestamp: 01:35:20
After claiming that the "real assassin" video was subpar, xQc took the opportunity to mention which were his favorite MrBeast videos:
"Guys, I like Jimmy and Jimmy's a cool guy! I like his content! Genuinely. I like- okay, I think his best video is chat, are the ones that challenge a lot of people. Right? I just wish that they kind of scouted better talent/personalities in those videos. And they almost treated like it was a reality TV show, a little bit. So, more like... better content from the people in the challenge."
---
Fans react to the streamer's take
The YouTube comments section was bustling with fans' opinions, as more than 90 community members weighed in on xQc's take. Here's a snippet of some relevant reactions: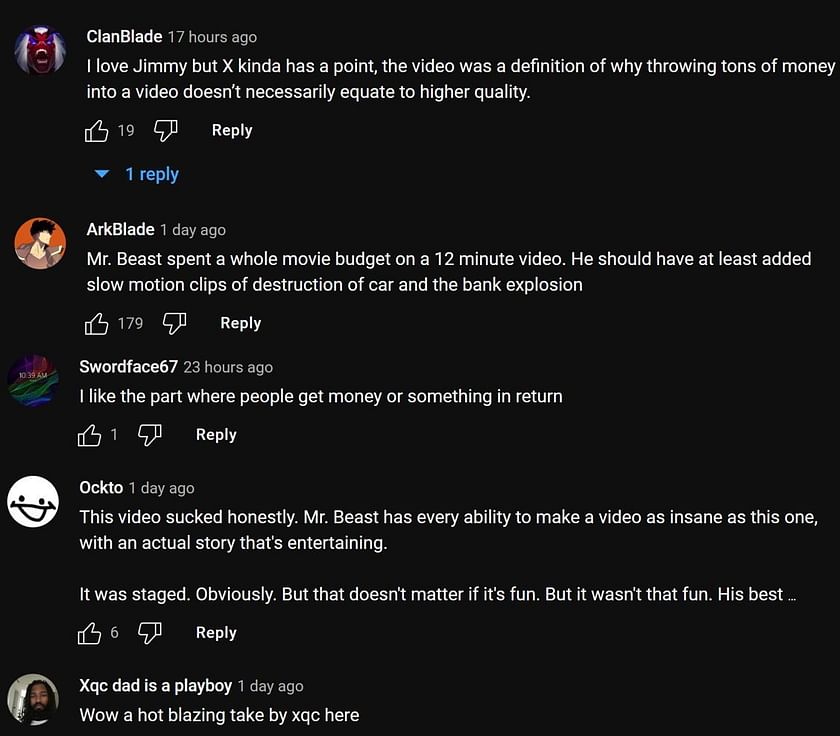 While one viewer agreed with xQc's point and stated that "throwing tons of money" into the video did not result in higher quality, another fan claimed that MrBeast's most recent video "sucked."