On January 29, YouTube sensation Jimmy "MrBeast" took the internet by storm when he shared a Twitter update, announcing that he and his team have helped "1,000 people see, literally." His tweet read:
As expected, the update went viral on the social media platform, with thousands of community members sharing heartfelt comments. Twitter user @OttoMatticBaby's response garnered over 160 likes, in which he stated:
"Keep making a difference bro."
---
MrBeast explains how the surgery is helping people gain their vision back
The Kansas native uploaded a video titled "1,000 Blind People See For The First Time" on January 29. It began with the YouTuber providing context towards the endeavor, stating:
"It's going to be crazy! Most of us see the world like this. But here's the thing, 200 million people see the world like this (a very blurry image comes up in the video). But I just made it one less. She's just one of 1,000 blind people we helped from around the world."
MrBeast also explained how the surgical procedure worked that helped people regain their vision:
"If you're wondering how the surgery allows people to see again, it's because the lens in their eyes is so cloudy that they can't see through it. So the surgeon uses a tiny vacuum to suck up the clouded lens. And replace it with an artificial one. The surgery is that simple! They can see again."
The video concluded with the 24-year-old personality announcing a $100,000 donation that will help more people restore their sight:
"As a thank you because just you were so gracious in this video, we want to make a $100,000 donation. It'll bring sight to thousands of people."
In his closing remarks, MrBeast wondered if the video would get 1,000 more views from the people he cured:
"I wonder if we'll get 1,000 more views from the people we cured lol."
---
Fans react to the YouTuber's endeavor
The YouTuber's charitable effort was a trending video on the platform, garnering 14 million views and over 106,000 comments. Some of the most relevant fan reactions from YouTube were along these lines: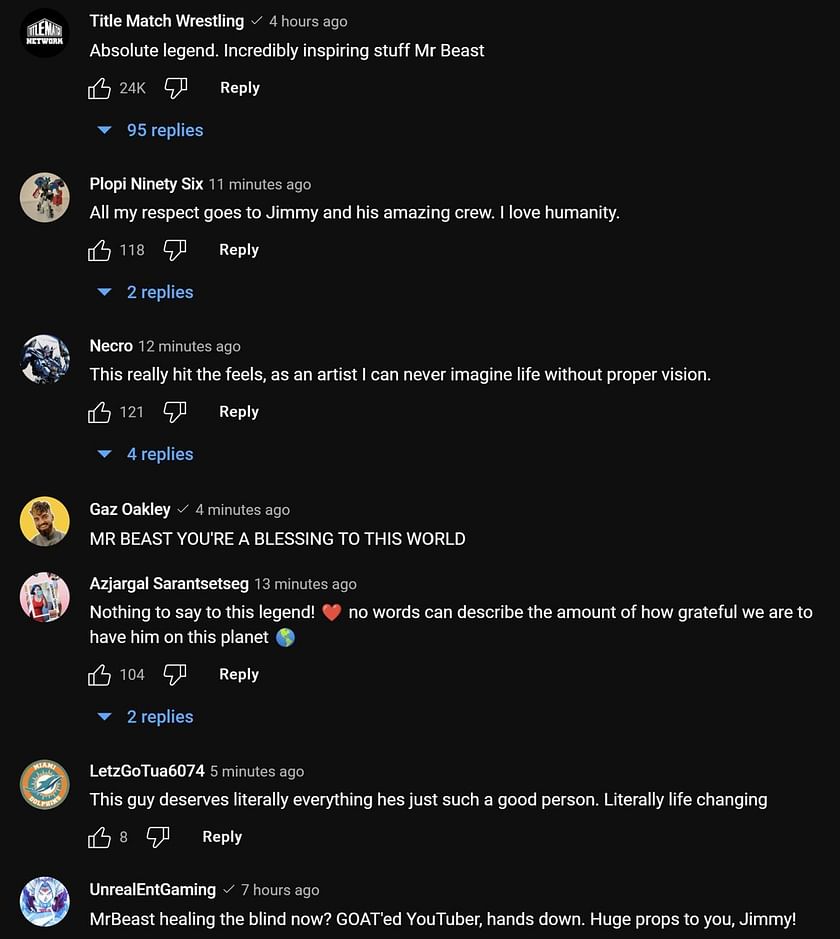 Several prominent personalities reacted to Jimmy's tweet and here's what they had to say:
---
MrBeast is a popular YouTuber who surpassed Felix "PewDiePie" to become the platform's most-subscribed-to content creator. He is also known for his philanthropic work, with some of his most viral ventures including Team Trees, Team Seas, and donating $100,000 to a homeless shelter.