On January 22, 2023, Twitch streamer Kiaraakitty was handed her fourth ban on Twitch. The update came via the automated Twitter account, StreamerBans, stating:
The announcement gained a lot of traction on social media platforms like Twitter and Reddit, with the streaming community wondering about the plausible cause for action.
According to Redditor u/Phar4, the streamer's antics during an IRL livestream may have resulted in her suspension from the platform. They stated:
"Well she was squatting her a** directly into the camera in public yesterday, that's probably why."
---
"Maybe Twitch isn't her right platform of choice" - Streaming community reacts to Twitch streamer Kiaraakitty's fourth ban
While Kiaraakitty has not shared the real reason for the ban, many in the comment section of StreamerBans' post believe it was due to inappropriate dressing.
Kiaraakitty herself has a track record of contentious bans, with some of them being attributed to "wardrobe malfunctions" during livestreams. The issue of Twitch streamers such as Amouranth being banned for similar reasons has been a topic of conversation for many in the community over the years.
Twitter user @Dean_Wnchestr expressed surprise at Kiaraakitty getting her partnership back, commenting:
"Still surprised, she got her partner back. Maybe Twitch isn't her right platform of choice."
Twitch partner CommanderRoot provided more insights into the suspension, revealing that the streamer was indefinitely banned from the platform:
Jordan "Soma" called out Twitch, asserting that there should be a difference between suspension and ban: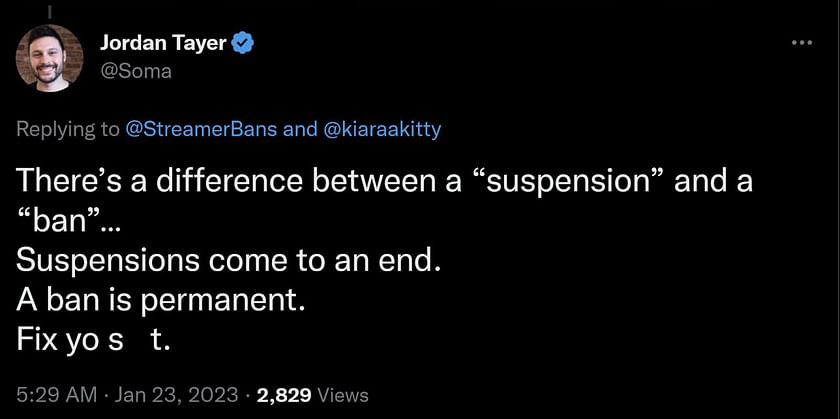 Another Twitter user speculated that Kiaraakitty's attire during the recent livestream could have been the reason for her ban:
Some of the more relevant fan reactions from Twitter were along these lines:
The Twitch streamer's suspension was a hot topic of discussion on the r/LivestreamFail subreddit, wherein more than 328 fans provided their take. Redditor u/FewSeaworthiness121 hoped that her ban was permanent:
Here are some more relevant comments from the streamer-focused forum:
---
Who is Kiaraakitty?
Kiaraakitty is a partnered Twitch streamer who started her livestreaming career in 2017. She currently has 365,425 followers with an average viewership of more than 2,300 fans. She is primarily a Just Chatting content creator, having spent 4,706 hours streaming under the category.
Kiaraakitty is also an avid gamer and has played 94 games during her online career. Grand Theft Auto 5, Counter-Strike: Global Offensive, PlayerUnknown's Battlegrounds, Overwatch, and Dark Souls 3 are among them.
Several well-known streaming personalities, including Mizkif, AriaSaki, EsfandTV, robcdee, AdmiralBulldog, and Jinnytty, follow Kiaraakitty's channel.
Edited by Soumyadyuti Ghosh