Kick star Adin Ross is once again embroiled in controversy after telling popular Twitch streamer "HasanAbi" Piker to kill himself during an online spat. The two have been feuding for months, having indirectly called each other out about various things. The latest scandal occurred after HasanAbi replied to Ross' comments about banning him from joining Kick.
Amid the recent controversy over Twitch's branded content policy, streamers like Trainwreckstv and Adin Ross have been vocal about wanting more people to move to Kick. However, Ross, in a rant on his stream, "banned" HasanAbi and Mizkif from joining the platform.
In his reply, HasanAbi claimed that he had no intention of leaving Twitch and called Ross a "gremlin" while expressing his wish for Kick to thrive.
Shortly after, Ross started attacking HasanAbi for supporting Pride Month and, in a tweet that has raised many eyebrows, said he wanted the Twitch star to kill himself:
"Hassan [sic] pls kys. I'll do anything. Please."
Ross didn't stop there and proceeded to go on an anti-LGBTQ rant, falsely claiming that HasanAbi pushes a "gay agenda" in kids. He also called the political commentator a creep.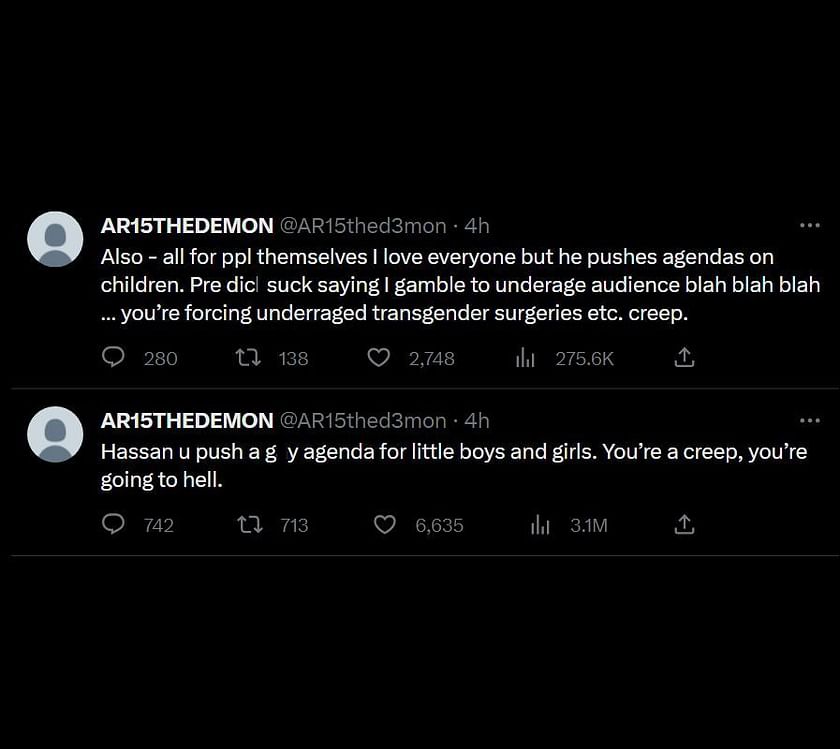 Readers should note that this is not the first time that Ross has made headlines for saying offensive things. He said highly provocative things about the LGBTQ+ community just a few months ago.
---
"Jake Lucky, Hasan end yourself": Adin Ross tells esports journalist Jake Lucky and HasanAbi to kill themselves in a video featuring him and BruceDropEmOff
In subsequent posts on his alternate Twitter account, Adin Ross turned his attention to other people, such as Jake Lucky. The popular esports personality had tweeted about Ross being Kick's biggest liability before the attacks started.
The Kick streamer first posted a tweet, saying Jake Lucky should be 'stoned to death' and calling on people to bully him.
As if this tweet was not controversial enough, Ross posted a short video of himself and recent Kick signing BurceDropEmOff hanging out and continuing the rant. The controversial streamer added that he was not on a drug called lean and that they were just "having fun." He said:
"I'm not on lean. Me and Bruce are relaxing. We're just having fun man, know what I am saying? Nobody's on lean, we're sober, we've got mind in the game."
Ross then continued his attack on HasanAbi and Jake Lucky, saying nobody cares what they do and that they should stop. He then reiterated that both of them should "end themselves":
"All sh*t aside, Jake Lucky end yourself. Hasan end yourself. Another guy who tweeted at me, end yourself. Stop doing what you guys are doing, bro. I don't care Nobody gives a f*ck, I don't care."
Ross then ended the rant by once again telling HasanAbi that he cannot join Kick:
"Hasan, you're banned. You're banned for good, you can't come to Kick."
---
Twitter reactions
Here are some Twitter reactions to Adin Ross' comments:
---
Here's an article linking Adin Ross and Andrew Tate, two controversial figures who have collaborated a lot in the past.
Edited by Rachel Syiemlieh