S2G Esports became the champion of the 2022 PUBG Mobile Global Championship (PMGC) after putting up an impressive performance in the Grand Finals. Presenting a consistent run across the three days of the tournament, the squad scored 190 points, which included 93 eliminations. The team was awarded $400K in prize money.
DRS Gaming from Nepal registered 158 points and secured the first runner-up prize of $200K after showing up strong in the prestigious competition. Alpha 7 from Brazil also had great outings and achieved third place, taking home $120K in prize money.
GodLike Stalwart finished fourth place with 156 points without securing a single chicken dinner. Their player TOP was given the MVP award for his masterclass performance in the finals.
Defending champion Nova Esports had average showings, placing ninth on the table. This was the first time that the Chinese squad couldn't win the PMGC.
---
PMGC 2022 Grand Finals overall standings and Day 2 overview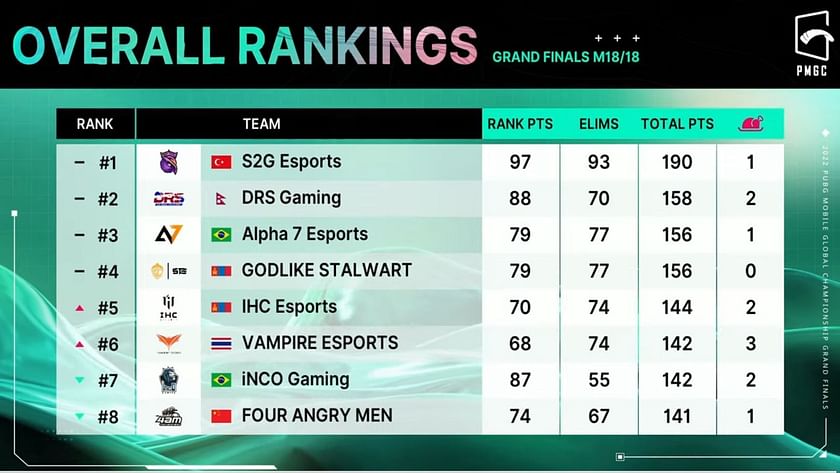 Match 13 - Erangel
Four Angry Men started their day with a bang, claiming a mammoth 18-kill chicken dinner and jumping to second place on the overall leaderboard. DRS Gaming set up a great performance to gain 18 points, while Alpha 7 and GodLike Stalwart collected 16 and 14 points respectively.
Match 14 - Miramar
It was the second victory for host country team Alter Ego as they put up a perfect execution in the Miramar battle. Despite losing two of their players earlier, Geek Fam achieved second place with five eliminations. S2G, Fire Flux, and DRS Gaming earned 16, 15 and 12 points, respectively.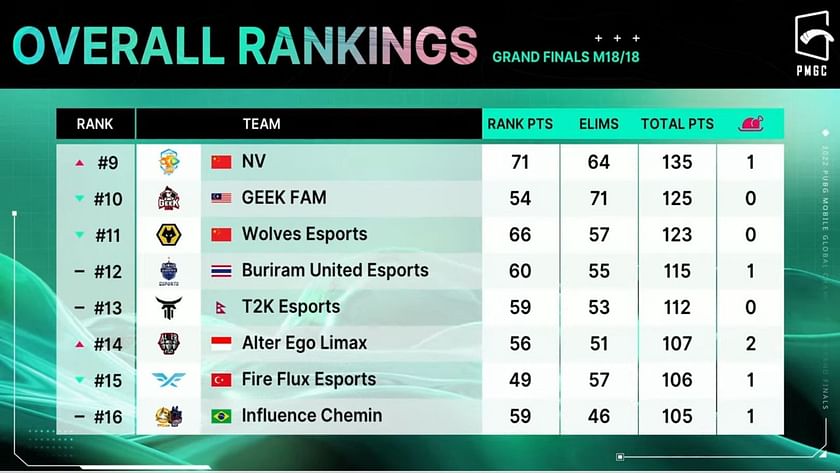 Match 15 - Sanhok
Vampire Esports, who had poor showings in the previous two days of the PMGC Finals, registered a huge 18-kill victory, making a sensational comeback. Wolves, GodLike Stalwart, and Nova had a great game too and added 19, 13, and 12 points respectively to their names.
Match 16 - Erangel
It was a back-to-back swagger execution from Vampire Esports, securing another chicken dinner with eight eliminations. Geek Fam's aggressive gameplay helped them post 25 points on the scoreboard. S2G and GodLike Stalwart scored 16 and 14 points, respectively.
Match 17 - Miramar
IHC beat Alpha 7 Esports in their last battle to clinch the match with 12 eliminations. DRS and Fire Flux also showcased masterclass exploits and grabbed 18 points each. Nova, Geek Fam, and Alter Ego could not score any points in the game.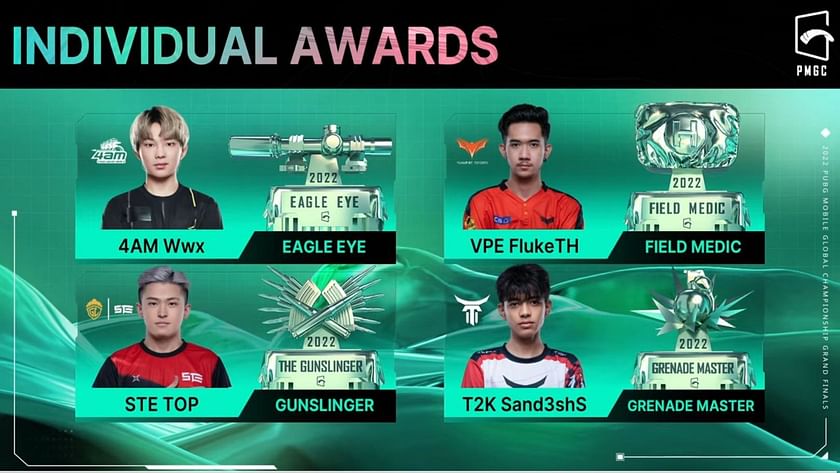 Match 18 - Erangel
The last battle of the Grand Finals was once again won by Vampire Esports. Nova Esports finished second in the game, while S2G had a dominating run in this match as well.
Edited by Mohini Banerjee