Popular Twitch streamer Zack "Asmongold" might not play many FPS games on stream, but that hasn't stopped him from praising Counter-Strike 2's updated gameplay mechanics. He expressed his admiration for the reworked volumetric smoke grenades in the upcoming game.
Zack has always been known as the quintessential MMO streamer of Twitch, popular for playing titles such as World of Warcraft, Path of Exile, and Lost Ark. That said, the OTK co-founder likes to keep up with gaming news and reacted to Valve's gameplay videos about the much-anticipated sequel to CS: GO — Counter-Strike 2.
Here's what he had to say about dynamic smoke grenades in the game:
"Oh, that's really cool. Holy sh*t, that's badass. Yeah..."
---
"Huge gameplay upgrade": Asmongold's reaction to Counter-Strike 2 updates
As mentioned before, Asmongold is not really known for playing FPS games. Case in point — the Texan streamer bagged the MMO Streamer of the Year award at QTCinderella's Streamer Awards this time, cementing his place in the community as one of the most popular RPG streamers.
That said, the hype for Counter-Strike 2 is unreal and has the entire gaming community excited about what the Source 2 engine can bring to the table. After all, this will be the first CS game to be released in over a decade since Counter-Strike: Global Offensive's launch back in 2012.
Expectations were quite high when Valve, seemingly out of the blue, not only confirmed the upcoming release of the game but also showcased a variety of upgrades to the gameplay through a series of videos.
One video that has garnered most of the attention, including Asmongold's, was where they revealed Counter-Strike 2's dynamic volumetric smokes that react to the environment. The streamer was quite taken by the upgrade, saying:
"That's really cool, holy sh*t. That is a really big improvement, wow."
After seeing how bullets and HE (High Explosive) grenades interact with the smoke, dispelling it for a short time, Asmongold reiterated his point, explaining how he understood why fans were excited about the new game:
"Damn okay, I got that. That's a, that's a huge gameplay upgrade. Obviously, this is awesome."
---
Fan reactions
Here's how Asmongold's fans reacted to the clip of him praising the new mechanics of Counter-Striker 2.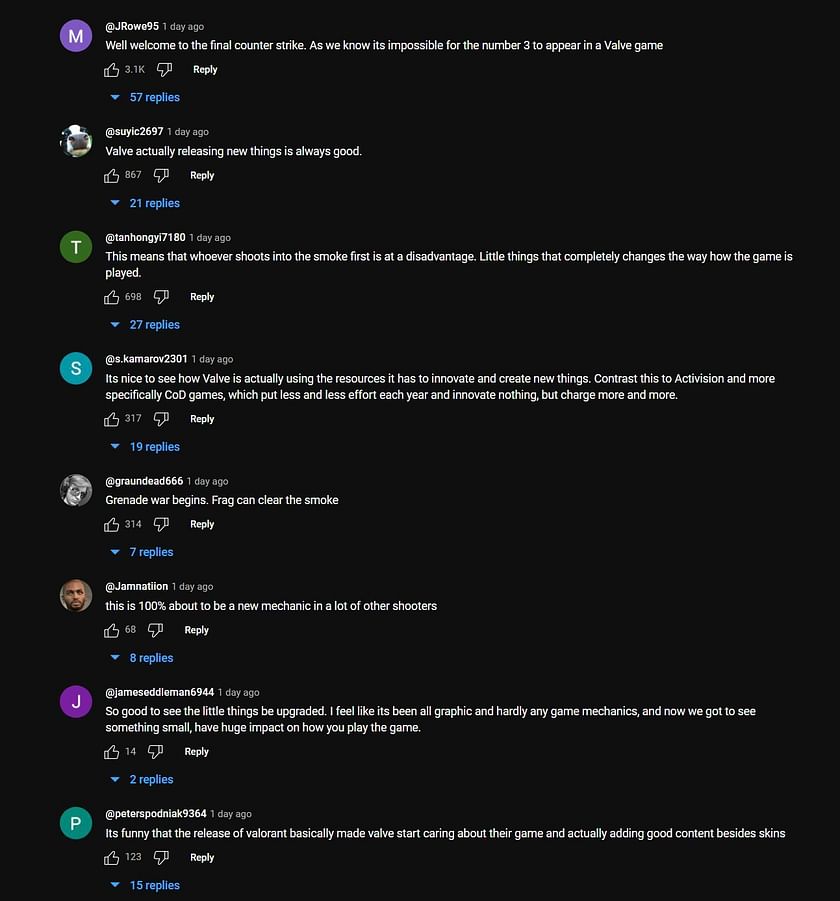 Other streamers have also reacted to the new smoke mechanics, with Shroud pointing out how taxing the volumetric effect will be on lower-end PCs. Here's a clip of the FPS god reacting to the game.
CS: GO professional s1mple also reacted to the new smoke mechanics on the live stream after finishing an ESL 17 group stage match. He was so surprised at the recent changes that he initially refused to believe they were true.
Edited by Ritoban "Veloxi" Paul