Valve has got the entire gaming community excited after revealing new details about Counter-Strike 2. Reactions from professionals, such as s1mple, to how the smoke mechanics in Source 2 work have gone viral. It's worth noting that these responses came after an ESL game.
After NaVi won the last Group Stage match 2:0 in the tournament against Outsiders, the Ukrainian CS:GO legend was shown the new volumetric smoke grenades in Counter-Strike 2. The player loved the way it interacted with the assets on the map as well as grenades. This was his initial reaction after the tournament casters showed him Valve's official videos showcasing the feature:
"No way, I don't believe you. F*ck that."
---
s1mple was taken aback by Counter-Strike 2's new dynamic volumetric smokes
Aleksandr "⁠s1mple⁠" is perhaps one of the most popular CS:GO professionals in the world right now, having broken numerous records with NaVi or Natus Vincere at the highest levels of competitive Counter-Strike. As expected, fans and esporting pros were quite interested to see his reactions to the upcoming game's new mechanics.
Counter-Strike 2 is probably one of the most anticipated games in recent times, especially after "leaks" and rumors about the game flooded social media. On March 22, however, Valve finally announced the sequel to 2012's CS:GO. Players can expect to get their hands on the new game sometime this summer.
While many upgrades to maps and tick rates have been announced for this title, the feature that has attracted the most attention till now involves the new dynamic smokes. They react to the environment and are markedly different from what's seen in the previous iterations of CS.
The game has already started beta-testing, and a handful of esporting professionals and players were allowed to try the title before today's big reveal. Among these people were the ESL 17 casters who showed s1mple the official videos and tried to explain the changes:
"So these are volumetric smokes now. So if you throw these in upward tunners? They're gonna go up and out; they're gonna fill the space. And with these, if you throw a HE into it, you can clear the smoke temporarily with a 'nade and shoots bullets through."
s1mple was so blown away by the change that he initially refused to believe the caster, who was showing him the clip, had actually playtested the mechanic beforehand. He excitedly called up NaVi's coach Andrij "B1ad3"Ghorodensjkyj to see the change to the smokes.
"Wowww! Andrij! Where is B1ad3, B1ad3..."
---
Redditors comment on s1mple's reaction
The wholesome reaction got a lot of traction on social media, with people praising the mechanic and the NaVi player's honest reaction to it. Here is a sample of the responses: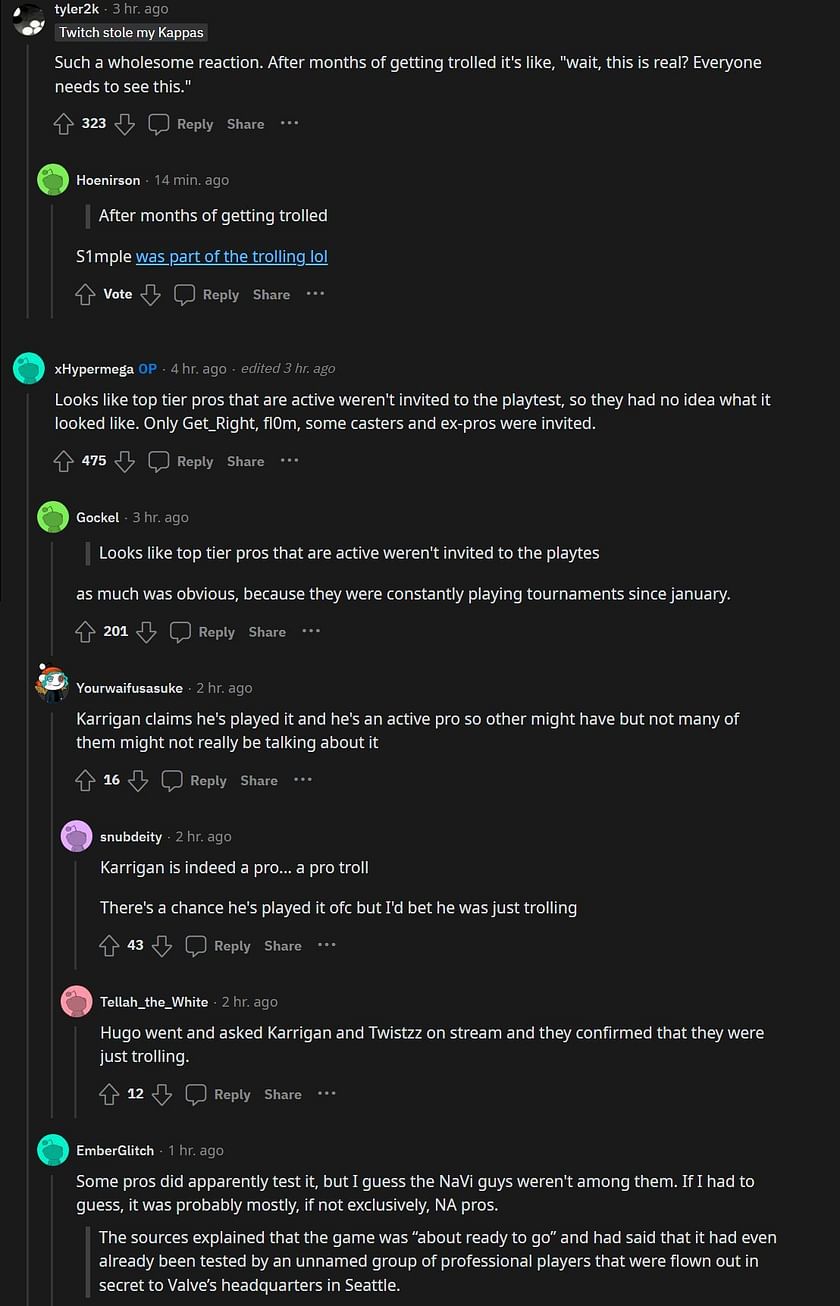 ---
Smokes are not the only thing to change in the game. Players can also see their feet if they look down in Counter-Strike 2.
Edited by Soumyadyuti Ghosh