Yesterday (September 29), YouTube streamer Darren "IShowSpeed" was left shocked after he discovered that his dad (who goes by DaddySpeed on YouTube) dropped a song titled I Show The Meat. For those unaware, the title refers to a recent incident (August 16) where the streamer unintentionally exposed his privates in front of his live audience.
The day following the incident, the streamer's father, Darren Sr., was observed singing the phrase "I show the meat" mockingly. This understandably infuriated the streamer, leading to a confrontation with his father. However, it seems that his father escalated the situation even further by releasing a complete song centered around the incident:
Although the entire song was intended as a parody and meant in good humor, it was evident that the streamer was visibly distressed when he confronted his father over FaceTime and challenged him to a fight:
"We gotta f**king fight!"
---
"You're not my daddy no more" - IShowSpeed nearly cries as his dad drops parody song about him
Yesterday's stream took on a rather dramatic turn as IShowSpeed found himself deeply upset upon discovering that his father had released a song parodying his embarrassing incident while he was livestreaming. Reacting to the song, he exclaimed:
"Dad! I'm about to beat your a**! I'm about to beat the f**k outta you, dad! b**ch! On god, you're not my daddy no more. I'm never calling your a**. This ni**a just made a f**king song about my f**king d*ck!"
Later in the stream, he emotionally confronted both his brother (who had appeared in the music video) and his father about the song, with his eyes welling up with tears. While speaking to his father, he exclaimed:
"You not listening! You made a f**king song about my f**king pack! I'm about to beat the f**k out you, dad! I don't give a f**k anymore. I'm about to beat your a**. Dad, I'm beating your a**. We gotta f**king fight!"
---
Here's what fans said
Naturally, the entire situation sparked a flurry of reactions on YouTube. Here are some notable ones: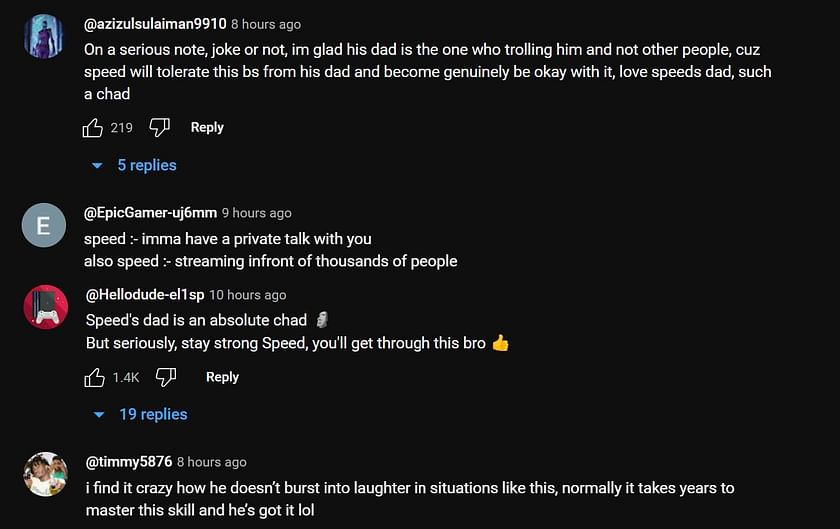 ---
The incident where IShowSpeed mistakenly exposed himself garnered a lot of attention and sparked discussion about whether he would be suspended by YouTube. However, the platform did not take any action against him since he had deleted the stream soon after.
Edited by Siddharth Satish