Twitch streamer Matthew "Mizkif" has recently been banned from the platform while he was streaming, leading many fans to ask why the OTK member was struck with the ban hammer. The controversial content creator, who recently signed a deal with Rumble, is no stranger to getting banned, having already getting suspended more than once in 2023 alone.
While the actual reason behind the ban is not known, trying to visit his channel on Twitch shows this message:
"Content from this channel has been removed at the request of the copyright holder."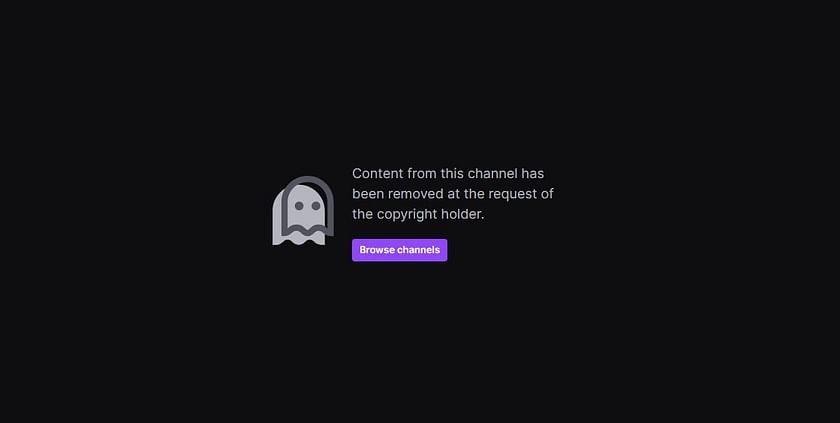 This means that the streamer was hit with a DMCA strike, probably because he was watching something that was under copyright, triggering a live ban.
---
"You're asking for your demise": Mizkif viewers not happy with Twitch for DMCA strike
Copyright strikes are not uncommon in the streaming world, and major platforms like Twitch and YouTube have a reputation for suspending or banning content creators who violate copyright regulations. The platform usually takes immediate action, so streamers may face these consequences during a livestream.
Mizkif himself has been banned for a DMCA strike before. One such incident occurred in February 2023, and the streamer later revealed that it was because he was watching a TLC reality show.
It appears that he was doing something quite similar today, as ascertained by one of his viewers who goes by @forestm555 on Twitter. The user expressed their displeasure at Twitch for banning the OTK streamer for watching reality TV. The tweet also claimed that the suspension was indicative of the platform's double standards because other creators doing the same allegedly did not receive copyright strikes:
"Can't count how many times I've seen other streamers watching reality tv shows. Yet Mizkif gets the ban. You're asking for your own demise as a platform at this point."
Mizkif has been streaming on Rumble in the meantime, and although it is unclear how long the ban on Twitch will last, he has shared a picture of a cat to distract fans from all the controversy, possibly hinting at the recent online spat with Adin Ross.
Many fans of Mizkif took the opportunity to express their feelings about the ban. Here are a few reactions from Twitter and Reddit, with many noting that the suspension might hinder the upcoming OTK Games Expo.
---
Speaking of DMCA strikes, Kick, the up-and-coming streaming platform with connections to Stake, has been the subject of much controversy after many streamers allegedly re-streamed the Super Bowl on the platform.
Edited by Siddharth Satish