Twitch star Matthew "Mizkif" recently uploaded a new video to his YouTube channel, explaining why he was banned for the third time on the platform.
The streamer confirmed that he received a DMCA (The Digital Millennium Copyright Act) strike after watching a TLC reality show. He claimed that he was aware of the "small risk" while watching the television series.
The Austin, Texas-based personality said:
"I don't blame Twitch at all. It's not Twitch's fault. It's the TLC website or TLC, the company. Warner Bros. reaching out to Twitch to report the ban. This isn't anything Twitch's fault."
---
Mizkif addresses the community following his most recent Twitch ban
The YouTube video titled, "I Got Banned.," began with Mizkif explaining why he was suspended from Twitch for the second time this year. He said:
"Yo! I just wanted to make this video to let everyone know why I was banned. Wanted to let you know that I'm banned for DMCA strike. This is the second ban I've received in the past month. I was banned because Warner Bros. said that I'm not allowed to watch TLC's show, MILF Manor, despite every other streamer reacting to it."
The co-founder of One True King (OTK) speculated that it would have been fine for him to watch the show on livestream and added that he was aware of the risks:
"I thought it'd be okay for me to do it. I knew that there's a small risk because I have high viewership and apparently they were immediately contacted to the point where one and a half hours into my stream... I'm really sad, honestly, because I really did enjoy watching that show with chat. I thought I would be okay because I've seen every other streamer react to this in full just like I was doing and I thought I could do the same."
The streamer added that Twitch was not to blame for his recent ban. He further said that he was having a great time watching the reality show along with his audience:
"I did take a risk watching the show and it was a risk that unfortunately didn't pay off, because unfortunately, I can't even show you the reaction of me reacting to MILF Manor. Which was fantastic, by the way! I was having so much fun reacting to it with Twitch chat. I was having a great time. But unfortunately, that will not be happening."
Mizkif stated that things will be "back to normal" after he serves his day-long ban and announced that he will go live on his channel on February 9, 2023 (Thursday).
---
Fans react to the streamer's address
The YouTube comments section featured over 550 fan reactions. Here's a snippet of some relevant ones: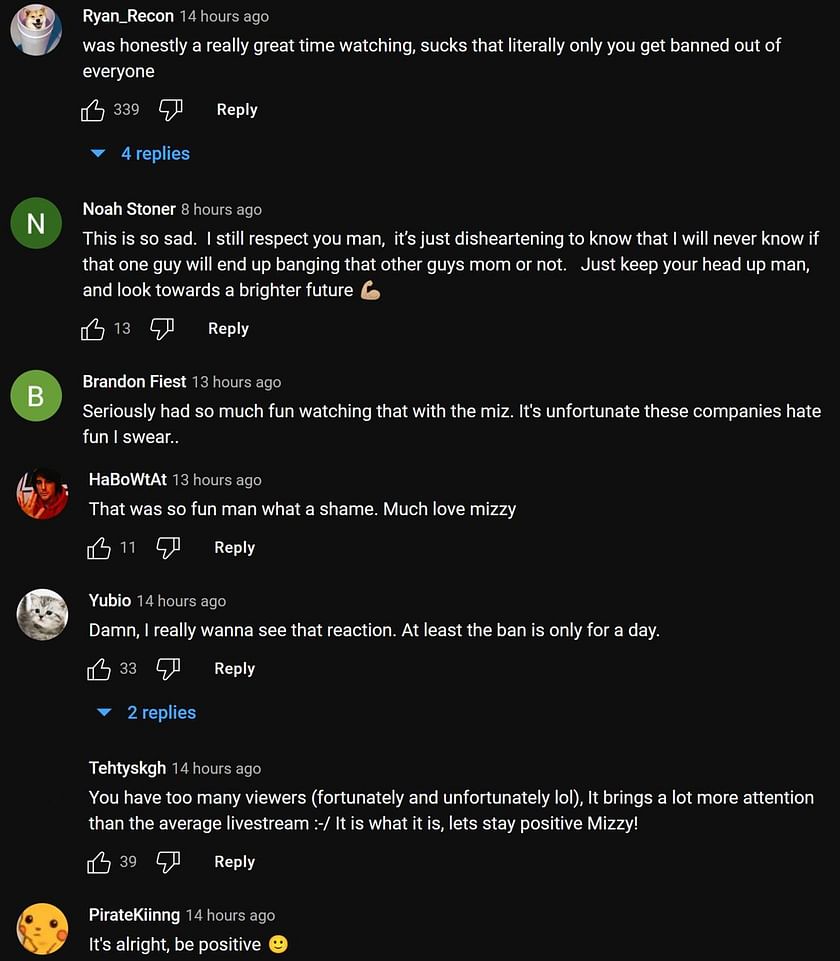 While several fans said they enjoyed watching Mizkif's watch-along broadcast of the reality show, one community member suggested that he remain positive.
Edited by Rachel Syiemlieh