In 2022, the livestreaming industry reached new heights, and with it, a slew of streamers and content creators emerged as the most popular personalities across different platforms.
Twitch, the Amazon-owned platform, remains the go-to hub for the vast majority of viewers. In the meantime, YouTube Gaming has established itself as a worthy competitor, with several prominent streamers like Thomas "Sykkuno," Lily "LilyPichu," and Ali "Myth" switching platforms last year.
In this article, we'll take a deep dive into the biggest streamers on Twitch, YouTube, and Facebook Gaming in 2022, as well as look at some relevant statistics.
---
Exploring the most popular streamers on Twitch, YouTube, and Facebook Gaming
Twitch: xQc
Felix "xQc" was one of the most popular Twitch personalities in 2022 and has been ranked as the purple platform's top content creator on multiple occasions.
Over the course of the year, the former Overwatch pro's following and viewership steadily grew, with his most successful livestream last year attracting a peak viewership of 312,158 fans.
In addition to streaming under the Just Chatting category for over 1,140 hours, Felix actively played a wide variety of games. Grand Theft Auto 5, Minecraft, Overwatch 2, Rust, Counter-Strike: Global Offensive, and League of Legends were among his most-played games of the year.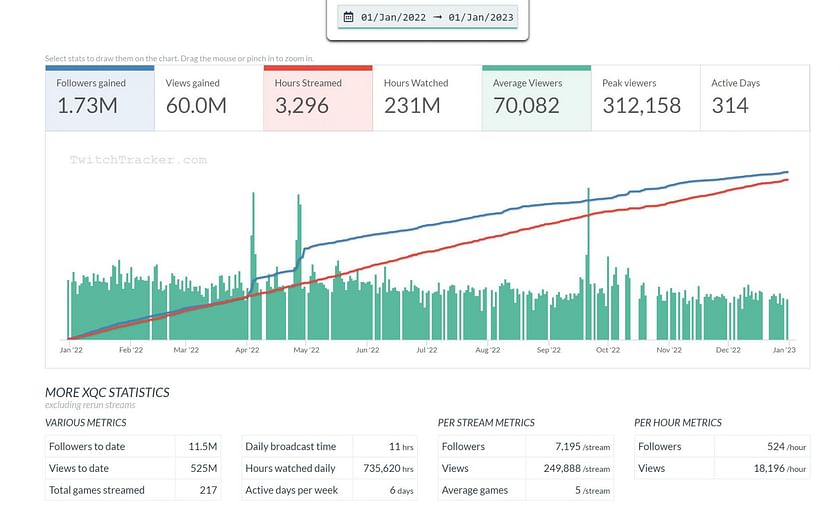 Incidentally, 2022 was also a dramatic year for Felix, as he was involved in several controversies. His public break-up with former girlfriend Sammy "Adept" was one of the year's most contentious moments.
The debacle is still ongoing at the time of writing this article, as the latter accused the former of "violating court orders" at the onset of 2023.
Honorable mention: Kai Cenat
Kai Cenat, a 21-year-old streamer, was one of the purple platform's fastest-growing content creators, reaching the top leagues within the span of a few months. He started the year with 20,506 followers and surpassed the 2.6 million follower mark on December 30, 2022.
Kai Cenat was given the highly-coveted Streamer of the Year award at YouTube's annual awards function, the Streamy Awards 2022.
---
YouTube: MrBeast
Jimmy "MrBeast" cemented himself as the face of YouTube in 2022 after hitting several major milestones in his online career. He crossed the 100 million subscriber mark on his channel on July 29, becoming one of the elite few to do so.
Four months later (on November 16, 2022), the Kansas native officially became the most-subscribed-to content creator by overtaking Felix "PewDiePie." MrBeast's primary channel has amassed over 130 million subscribers and a staggering 21.9 billion video views.
According to Social Blade, MrBeast's popularity and monthly statistics reached new highs by the end of the year, with his channel receiving 1,777,434,390 video views in December 2022: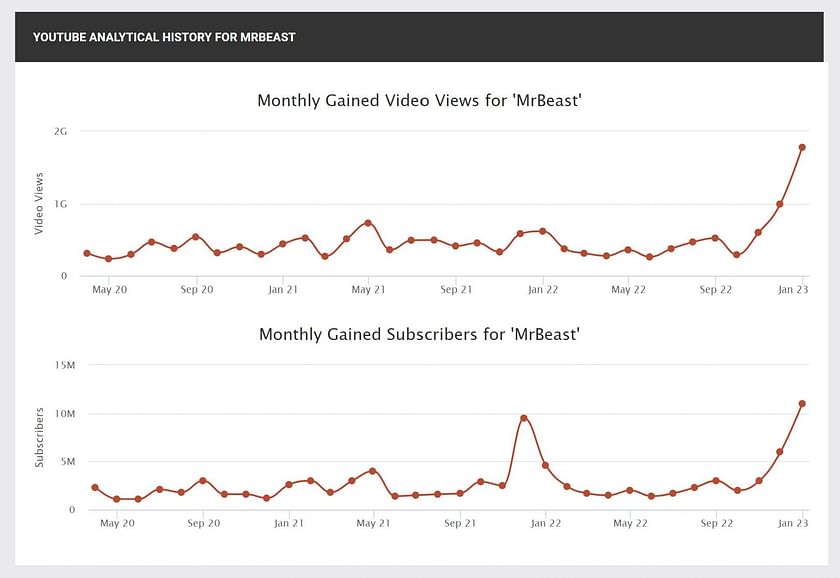 Honorable mention: IShowSpeed
Darren "IShowSpeed," a former Twitch streamer, became the top-ranking content creator on YouTube in 2022. He's considered by many to be one of the fastest-growing controversial personalities of the year.
IShowSpeed's enigmatic persona and chaotic shenanigans drew tens of thousands of viewers to his channel. The 18-year-old's IRL livestreams during the Qatar FIFA World Cup 2022 were among his most-watched.
IShowSpeed has 15.4 million subscribers and frequently collaborates with content creators such as Adin Ross, Kai Cenat, and others.
---
Facebook Gaming: Maherco Gaming
According to StreamsCharts, the Jordan-based content creator Maherco Gaming was the top-ranked Facebook Gaming streamer of 2022. He is a mobile gamer who primarily plays PlayerUnknown's Battlegrounds (PUBG).
Maherco Gaming's Facebook channel boasts four million followers at the time of writing this article. Additionally, he has a significant following on his YouTube channel (4.32 million subscribers), wherein he uploads a wide range of content.