PUBG Mobile's highly anticipated 2.5 update has already begun rolling out and will soon be made available to the entire community. This is likely to bring in loads of new content, such as multiple game modes, which should keep players engaged for the next few months.
Users on the Android platform can wait for the latest version to be made available on the Google Play Store to download it and try out its new features. Alternatively, they have the option to directly download and use the APK file that the developers release on the official website.
Further details about using the APK file to download the PUBG Mobile 2.5 update are provided in the section below.
Disclaimer: PUBG Mobile is prohibited in India under Section 69A of the IT Act. Accordingly, all players in the country should avoid playing or downloading the battle royale title on their mobile devices.
---
How to download PUBG Mobile 2.5 update using the APK file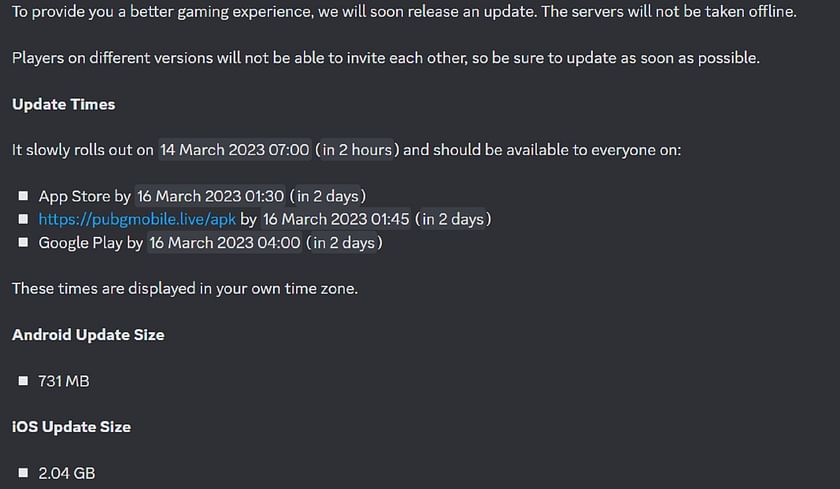 The developers directly making the APK file available makes it convenient for any player to download the latest 2.5 update. Given below is a direct download link that you can use to get this file:
APK file of PUBG Mobile 2.5 update: https://pubgmobile.live/apk
It's important to note that this link currently offers the 2.4 version of the popular battle royale game. According to the official message on the game's Discord server, the 2.5 update will be made available through the same URL by 1:45 am (UTC+0) on March 16, 2023.
Listed below are the general steps that you can follow to download and install the 2.5 version of the game on the Android platform:
Step 1: Once the APK is officially available, you can use the link above to download it onto your mobile device. You must ensure that you have sufficient storage space available to do so.
Step 2: Furthermore, you must enable the "Install from Unknown Sources" setting and install the APK.
Step 3: Upon completion of the installation, you can proceed to open the game's application and download the required resource pack.
Step 4: Finally, you can log in using your own credentials after downloading the resource packs. After logging in, you can enjoy the content that the developers have integrated into the latest PUBG Mobile 2.5 update.
Like every other update, the developers have made free rewards available to the community. Accordingly, whoever downloads the latest release before March 20 will be eligible to claim 3000 BP, 100 AG, and a Harlequin Helmet (three days).
The major highlight of the 2.5 update is the 5th Anniversary Themed Gameplay: Imagiversary, with the developers further adding the new World of Wonder Mode, Nusa Tycoon and more alongside its arrival. Additionally, numerous bugs have been fixed to improve the players' overall experience. Click here to read the detailed patch notes of the 2.5 version.