One of Honkai Star Rail's most intriguing characters, Blade, has yet to appear as a playable unit. While the community has a good idea of his kits from gameplay in the closed beta, there seem to be a few changes in the global version. His in-game model has appeared multiple times in the current story campaign, so players will be familiar with it. Recent leaks have showcased gameplay of his skills, abilities, and passives.
Some of Blade's idle animations seem to have changed, with most of the core aspects remaining intact. Like the second closed beta, Blade's kit still appears to be dealing damage by sacrificing a percentage of his health.
The following article lists everything players should know about Blade, from his release date to elements, abilities, Path, and more.
Disclaimer: This article is based on leaks subject to change with the release. Readers should take each speculation with a grain of salt.
---
What are Blade's abilities, Path, and elements in Honkai Star Rail?
Blade is an upcoming 5-star playable unit associated with the Destruction Path. He wields the Wind element in the game. As mentioned, most of his skills and passives allow him to sacrifice his health to deal increased damage to enemies. Blade's technique animation also shows him cutting his wrist with the sword, consuming his health to deal Wind damage to all enemies on the field.
The following points briefly explain each of Blade's abilities:
Basic attack: Deal Wind damage based on Blade's ATK stat.
Skill: Consumes health to enhance basic attack for three turns. Health will be reduced to 1 if insufficient numbers trigger the skill.
Ultimate: Deals damage in an area based on Blade's ATK and max HP stat.
Talent: Gains one stack of a unique buff after getting hit up to 5 times. After 5x stack, Blade launches a follow-up attack by consuming the stack. The damage with the follow-up is based on HP lost and Blade's ATK stat. After the launched attack, Blade will restore his HP.
Blade is a part of the Stellaron Hunters team, consisting of Kafka, Silver Wolf, and a mysterious character named Elio.
---
Blade's leaked gameplay in Honkai Star Rail
While most of Blade's recently leaked gameplay resembles that of the second closed beta of Honkai Star Rail, there are some minimal adjustments and reworks to his animations. While the leaks do not show the overall stat and numbers, players can assume very little to no changes within the global launch of Honkai Star Rail.
A recent tweet from @dimbreath showcases Blade's complete gameplay:
It should be noted that Blade's signature Light Cone has also been found in the game's database. It is called The Unreachable Side, and it increases the wearer's max HP, ATK, and follow-up damage.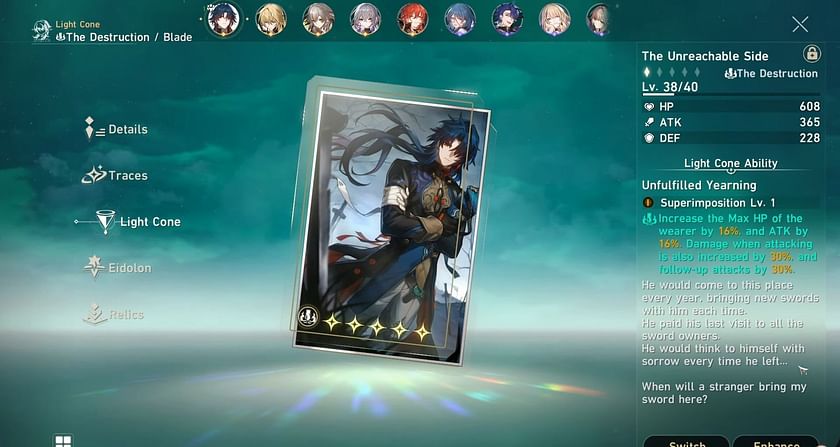 ---
What is the release date for Blade in Honkai Star Rail?
Blade is scheduled to release in Honkai Star Rail v1.2 alongside Kafka and Luka. Based on numerous leaks, he can be expected in the second half of v1.2 alongside Luka, starting August 8, 2023. Kafka is scheduled in the first phase of the same update on July 19.
Readers should take the aforementioned dates with a grain of salt, as no official announcements or concrete leaks regarding the 1.2 release phases have been found.
Edited by Siddharth Satish