Sea of Stars is a game I've been anxiously awaiting for months now. As a long-time fan of the great RPGs of the 16-bit era, I see this as a sort of tribute to what came before. It's a gorgeous pixel-art turn-based JRPG with a soundtrack by both Eric W. Brown and Chrono Trigger's own Yasunori Mitsuda. While I have only a few minor complaints about the game, they are far outweighed by the positives, of which there are many. It's a beautiful game with sharp gameplay and storytelling that I will not be forgetting any time soon.
Could Sea of Stars be one of the best RPGs of the year? There's certainly an argument to be made about that. After just an hour or two of playing this game, I was hooked, anxiously awaiting the next story arc. The characters are well-written, the music is top-notch, and the RPG is also connected to another excellent game - The Messenger.
---
Sea of Stars is a love letter to the past retro RPG greats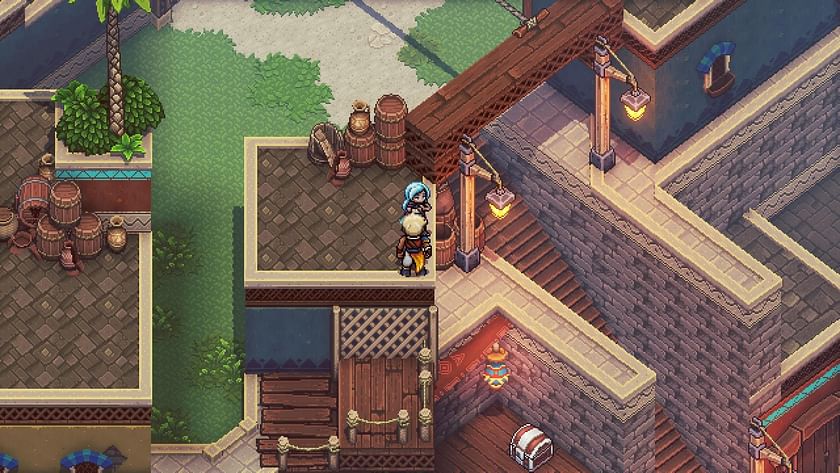 Regardless of which character you pick in Sea of Stars, the story remains the same. Both Zale and Valere join the party, so it doesn't appear to make much of a difference. These two are acolytes in an order dedicated to defeating the minions of darkness.
Only children born on the Summer and Winter Solstice can become one of these characters. The two have another friend, Garl, who is just an ordinary kid with an innocent heart and a love of adventure.
It's not much of a spoiler to say that Garl joins the adventure, but I'll leave the how and when up to your own playthrough. This party of adventurers is working together to overcome the alchemist known as the Fleshmancer.
Between the powerful Lunar and Solar Magic and a little help from their friends, they are striving hard to overcome this threat.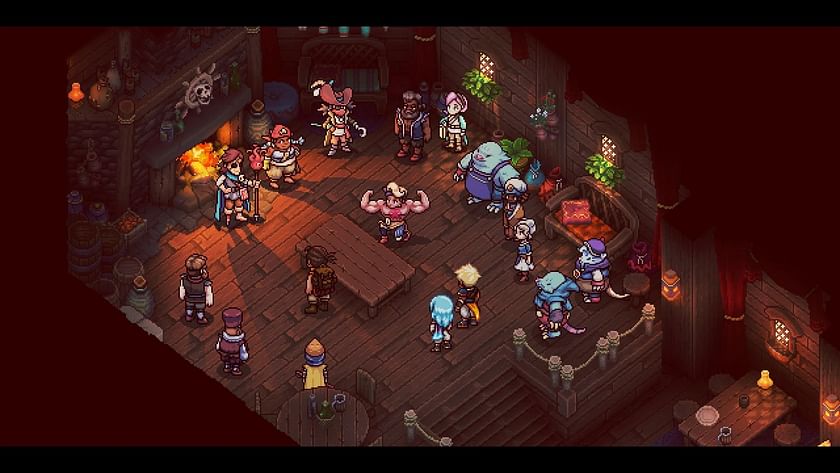 The story feels like it was taken right out of the games of my youth without at all feeling derivative. The gameplay strikes similar to Super Mario RPG, Illusion of Gaia, and Chrono Trigger while still coming across as fresh and new.
I won't spoil the story for you, but I can promise that it is an emotional rollercoaster you will not want to miss out on. It even connects to The Messenger - at least in that they're in the same universe, thousands of years apart.
---
Combat in Sea of Stars is fantastic but can occasionally feel unfair
As a turn-based RPG, perhaps the most important part of the game is how combat feels. Sea of Stars uses a timed-hit system, similar to what you found in Super Mario RPG. Hitting an attack button at the right time during an animation gives extra hits or other bonuses.
Special attacks also have certain triggers, such as holding down the button, timing the hit right, or repeatedly timing the attack perfectly to ricochet the spell off of multiple targets. I love this in theory.
However, some timings just felt weird and off. It could very well be that I was just bad at them, and I'm willing to accept that.
When your turn comes up, you can take your action with whichever character you want at a time and can swap allies in and out at will - once you unlock more than three party members. Each enemy will have a timer next to its name, and each time an action is taken, that number drops until it hits zero when the enemy attacks.
Each character has a specific weapon typing, which is connected to an icon. That's important for many of the battles you'll go through. Sea of Stars uses the Lock System when enemies go to cast spells. You'll see a few icons above the enemy's head, and you have until their timer reaches 0 to hit all of them.
For example, if it's two mallets, one moon, and one sun, you need to use one instance of Lunar Magic, one instance of Solar Magic, and two blunt weapons. Failing will lower the spell's damage by how many hits you nailed. This also leads to the Boost Mechanic - because sometimes, enemies just can't be harmed normally.
As you melee enemies, you'll start seeing orbs on the ground once this feature is unlocked. You can use Boost to scoop up to three stacks worth of these. It will give your melee attacks whatever element you have - if you have one. Suddenly, that above example is much easier for your team to wrap up.
However, there are times when this system feels completely unfair. You'll have two enemies, or more, that all enter the Lock State at once. You won't always be able to take care of this, so it'll become important to figure out which one matters the most.
That said, the combat system is still a blast to use. I love having a combo system, as well as the Dual/Triple techs you can perform with your party. That's where the Chrono Trigger feel comes in.
---
The notion of feeling powerful in Sea of Stars
One of the very minor problems I had in the game was I just never felt powerful. I loved that when you level up, everyone levels together, and you can pick stats for each character to gain. It's, again, very Super Mario RPG, and the system is great. However, I never really felt powerful until late in the game.
I'm not saying the game is hard, though. It's challenging, but I guess I didn't feel the growth of my party in the early hours of the game. This changed eventually, but I spent more of the game than I'd care to admit, just feeling weak.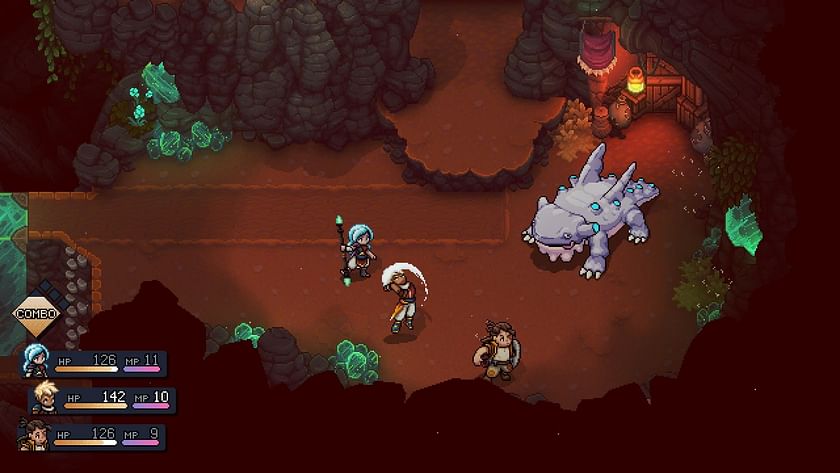 However, I do want to say that the game is incredibly accessible. You can purchase and activate relics that make certain aspects of the game easier - or harder if you'd like.
It's a great idea, especially considering how tedious it can be to mash out timed hits every single fight in the game. Like Chrono Trigger, it can be hard (but not impossible) to dodge fights. You're going to get into a lot of scraps.
---
The visuals and soundtrack of Sea of Stars are perfection
I could hear Yasunori Mitsuda's input on the OST for this game. As someone who has played Chrono Trigger hundreds of times, I know the man's work.
Mitsuda-san is one of my all-time favorite composers, and it was a treat to hear his work. However, this doesn't take anything away from the power of Eric W. Brown. The two composers come together beautifully.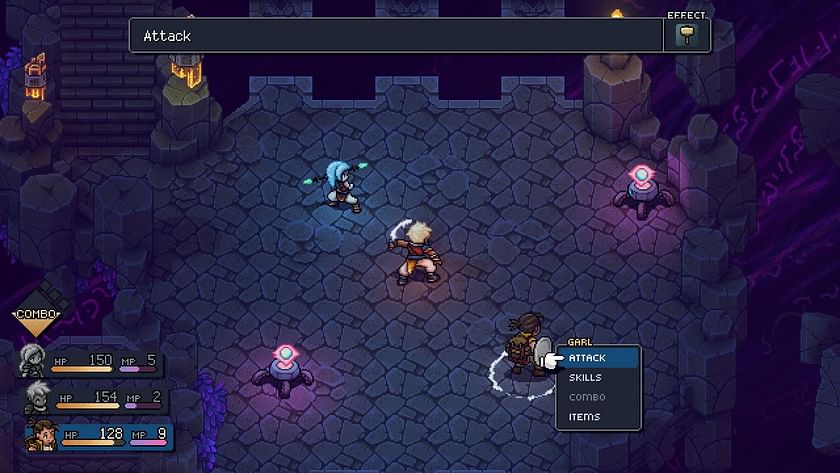 There are lots of little things to Sea of Star's aesthetic that I adore, too. The use of colors is sublime, for example. The way areas are lit, whether brightly or dimly, really adds to the feel of each zone. Climbing across rocks and walking a tightrope looked great. The animations, while simple, were smooth.
I loved that not every enemy was a gross, horrifying monster. Sometimes, it was just animal and plant life that we were intruding upon. From the monster movements to spell effects, I was a huge fan of what was on offer here.
---
In Conclusion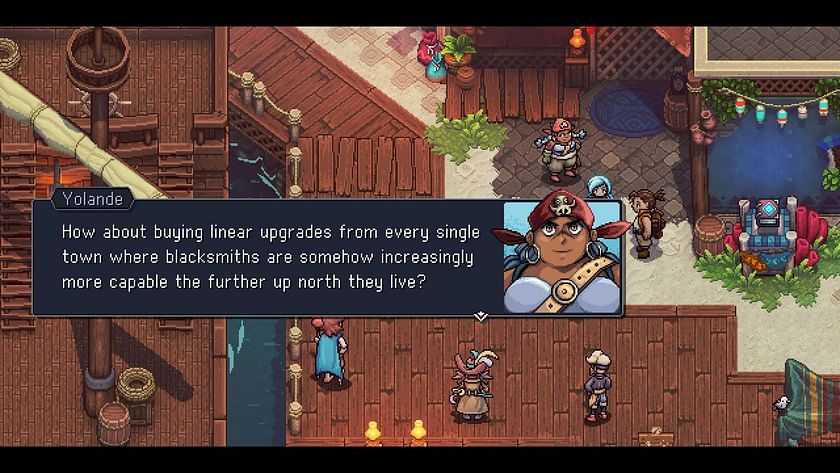 Sea of Stars, in its own way, is a masterpiece. I think its greatest strength is the writing and storytelling.
While visually, it's superb, the writing and how quickly it can go from silly to serious is something that appealed to me. There are some truly wacky characters that I came to love as I played through this game.
The tongue-in-cheek approach to RPG tropes was great with the pirates early in the game, for example. They were so ridiculous but had a very serious goal in mind. Whether you pine for "the way things used to be" or are simply looking for a new RPG to play, Sea of Stars is going to deliver for you.
---
Sea of Stars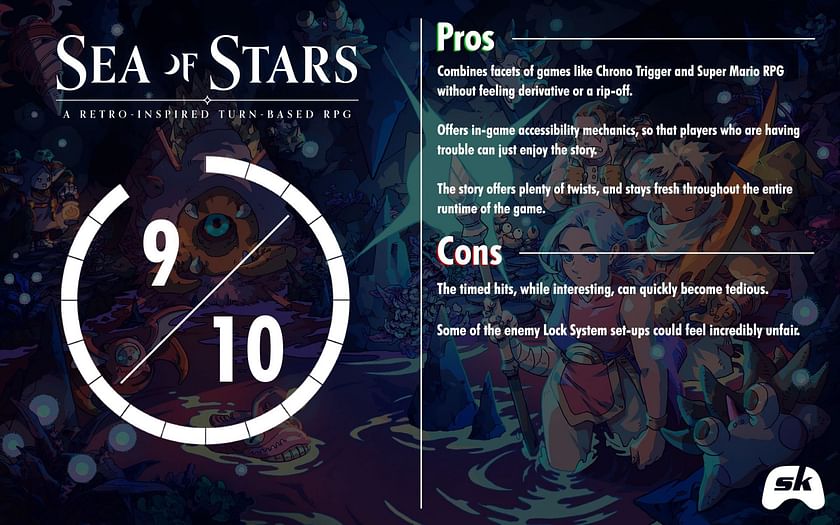 Reviewed on: PlayStation 5
Platforms: Nintendo Switch, PlayStation 4, PlayStation 5, Xbox One, Xbox Series X|S, Windows
Release Date: August 29, 2023
Developer: Sabotage Studio
Publisher: Sabotage Studio
Edited by Angshuman Dutta