Gods Reign has topped the Week 1 Playoffs leaderboard of the Snapdragon New State Invitational. This side reached the first position by performing brilliantly in their last two matches. They have claimed 78 points and 40 eliminations in their six matches so far. United 4 Glory are currently in the second spot with 69 points and 31 kills.
Team MAVI managed to finish Week 1 in the third position with 60 points. All the podium finishers of this week took one Chicken Dinner each. GodLike Esports S8UL are ninth and fourteenth, respectively. Global Esports came 22nd with only 13 points in this event's initial week.
---
Snapdragon New State Invitational Week 1 Playoffs
Match 1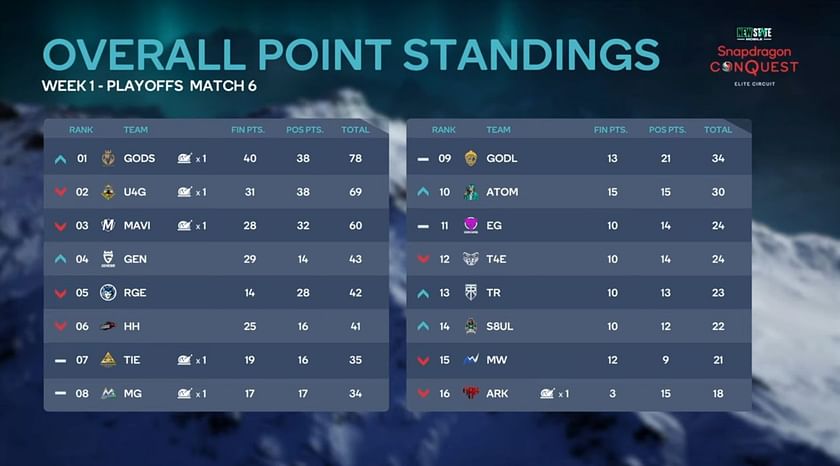 Team Insane demonstrated their perfect coordination in the first game, taking a brilliant 10-kill Chicken Dinner. Reckoning Gaming tried their hardest to survive till the end but came second with nine eliminations. XO, GodLike Esports, and Enigma obtained 14, 12, and 12 points, respectively.
Match 2
Marcos Gaming's use of grenades against Gods Reign in the end zone led them to clinch an impressive Chicken Dinner with 13 kills. Former BGMI pro Wanted from this squad claimed seven individual eliminations. United 4 Glory played a survival game, due to which they collected 15 important points.
Match 3
United 4 Glory made plenty of moves that were perfect once again, acquiring a Chicken Dinner with nine kills in this game. Team MAVI and True Rippers were second and third with 19 and 13 points, respectively. Team S8UL, Enigma, and Midwave could not secure a single point in this New State match.
Match 4
Team MAVI had yet another stellar game, securing an exceptional Chicken Dinner with 27 points. Genesis and Hyderabad Hydras fought impressively as well, adding 25 and 17 points to their names. GodL, XO, and S8UL didn't perform satisfactorily in this game.
Match 5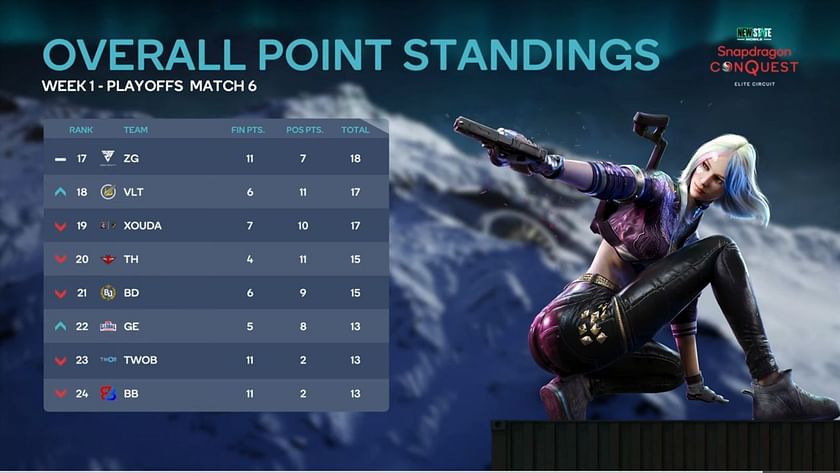 Gods Reign and United For Glory chose to play fiercely in this fifth game as they, coming first and second with 26 and 24 points, respectively, despite not grabbing the victory. However, ARK took a three-kill Chicken Dinner.
Match 6
Gods Reign earned a decisive Chicken Dinner in this last match of the New State Invitational Week 1. Sypher and Cobra showed remarkable individual performances, due to which their team obtained victory with 12 eliminations. S8UL and Atom secured 17 and 12 in Week 1's final game.
Edited by Soumyadyuti Ghosh