The Good:-
Often we talk about video games being inspired by other incredible video games out there in the market. Some think of it as a good thing, some think it's just an easy way out for the developers.
In reality, it lies somewhere in between. It's always good to see your favourite mechanics from other games being implemented in an upcoming title you have your eyes on, but it also in someways robs one of that surprise element of the game.
When Respawn Entertainment first unveiled Star Wars: Jedi Fallen Order, it was supposedly a Metroidvania inspired semi-linear action adventure game which is an "authentic" entry in the Star Wars universe.
However, after watching the thirteen minutes long gameplay footage, Jedi Fallen Order aligns more with the recent Uncharted games as well as the Souls game, in particular-2019's Sekiro: Shadows Die Twice.
Now. by no means, it's a bad thing. We all love the Uncharted series. Traversing difficult pathways, solving puzzles, light humour between its characters and exploring untamed beautiful landscapes.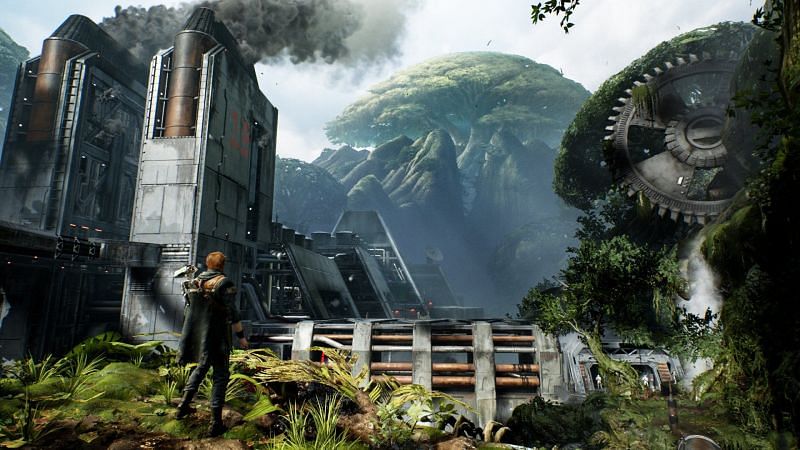 In picture, the world of Jedi Fallen Order resembles that of the one found in the Uncharted games. The location seen in the gameplay footage is the planet Kashyyyk,home of the Wookies covered in dense forests and military bases.
Jedi Fallen Order also seems to borrow Uncharted's rope traversal system, wall running from Respawn's very own Titanfall games and the climbing mechanics which have been previously seen in many other action adventure titles in the past decade and more.
Where things become really interesting is Jedi Fallen Order's combat. Instead of button mashing combos, or ranged weapon combat encounters seen in previous Star Wars game, Jedi Fallen Order shifts its focus on melee combat, the light saber.
Of course if you replace the light saber with a sword it won't make much of a difference because Jedi Fallen Order's melee combat seems to be heavily inspired if not borrowed completely from the Souls Borne game, in specific- the latest Sekiro:Shadows Die Twice.
Players can use the light saber to deflect enemy attacks just like in Sekiro, and if they deflect at the right moment( in other words parry) then the attack can be countered. Meaning the enemies would be hit by their own attacks. Sounds pretty cool right?
Where the game really doubles down Sekiro's mechanics is by providing players with a posture meter, or in this case a "block" meter.You see not every type of enemy can be killed in one hit in the Jedi Fallen Order. Some requires to be constantly attacked by the light saber so that their block meter goes down and the player seals the deal with a finishing blow, just like in Sekiro.
This actually creates some fun immersive encounters in a Star Wars game which is otherwise trying to immerse you into it's world with the help of it's story and characters.
Enemies like Purge Trooper which serves as high level variant of storm trooper and weilds a long electro staff. Encounters with them will serve as mini bosses in the game and let players live their wildest Jedi fantasies.
Of course, there are more tougher enemies to be found in the world of Jedi Fallen Order and the melee combat is not the only way to tackle them. Players will also have the freedom to use various force abilites such as force push.
The mixture of all the different abilites will make combat a really fun expereince in Jedi Fallen Order, something most of us will enjoy, especially the ones who couldn't get into Sekiro or other FromSoftware titles because of the unforgiving difficulty.
The Bad:-
Of course, being inspired by our favourite video game franchises also makes Jedi Fallen Order a not so exciting experience for many. You see, as much as we have seen and heard about the game so far doesn't seem anything new or surprising.
Respawn seems to be taking a very safe route with their upcoming Star Wars game. This may be because of the unfavourable history of the games of this franchise in the past few years, or also because EA and Disney are holding the hands of the devs back at Respawn Entertainment.
In a recent interview with Gameinformer, one of the devs at Respawn also stated that they want Jedi Fallen Order to be an "authentic" take on the Star Wars universe. This means that the game will not disrupt or add anything new to the Star Wars franchise as in whole.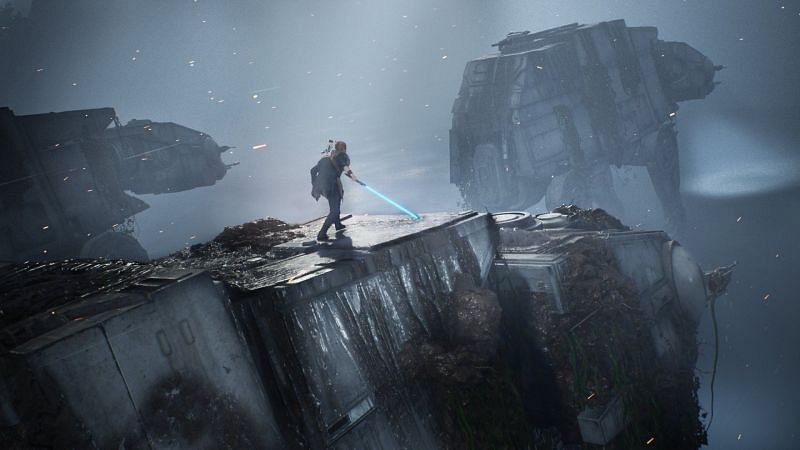 Even Cal Kestis- the game's main protagonist whose name hasn't been mentioned in any of the past Star Wars movies or shows, is an actual person in the universe who exists in the same time as let's say Luke Skywalker.
This very well indicates that Cal's role in the Star Wars timeline is very limited as he's not the part of any of the major battles in the universe, this also means that Cal may meet with an untimely demise by the end of this game.
This authenticity also robs Jedi Fallen Order of being a creative take on the Star Wars universe. For example- show us a completely different side of the universe or introduce new never before seen characters in the universe.
This also aligns with why Jedi Fallen Order combat seems to borrow so much from the highly popular gaming franchises instead of doing something really innovative and crazy.
Making combat similar to that of Souls game is an interesting concept in paper, but if the game doesn't imply the same punishing level of depth then will it still be interesting?
Jedi Fallen Order could still surprise many of us with its various unique features and take us on a prominent journey throughout the Star Wars Universe. One we may rememeber for a long time to come.
Whatsover be the case, we will find it very soon as Star Wars:Jedi Fallen Order launches on 15 November 2019, on PC, PS4 and Xbox One.
For more such features or news, stick to Sportskeeda and follow me for constant updates.