Like its predecessors, Wo Long: Fallen Dynasty by Team Ninja and Koei Tecmo presents a slew of unique and challenging boss fights. Team Ninja is renowned for its boss fights that not only test players' control over their weapons but also their ability to dodge and parry incoming attacks with precision.
Wo Long: Fallen Dynasty upholds this tradition by pitting players against the formidable Zhang Liang, General of Man, who is arguably the most challenging opening boss in any of Team Ninja's souls-like RPGs. What makes Zhang Liang even more difficult is that he has two phases with distinct movesets and attacks, adding to the complexity of the fight.
Zhang Liang's relentless aggression, mixed with his massive health pool, makes him the biggest hurdle that players will face in Wo Long: Fallen Dynasty, and one that can only be overcome with patience and perseverance. However, that is easier said than done if you aren't well acquainted with the game's combat system.
Fortunately, there are a few strategies that you can use to beat the first boss of the game without much hassle. Here's a comprehensive guide on how to easily defeat Zhang Liang, General of Man in Wo Long: Fallen Dynasty.
---
How to easily win the Zhang Liang, General of Man boss fight in Wo Long: Fallen Dynasty?
The combat system in Wo Long: Fallen Dynasty is very different compared to most souls-like action role-playing games, including Team Ninja's own Nioh games and Stranger of Paradise: Final Fantasy Origin. As such, there is a steep learning curve before you get the hang of the combat system.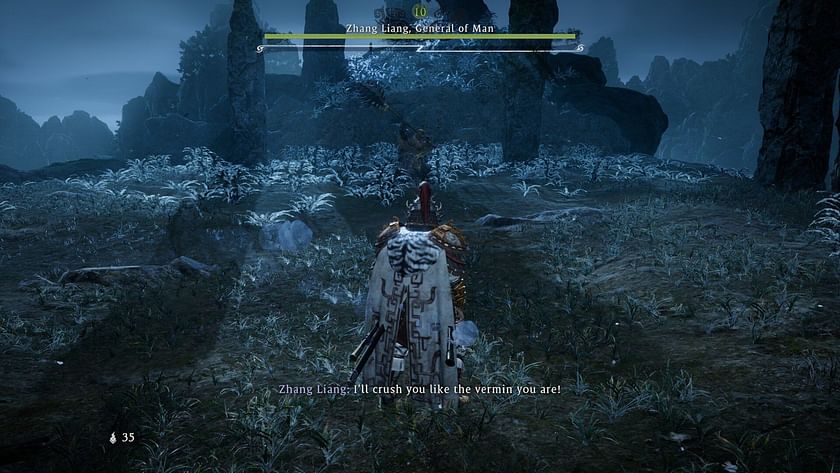 Wo Long: Fallen Dynasty's combat depends heavily on counterattacks and deflections, which are key combat elements that you will need to master to defeat Zhang Liang. However, unless you are confident enough with your deflect timings and use of weapon arts, i.e., Martial Arts, it is not recommended to go toe-to-toe against Zhang Liang.
The boss has clear animations for each of his attacks, which makes it easier for you to counter them through deflection or using Martial Arts. Although Zhang Liang can be an intimidating early-game boss, once players become familiar with the combat system, defeating him becomes much easier.
Here are a few tips to help you in the battle against Zhang Liang, General of Man in Wo Long: Fallen Dynasty:
Do not rush parts of the level: The first chapter is relatively short when compared to the following chapters of the game. However, it still houses many secrets that you might miss out on if you try to rush your way to the boss. Take your time to fully explore the level, find all flagposts and hidden weapon and armor chests in the level to give yourself a boost before going toe-to-toe with Zhang Liang.
Practice deflects against fodder enemies: Zhang Liang's attacks can only be countered with a well-timed deflect, so it is paramount that you master the parry mechanic of the game. The best way to practice your deflect timing is to fight the fodder enemies in the level.
Get yourself upto level 10: While over-leveling is not necessary for any of the boss fights in Wo Long: Fallen Dynasty, if you are struggling against Zhang Liang, you can take your time to grind for a bit to get your character to level 10. The best Genuine Qi farming route is the path between the three flagposts and the optional encounter against the Channgui.
Increase your Morale Rank to at least 20: Boosting your Morale Rank will give you a defensive boost and increase your survivability. You can grind Morale Rank by killing the enemies within the level, preferably between the three flagposts for efficient Morale Rank farming.
Make use of your weapon's Martial Arts: It is important to note that Wo Long: Fallen Dynasty heavily emphasizes aggression, so playing defensively may not lead to victory against bosses in the game.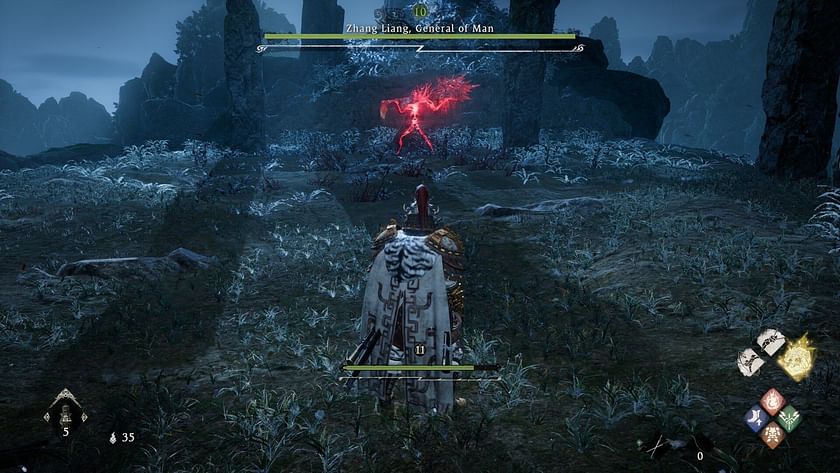 To easily defeat Zhang Linag, you need to go all out on the boss and use your weapon's light attack combos and finish with Martial Arts. You can easily defeat Zhang Liang's first phase by staggering him repeatedly using your Martial Arts combos while saving your precious healing vials for the second phase. In his second phase, Zhang Liang is immune to stagger but has slower attacks which are much easier to predict and deflect.
To defeat Zhang Liang's second phase, it is crucial to stay close to him, as moving away allows him to use his ranged attacks that are difficult to dodge or counter. Fortunately, in the second phase, you only need to reduce Zhang Liang's health to 50% before a cutscene triggers, ending the boss fight in a cinematic fashion.
---
Wo Long: Fallen Dynasty is scheduled to release on March 3, 2023, for PlayStation 5, PlayStation 4, Xbox Series X|S, Xbox One, and Windows PC (Steam).
Edited by Siddharth Satish