2012 UBS Chinese Grand Prix - Preview
731 //
27 Mar 2012, 11:34 IST
2012 CHINESE GRAND PRIX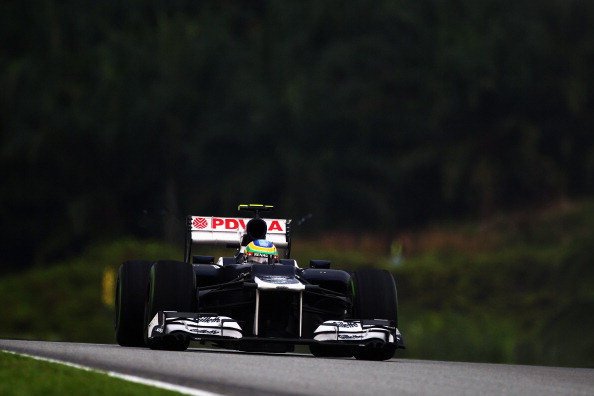 After such a topsy-turvy race in Malaysia last weekend, we move onto the Shanghai International Circuit in China which is to be held from April 13-15. There is a three-week break now which will be very important for most of the teams like Ferrari, Mercedes, Red Bull and Force India to iron out some of the problems on their cars and introduce updates at Shanghai to help improve the performances of their cars relative to the field.
Let's talk about all of the 12 teams one by one :-
McLaren
They seem to be the team to beat. In normal conditions, especially in Qualifying, they have had the upper hand compared to the rest of the field. The same thing is expected in China because of the twisty nature of the circuit (apart from the long straight) which should benefit McLaren the most seeing that they were the fastest in Melbourne and the second sector of Sepang which are twisty. A McLaren front-row lockout seems probable again but the race might be a different story as Lewis struggled with race pace both in Melbourne and Malaysia and Jenson doesn't seem to be always getting on top of the Pirelli tyres as observed at Sepang.
Red Bull
Red Bull need to figure out where exactly they are losing pace compared to the McLarens in the race and both the McLarens and Mercedes in qualifying. They have tried four different solutions of exhausts since the first pre-season test in Jerez but Adrian Newey and his team don't seem to be getting the required performance from the RB8. Having good downforce is key for good speeds through the medium to high speed corners. Mark Webber seems to be getting more of the Pirelli tyres as compared to Sebastian Vettel which is in stark contrast to last season and that means he might have the upper hand again especially in qualifying. In the race, Red Bull will most likely be challenging McLaren for the podium positions.
Ferrari
After having a shock win in the last race courtesy of Fernando Alonso, the people at Maranello will be more determined than ever to work harder and introduce some major updates to improve the F2012's performance during the race and more so during qualifying. It will be damage limitation for Fernando and Felipe in China again with an under-performing car, before a drastically changed car is introduced at Catalunya. Ferrari's teething problems with low speed traction and braking instability might come to haunt them in the heavy braking zones and lack of top speed can make them sitting ducks on the long back straight when the cars behind apply DRS. It will be important for Felipe to put up an improved performance and earn some championship points if he wants to stay behind the steering wheel of Car 6. Fernando will be expected, as usual, to punch above the weight of the car and salvage some important points.
Sauber
They really seemed to be the surprise package at Sepang after being the fastest car on average in the second part of the race. The C31 seems to be the kindest among all teams on the tyres and that might again play to their advantage in China although they need to improve their qualifying pace if they want to challenge for the top spots regularly. Sergio Perez is  over the moon with his maiden podium which will give him confidence to perform even better. Kamui Kobayashi, on the other hand, will be determined to ensure that Perez doesn't become the absolute No.1 at Sauber. They might again struggle to get into Q3 but are expected to be in the running for a top 10 finish.
Lotus
Lotus do have a very fast car this season and it is up to the drivers to land their team a podium sooner rather than later. There don't seem to be any significant problems with the E20 except Kimi's steering wheel, which needs a little more work. Apart from that, Kimi has been having a lot of bad luck of late and will be determined to qualify in the top 5 and challenge for the podium. Romain Grosjean needs to avoid any mistakes/contacts in the early laps and we might as well see the Frenchman together with the Iceman harassing the McLarens and Red Bulls. Top 10 in both qualifying and race should be guaranteed for both the Lotus cars if everything goes normal.
Force India
Force India just doesn't seem to have the pace to challenge the top teams when everything goes normal. They are struggling a lot in qualifying, having been able to take one car into Q3 at Albert Park but none at Sepang. But they have been able to take points in the races because of others' misfortunes. In China too, a similar story is expected in qualifying as they are not getting the balance of the car right as could be seen when both Di Resta and Hulkenburg were having difficulties to control the rear of their cars at both tracks. During the race, if the weather doesn't play a part and other teams do not run into problems, it will be very difficult for Force India to make it into the points.
Williams
Williams has been the team which has made the biggest step forward from last season. From languishing near the bottom of the table above the three new teams, they seem to have good pace this season. The evidence of that could be seen when Pastor Maldonado was harassing the Ferrari of Fernando Alonso in Melbourne and Bruno Senna picked up a healthy haul of points in Malaysia. On the drivers' front, Pastor has been very unlucky to have missed out on points on both occasions having been so close to seeing the chequered flag. Bruno proved in Malaysia that he is more than the famous surname he has and we might see more top 10 finishes from him after his excellent charge from 22nd on the first lap to 6th in changing conditions.
Toro Rosso
Two drivers fighting it out for the second seat at Red Bull is helping Toro Rosso to bring home some important championship points. Toro Rosso don't seem to be having the outright pace to compete at the top of the midfield, both in qualifying and race trim, but their drivers are driving well to bring some points as both are new and very excited with every point they win. The story is not expected to be significantly different in China with Toro Rosso fighting for the lower half of the top 10.
Mercedes
Mercedes are having some serious problems regarding tyre degradation during the races. Apart from that, their F-Duct + DRS system is not so effective during the race as it is during qualifying. If the guys are unable to figure out solutions to the problems within these three weeks, we shall again see a similar story – competing for the front row with McLaren in qualifying (the long straight will be very helpful for the F-Duct + DRS) but falling back significantly during the race. Apart from this, Nico Rosberg needs to commit less mistakes during his hot lap in Q3 so that he can qualify further up the grid and not have to make those risky banzai starts at the beginning of the race.
Caterham
Introducing KERS into the CT-01 hasn't helped Caterham fight in the midfield which was their aim before the season began. They still seem to be in limbo between the 9th fastest car and Marussia, so both Heikki and Vitaly have relatively lonely races in terms of racing for positions. In China too, Caterham might not be able to get into Q2 and again run lonely races with both of their cars.
Marussia
After having literally no pre-season testing, Marussia have done a good job to get both cars to qualify on both occasions. But in terms of competitiveness they don't seem to have moved forward from last year as they are still between Caterham and HRT and have similar lonely races to Caterham. Also, still having no KERS hasn't helped their cause. In China, Timo Glock and Charles Pic are not expected to make it out of Q1 and in the race, relative performance will be similar to what was in Melbourne and Malaysia.
HRT
HRT have been in the news but for the wrong reasons. In Australia, they could not qualify which is a shame as this is their third season in Formula 1, while in Malaysia, Narain Karthikeyan was involved in incidents with Jenson Button and Sebastian Vettel although both can be classified as racing incidents even though the stewards handed Narain a post-race drive through penalty which relegated him to dead last among the cars on track. HRT are expected to similarly struggle in China but they will be expected to qualify for the second time this season although it would be better for them if they stay out of the news for unpleasant reasons this time around.