2013 Malaysian GP: Vettel weaves a Web of trouble
1.15K //
26 Mar 2013, 12:46 IST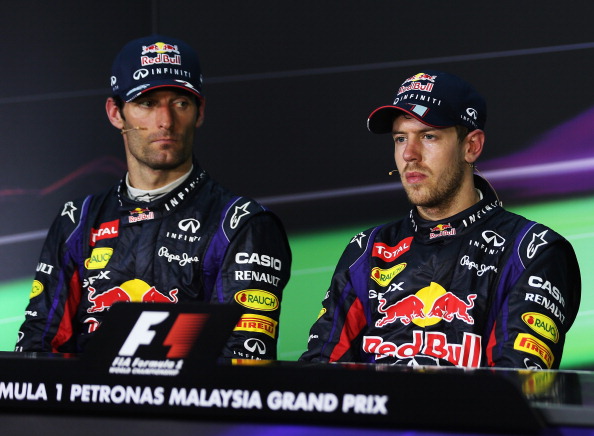 A 1-2 win, being comfortably ahead of the competition and with no problems in the car – these are the ingredients for an ideal victory. What should have been a delighted Red Bull team post race, instead was left red faced thanks to Sebastian Vettel's decision to, proverbially, stab his team-mate in the back and steal victory.
Obeying team orders has never been Vettel's biggest strength, and while they have mostly been in competitive situations when he is being chased by his opponents, his team's call to back off the throttle was to help preserve tyres and the engine, considering how comfortably ahead the duo were at the time. It was just a simple "better to be safe than sorry" instruction from the team, and the race was to end with Webber taking the win and Vettel following in for the 2nd place.
Unfortunately for Webber and Red Bull, Vettel seemed to have a brain fart as he felt the need to win at all costs, even that of his team mate, who had considered the race done and dusted by that time. What we saw next was some breathtaking racing as Vettel eventually got ahead of his team mate to win the race. But, in the process, he had paid a price that might prove very costly to him in the future.
Teamwork and unity, something Red Bull pride themselves at, have always been a pivotal part of Formula One. And like Damon Hill said after the race at Sepang, "If you get a situation where there's no trust between the drivers within a team, that is quite corrosive" and that is exactly what Vettel's actions have resulted in. As the scenes on the podium clearly showed, Vettel realized his mistake too late, and Webber looked furious and irate at what had just taken place.
Was it sheer arrogance or was Vettel trying to gain as many points as he could, in what is shaping up to be a close championship race, is anyone's guess. But whatever be his motivation, his actions have left his team with a mess that is going to take a while to clean up.
Webber's role in the team as the 2nd driver was never a big secret. He was basically in the team to aid Vettel whenever possible and help the team. But when the team had decided that Webber would take the win, having ensured he was ahead following the final pit stop, Vettel did what no one watching the race would have expected!
Disputes among team-mates in nothing new, but looking back in history, it has always had a detrimental effect on a team's fortunes over the season. A perfect example of such a situation is back in 2007, when Fernando Alonso and Lewis Hamilton had a falling out that eventually culminated in Alonso impeding Lewis Hamilton during qualifying at the Hungarian Grand Prix and eventually, as the duo fought it out for the title, Kimi Raikonnen swooped in to win the title in the final race of the season.
Having a good relationship between team-mates have been the hallmarks of great title winning streaks in the past, like Ferrari had between Michael Schumacher and Ruebens Barichello. Like the 2002 Austrian Grand Prix where Barichello let Michael overtake him and win the race, following orders from the team. Similarly, Webber is to Vettel what Barichello was to Schumacher, the trusty team-mate who is ready to sacrifice themselves for the benefit of the team-mate. It was a relationship that proved so very successful at Ferrari, and if Red Bull want to create a legacy similar to that, they need to act swiftly to help repair the damage that Vettel has done.
Webber, who reportedly rejected a chance to join Ferrari in the off-season, is among the rare breed of drivers who are so very talented but at the same are ready to be selfless in the interests of the team. If Red Bull were to lose Webber, finding someone just as able and yet ready to play second fiddle to a driver who has proven himself to be reckless and selfish is going to be a long and laborious task.
Webber's reaction in the post race interview made it obvious that he was far from pleased at what had taken place and he had every right to react like he did, because not only did Vettel go against team orders, but he also risked a collision with his aggressive driving. Not only did Vettel breach the trust that Webber had in his teammate, but also every moral code of sporting etiquette and fair play!
Now, it's a waiting game as all eyes will be on Red Bull, Sebastian Vettel and Mark Webber. And with two weeks till the Chinese Grand Prix, Christian Horner has his hands full. But one thing is for sure. This moment of madness from Vettel has tainted what has been a spotless image so far. Because what he did was not being competitive or being a true racer, but akin to kicking a helpless puppy from behind!