5 worst pit lane accidents in F1
23.28K //
08 Jul 2013, 15:47 IST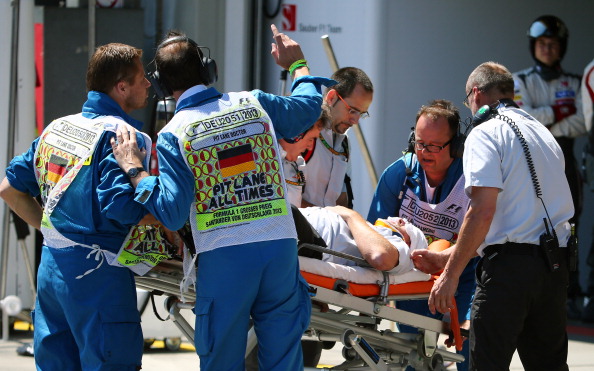 After yesterday's pit lane mishap when a runaway wheel took out an unsuspecting cameraman, it will not be unfair to state that F1 safety regulations leave a lot to be desired.
Red Bull's Mark Webber came in to pit after 9 laps, for a routine pit but the crew took longer than usual and the Australian took off without properly securing the rear right tyre. A loose wheel bounced around before hitting the victim square in the back, leaving him with a broken collarbone and two broken ribs.
Webber was asked to switch the car's engine off, and was allowed to rejoin after the wheel was reattached. The team was fined $38,500 for an unsafe release, and Webber finished at seventh. Although pit crew are required to wear protective gear, others in the pit lane are not, which is certainly a point of contention after the accident.
Let's take a look at some of the worst pit lane accidents in recent years. Do keep in mind that the list is in order of chronology, and not on the basis of the degree of damage.
1994 German Grand Prix (Jos Verstappen)
A blast from the past, but this incident from 1994 makes all the lists across the F1 accident board. In-race refueling was just reintroduced to Formula One. The FIA was trying its best to curb any risk of refueling mishaps, and specially designed rigs were constructed which prevented fuel from escaping once the nozzle was unhooked.
During lap 15, Benetton driver Jos Verstappen's pulled in for a routine lap. As the mechanic finished the refueling, the unhooked hose sprayed fuel on everyone, quickly igniting and engulfing everyone in flames. Many in the pit crew were caught in the blaze, suffering burns.
Although it was quickly extinguished, several mechanics suffered burns. Verstappen was the worst affected as fuel sprayed inside his helmet before catching fire. The Dutchman was left with burns around his eyes, because he had his visor up during the stop.
Eventually, Benetton came out with the explanation that they had removed a filter from their rig, allowing a foreign body which jammed the valve open, spraying everyone with fuel in the process.