A look back at Nigel Stepney's motorsport career
2.11K //
01 May 2014, 23:09 IST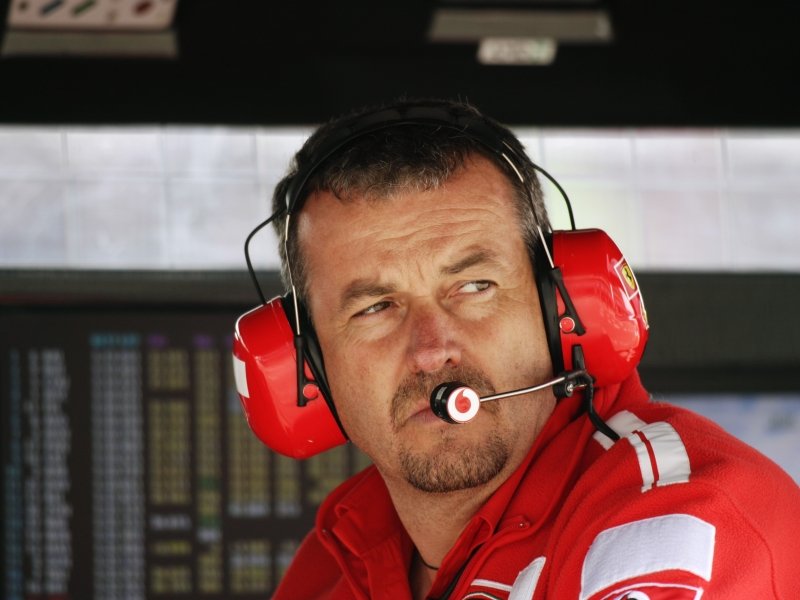 Earlier today, it was announced that ex-Ferrari mechanic Nigel Stepney died in a road accident in Kent, England. The Brit played an instrumental role in Ferrari's dream team during the early 2000s when the Maranello-based squad racked up five drivers' championships and six Constructors' championships.
However, it was the infamous spy-gate scandal in 2007 that truly brought Stepney into the limelight.
It was revealed that he had passed 780 pages of confidential Ferrari data to McLaren employee Mike Coughlan. This resulted in McLaren being handed a mammoth fine of $100 million and a restriction on Stepney from working for any other other F1 team on the grid. While Stepney deserves full blame for his involvement in the spy-gate scandal, one can't ignore his illustrious F1 career that lasted for around 30 years.
Nigel Stepney started working as an apprentice mechanic at an early age of 17 with Coventry-based touring car outfit Broadspeeds. After early success, the team ran into financial trouble and Stepney joined the Shadow Racing team in 1977, thus kick starting his F1 career. He worked with Shadow for three years, overseeing Elio de Angelis's car. And when the Italian made the big switch to Lotus in 1980, Stepney followed suit.
At the end of 1986, Elio de Angelis moved to Benetton, but Stepney decided to stay at Lotus. For the following year, he was responsible for overlooking Ayrton Senna's Lotus 99T with with which the Brazilian finished third in the drivers' championship.
But with Senna joining McLaren and Lotus subsequently beginning a period of decline, Stepney decided to move to Benetton, where he worked as the team's chief mechanic alongside John Barnard.
In 1992, he briefly moved out of Formula 1 and joined Nelson Piquet's racing team in Formula 3000. After an unsuccessful season, he made a swift return to the pinnacle of motorsport, joining Ferrari.
In 1996, Michael Schumacher moved to Ferrari, bringing with him some key technical people including the likes of Ross Brawn and Rory Byrne. Stepney knew all of these during his time at Benetton and their arrival at Ferrari served as a reunion. What followed was a period of utter domination, with Ferrari racking up six straight Constructors' titles and five drivers' championships with Schumacher behind the wheel. It is widely believed that Stepney played a key role in the Ferrari dream team, particularly in the reliability department – something the Italian outfit was particularly strong at, at the turn of the century.
During his first seven years at Ferrari, Stepney was a victim of two pit accidents. Luckily, neither of them were serious enough to halt his F1 career.
Problems started when Stepney wasn't promoted to a higher position at the beginning of 2007, despite a technical shake up at the Maranello outfit. By this time, Schumacher had retired from the sport, Ross Brawn was on a sabbatical, and engine head Paolo Martinelli had moved to an executive position within Fiat.
"I am looking at spending time away from Ferrari. I'm not currently happy with the situation within the team – I really want to move forward with my career and that's something that's not happening right now. Ideally I'd like to move to a new environment here within Ferrari – but if an opportunity arose with another team, I would definitely consider it," Stepney was quoted at the beginning of the 2007 season.
In June 2007, Ferrari fired Stepney for allegedly sabotaging the car's fuel tank with white residue powder and for passing confidential Ferrari data to arch rivals McLaren. An investigation by FIA followed in which Stepney was found guilty of such wrongdoings. Stepney accepted the blame but later downplayed the size of his involvement. An Italian court sentenced him to 20 months for "sabotage, industrial espionage, sporting fraud and attempted serious injury", but he didn't spend any time behind bars.
By that time, FIA had already issued a statement urging teams not to hire Stepney "without conducting appropriate due diligence regarding his suitability for involvement in international motorsport". Therefore, Stepney made a decision to work with on-board camera system supplier Gigaware, which also ran a team in FIA GT series.
The suspended ban was later lifted on 6th February 2009 by then FIA president Max Mosley, claiming that Stepney had only been a "minor player"' in a much wider scandal. Nevertheless, Stepney kept himself away from Formula 1, and soon joined JRM Racing in 2010, serving as their technical director. Under Stepney's leadership, JRM won the 2011 FIA GT1 World Championship with Michael Krumm and Lucas Luhr.