Analysis: Vettel takes pole in rain-hit qualifying
646 //
24 Mar 2013, 09:25 IST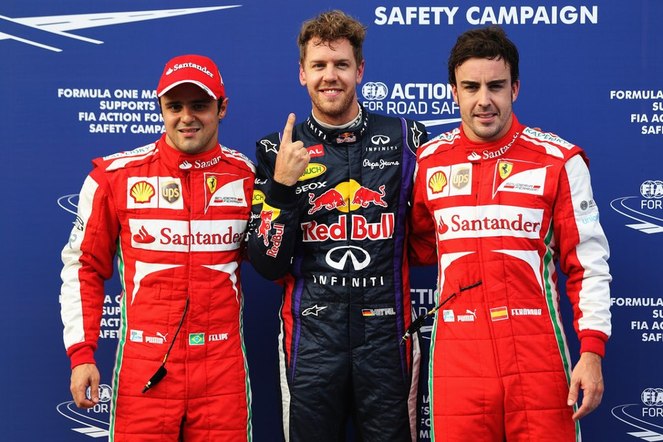 Sebastian Vettel took the 38th pole position of his career in a rain affected qualifying session at Sepang, outpacing the Ferrari duo of Felipe Massa and Fernando Alonso. Light rain hit the track in the middle of Q2 – the track wasn't wet enough for intermediates nor dry enough to beat earlier times on slicks. This meant that Lotus of Romain Grosjean and Force India of Paul di Resta failed to make it into Q3, while the McLarens of Jenson Button and Sergio Perez made it into the final part of the session.
In Q3, Vettel, Massa and Alonso took the right decision of using new sets of intermediates in the later part of the session and will occupy the first three positions of the grid. Mercedes duo of Lewis Hamilton and Nico Rosberg decided to continue on a single set and could only qualify in 4th and 6th places respectively. The German team looked strong in wet conditions in FP2 and was also strong in dry, but a strategy error prevented them from starting the race from the front row. Another man who was disappointed after qualifying was Adrian Sutil. After an impressive comeback in Australia last weekend, the German driver topped the first part of qualifying (which was completely dry) and was hoping to finish in the top 5. However, the Force India lacked pace in the wets and he could qualify only in 9th place (8th on the grid after Raikkonen's penalty). We now analyse each team's qualifying performance.
Red Bull (Sebastian Vettel – 1st, Mark Webber – 5th)
Red Bulls barely escaped Q1 after they decided to do only a single run late in the session. And in a bid to save tyres, they used the same set in Q2, but their pace looked promising and they easily made it into the final part after rain prevented teams from running in final few minutes of Q2. Most drivers immediately came out on intermediate tyres in Q3, including Vettel and Webber; however, instead of going all the way in Q3 on a single set of tyres, Vettel decided to pit again for a fresh set of inters, and it was the right decision as he took the 38th pole position of his career, and second in a row. Webber, meanwhile, was frustrated after qualifying in 5th place; he was the first to cross the chequered flag on a drying track and unlike his teammate, completed Q3 on a single set of tyres.
Ferrari (Felipe Massa – 2nd, Fernando Alonso 3rd)
Felipe Massa qualified on the first row of the grid for the first time since Bahrain 2010, outpacing his teammate for four races in a row. Like Vettel, both Ferraris used two sets of intermediates in Q3 and made the most of the improving conditions to qualify in second and third place respectively. Ferrari wouldn't have been on the first row of the qualifying had it been dry, they simply didn't have single-lap pace. However, they were probably the fastest team during the race in Australia, and Alonso is hoping to carry on and convert that form into the team's first win since Germany 2012.
Mercedes (Lewis Hamilton – 4th, Nico Rosberg – 6th)
Mercedes drivers were reasonably satisfied with qualifying, however they could have qualified higher on the grid. Nico Rosberg was happy with the balance of the car in dry conditions and set the fastest time on hard tyres in Q1, and was fastest among all in Q2. However, in semi-wet conditions in Q3, he said that the tyres had worn out too much. Lewis Hamilton, meanwhile, was slower than Rosberg in both Q1 and Q2 but performed when it mattered the most, taking provisional pole in Malaysia before he was beaten by drivers who pitted later in the session. Team principal Ross Brawn pointed out that they could have finished higher had they gone on to pit again at the end of Q3 for fresh inters.
Lotus (Kimi Raikkonen – 7th,10th on the grid after penalty, Grosjean – 11th)
After looking strong throughout the weekend in dry conditions, championship leader Kimi Raikkonen admitted that the car was simply not fast in wet conditions. A three place penalty for impeding Rosberg didn't help the cause. Romain Grosjean was on a quick lap in Q2 before rain started to hit certain parts of track and he simply couldn't beat drivers who had set times in full dry conditions. The team will be hoping for dry conditions in tomorrow's race.
McLaren (Jenson Button – 8th, 7th on the grid after Raikkonen's penatly, Perez – 10th, 9th after Raikkonen's penalty)
Both the McLarens made into Q3 after rain hit the track in second part of Q2. Drivers Jenson Button and Sergio Perez said that 7th and 9th on the grid was the most they could get, and said that the team has made some progress since Australia. They'll be hoping to score a few points in the race, whether the race is wet or dry, and using the three week break between Malaysia and China to return to top.
Force India (Adrian Sutil – 9th, 8th after Raikkonen's penalty, Paul di Resta – 15th)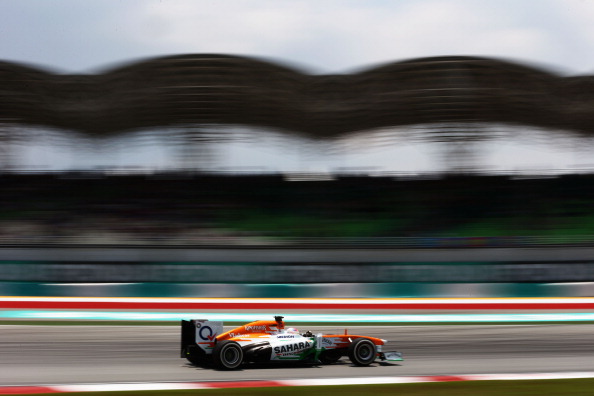 Force India would be utterly disappointed after rain ruined what could have been one of the best qualifying for the Indian team in recent times. Returnee Adrian Sutil and Paul di Resta were in the top 10 throughout the weekend, with Sutil topping the first part of the qualifying session. The German driver was expecting a top 5 finish in qualifying but he didn't "feel comfortable" on intermediate tyres and could only qualify in 9th place. Paul di Resta, on the other side of the garage, blamed the team for misjudging the rain as he failed to get a clean lap in dry conditions. When rain hit the track in the last five minutes of Q2, he spun his Force India before pitting and accepting 15th place on the grid. In dry conditions, Sutil could have finished in the top 5 with Paul di Resta making it into Q3.
Sauber (Nico Hulkenberg – 12th, Esteban Gutierrez – 14th)
Sauber made a major mistake in Q2 after they started the session on a used set of medium tyres, unaware of the rain hitting the track. Nico Hulkenberg, who failed to start the Australian Grand Prix, also complained about not being able to find the right balance. With plenty of dry and wet tyres, the team is hoping to score points with both the cars.
Toro Rosso (Daniel Ricciardo – 13th, Jean Eric Vergne – 17th)
Toro Rosso made changes to balance of the car just before qualifying, which helped Daniel Ricciardo qualify in 13th place. Jean Eric Vergne complained about traffic on his final flying lap as he was again eliminated in Q1. However, he was optimistic of the team's long run pace and is thus hoping to be in the points on Sunday.
Williams (Pastor Maldonado – 16th, Valterri Bottas – 18th)
Williams were busy sorting out problems with their car throughout the weekend, and like McLaren, made some progress since Australia. However, their efforts weren't enough as Maldonado and Bottas could qualify only in 16th and 18th place respectively. Maldonado blamed rain as he was forced to abort his flying lap.
Marussia (Jules Bianchi 19th, Max Chilton – 21st)
Jules Bianchi again proved out to be best of the rookies as he qualified his Marussia in 19th place, just two tenths off Bottas' Williams and over a second quicker than his teammate Max Chilton, who in turn qualified in 21st place. Chilton complained about tyre wear issues, but is hoping to beat the Caterham of Charles Pic, who out-qualified him for 20th position.
Caterham (Charles Pic – 20th, Giedo van der Garde – 22)
Caterham again looked slower than Marussia, but Charles Pic managed to beat Max Chilton to 20th place on the grid. However, he did complain of under-steer. Giedo van der Garde will start the race from 22nd place.
With weather still a question mark for tomorrow's race, it is tough to tell who will take the top step on the podium. Red Bull, Ferrari, Mercedes, Lotus and Force India should be in the mix, but who will win the Malaysian Grand Prix? Let us know in the comments below.