Australian GP 2013: Quotes
699 //
19 Mar 2013, 14:33 IST
Caterham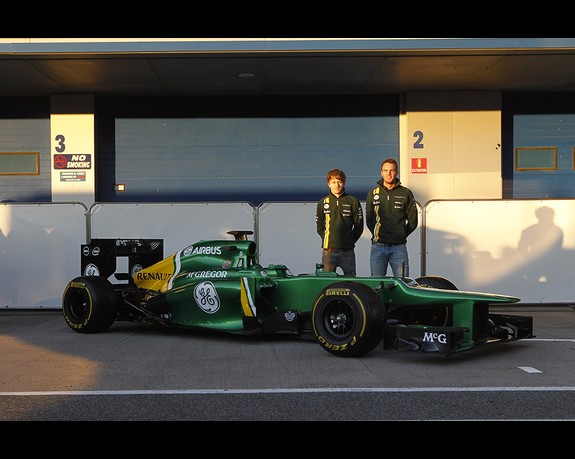 Charles Pic – 16th "That wasn't too bad a race for us. Of course, we'd prefer to finish higher but I think that at this stage of the season this reflects our current performance levels. We started on the supersofts and our pace was ok for the first stint but the tyres dropped off very quickly. In contrast, when we went onto the mediums the degradation levels were very good so we were able to push the second stint much longer than we'd planned and that gave us a chance to fight. Unfortunately towards the end of the race we had a KERS failure which obviously cut our outright pace and prevented us from taking full advantage of the good tyre wear we saw on the primes. We know that it's going to be similar to this for the first few races, but with what we have coming it's going to be a really interesting season. We have quite a few small details we need to work on for the next race but it's good to have a real fight on our hands, good for the team and the fans so let's see how this progresses."
Giedo van der Garde – 18th "For me, that was a reasonable start to my F1 career. It was really important to finish my first race and that's exactly what I did so I'm pretty happy with how it ended up. I started the race on the supersofts, passed a few people in the first turn and was keeping up with Bianchi until the first pitstop, even with the deg levels on the option tyres. Unfortunately I had a slow puncture on the first set of mediums and that cost me time and position. We had to stop much earlier than planned to put a new set of mediums on and that meant a change to the strategy, but it's all good experience for me. I've said all through pre-season that the first races are a chance for me to learn and today was really good for that. I feel good physically and now we have a lot more information about tyre wear and how to manage that so we'll take that to next week's race Malaysia and see what we can do at our first home race of the season."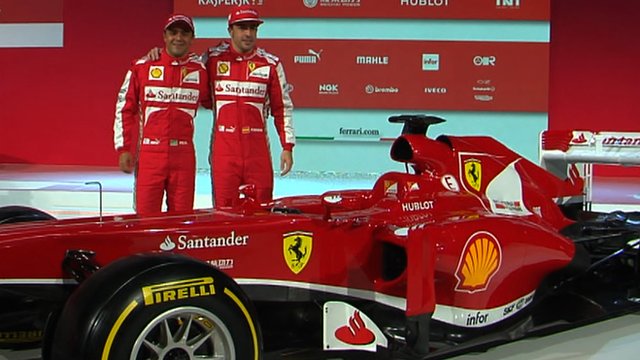 Fernando Alonso – 2nd "We can claim to have started this season on the right foot, immediately in the fight with the best. Along with the results from winter testing, it is a very encouraging sign that we managed to get the most out of a weekend that was full of unknown factors, both in qualifying and the race. I think the three stop strategy was the right one: with the degradation we had, it would have been impossible to manage on one less and bringing forward the second one by a few laps meant I was able to pass Vettel and Sutil. Finishing ahead of the Red Bull tastes like a win, even if we know that despite today's race result, they are still the quickest. Now we can expect another weekend with very changeable weather and one that also puts a lot of stress on the cars from a mechanical point of view and on the drivers, from a physical one. But we can tackle it calmly on the back of this good result".
Felipe Massa – 4th "This is definitely a very positive start to the season, especially because this is a track where I have always suffered. We have shown that our car is competitive, with a good race pace and that is down to all the hard work done during winter testing. I had an attacking start to my race, in which I was immediately fighting for the top places. Maybe if we had brought forward the second stop, as Fernando did, the podium would have been within my grasp, but I am still very happy with my result. Definitely, we are at a good level, but now we must carefully analyse every smallest detail to try and improve our car".
Pat Fry "In the morning, qualifying was very tough as it was vital to choose the right tyre at the most opportune moment and we managed it without too much hesitation. It was not easy understanding what was the real gap to the front runners, as in some conditions it is not always clear. This afternoon, we had a good race pace and both drivers performed well without making any mistakes. But we are aware that we still have a lot of work to do if we want to continue to improve. Maybe we could have risked a two stop strategy, but given the unknowns linked to tyre degradation, we preferred not to do that. In the next races, it will be vital to understand the tyre behaviour, in order to choose the best strategies".
Force India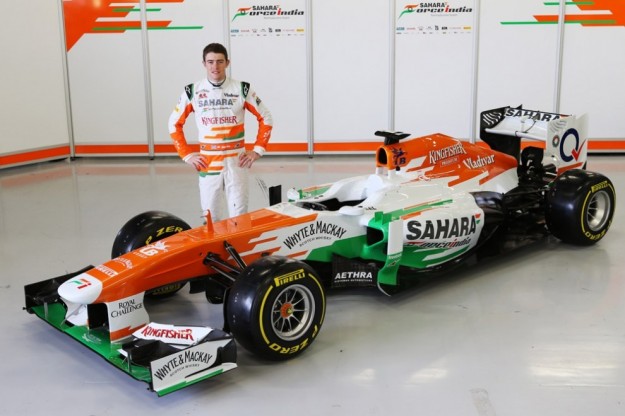 Adrian Sutil – 7th "What a fantastic race and a great feeling. I started on the medium tyres, a different strategy to most of the cars ahead of me, and I think this was the right decision. The pace was quick and the car felt very good on the medium tyres so I was able to keep up with the guys in front of me, who I knew were going to pit early. It was not long until I was leading the race – my first time leading in Formula One. After my second pit stop I was back in the lead once again, so I knew that it was possible to come away with a great result. My final stint on the super-softs was much more difficult because the tyres started graining and I lost a few places. I was thinking I might need to pit again, but fortunately the tyres came back to me for the final few laps so I could save the seventh place. This result for the team is a perfect way to start the season and I want to say a big 'thank you' to the team once again."
Paul di Resta – 8th "Seventh and eighth for the team is a great result and a great way to kick off the season. We've shown we have a car that is kind on its tyres and that helped us today by making less stops than some of our rivals. I feel I had a car that could have finished seventh, but I was stuck behind some of the three-stoppers at the start of my second stint, and that cost me quite a lot of track position. There are a lot of positives to take from the race, as well as some things that we can improve to make the car stronger, but we're in a good position heading to Malaysia."
Robert Fernley, deputy team principal "What a great team performance to start our season. Ten points is a great effort and confirms the pace we have demonstrated all weekend. Adrian's return to racing has been fantastic and it's clear he has lost none of his speed or racecraft. He was on a different strategy to most of the front-runners, but made it work beautifully and showed strong pace throughout the Grand Prix – even leading for 11 laps. Paul was on the opposite strategy and finished just a fraction behind Adrian in the end. He probably could have passed Adrian in the closing laps, but he held station to ensure we brought home the strong team result. We said over the winter that we needed a strong start to the year, so hopefully we can build on this next week in Malaysia."
Lotus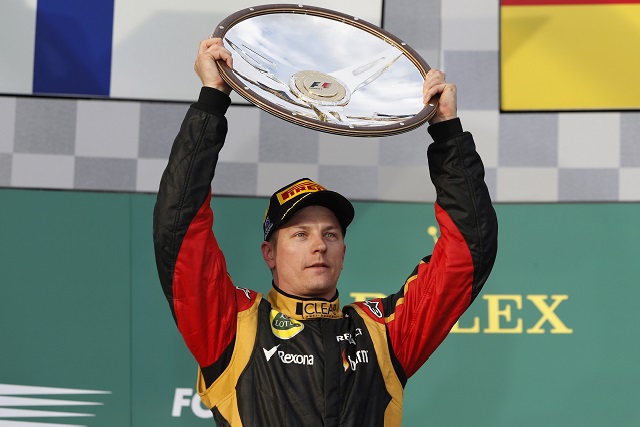 Kimi Raikkonen – 1st "I'm happy for the team and for myself also. We've had a quick car all weekend and there were no issues with it either, so we could just focus on trying different things and getting the setup how we wanted. I had a good feeling that we would be ok with the tyres after practice and the team got the strategy perfect. I made a few places at the start and then had a good battle with Lewis [Hamilton] but after that it was quite simple; probably one of my easiest wins. You can't start the season much better than winning the first race and of course we hope we can be fighting at the front of the Championship, but there's a long way to go still and we need to keep pushing hard all the way."
Romain Grosjean – 10th "Something felt wrong with my car, so I have to sit down with the team and analyse where the issue came from. It felt so good all weekend until the race itself, but in the end the race was long and quite difficult for me. We know that Albert Park can be a tricky circuit and the weather has certainly not helped today. It's been a great weekend for the team with Kimi's win so it's clear there's pace in the car. Let's hope I can unlock that pace too next weekend in Sepang."
Eric Boullier, team principal "I'm very happy. After Kimi's great start we were hoping that we could achieve a podium finish, then as the race unfolded and we saw the other teams pitting – showing that they were on three-stop strategies – our position became stronger and stronger. It's a fantastic feeling to open the season in this way. Kimi drove impeccably all weekend and gave the team his all. Romain had a difficult race and we have to analyse what went wrong for him. This win is a further testament to all the hard work which goes on at Enstone and we owe tremendous thanks to each and every employee. We head to Malaysia in the best position we could be. "
Marussia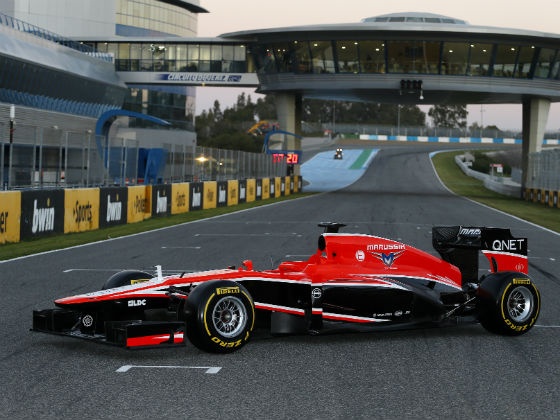 Jules Bianchi – 15th "I am very happy with my race today and really can't imagine a better start to my first season of F1. Yesterday's qualifying was quite a challenge but today I felt very calm as I looked forward to this moment. Generally everything went very smoothly in the race and we worked our way through the tyre management issues as well as we could in order to maximise the possibilities. We have not had the luxury of time so I would like to thanks my engineers, car crew and the whole team for helping me to be as prepared as possible and for a great job today. It would seem that the Team have made a big step over the winter and it is very nice to see them reacting positively to this."
Max Chilton – 17th "I am happy with my Formula 1 debut and although it was less than straightforward, it's good to get it under my belt and to know where we stand relative to the competition. The coming-together with Van der Garde early in the race damaged my front wing, which meant I had to stop for a wing change. This put me back out on track such that I hit the blue flag period and it was a bit of a battle to recover the ground I lost. I had a really good fight with Van der Garde and closed the gap enough to be able to pass him. From there I was able to demonstrate more of my true pace and I was posting laps around three seconds faster than him. Although the race had its frustrations, I feel like I've learned a lot that I perhaps wouldn't have learned otherwise and that will be useful experience over the next few races. I'm looking forward to Malaysia now so I can roll all that back into my racing and be able to take the fight to the midfield pack."
John Booth, team principal "Generally we are pleased with our debut race with the MR02 and happy that the positive signs from pre-season testing were an accurate reflection of the true performance level of our early package. Jules drove a fantastic race and quickly left the Caterhams in his wake to focus on the midfield pack in front. We had started on the Supersoft tyre and perhaps underestimated how quickly the degradation would come on these tyres, so we made a very early swap onto the Mediums which enabled Jules to get back into contention. Unfortunately, by this stage, there was a reasonable gap to the Williams in front and Jules did a good job to gradually eat into that. The rest of his race was really based around stopping when the rate of tyre degradation got too high. The very late stop to the second set of Supersofts came about when we had some substantial front wear on his last set of prime tyres. Under normal circumstances perhaps we would have carried on but with a pitstop time loss easily in hand to the cars behind, we decided it was safer to stop. Max was unfortunately caught out by a collision with Van der Garde early on in the race, which forced him into a stop for a new front wing. The loss that a pitstop of this nature entails unfortunately meant that he hit the blue flags much sooner than Jules and in this situation it was always going to be difficult to recover. He overtook him in the race but with such a big gap to Pic there was not enough time to reel him in. We leave Melbourne satisfied that we have definitely progressed over the winter. We should certainly never underestimate the midfield teams, however I think we've shown today that they are realistically within striking distance. As a team we must work as hard as we can over the next few races to seize the opportunity to be racing them. I'd like to thank everyone back at Banbury for their hard work, and also our engine supplier Cosworth. We are also very pleased to have had such a successful debut with the new KERS system."
McLaren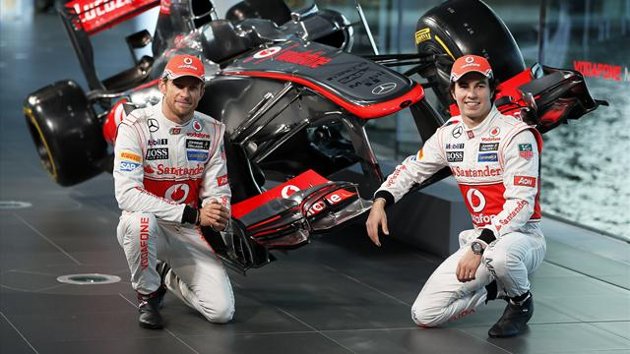 Jenson Button – 9th "Having won the Australian Grand Prix three times so far in my career – in 2009, 2010 and 2012 – you'd have to say that today's ninth place isn't really much to write home about. Having said that, I think we should be pretty satisfied with what we achieved here in Melbourne today. It was a tricky race, and our car isn't yet quick enough, so I think the team did a great job to achieve even as much as we did. As a result, I scored two World Championship points today, which makes 1001 in my career I'm reliably informed, and to be honest I don't think I could have scored any more than that. But, although that's a nice stat, it doesn't ease the pain caused by the knowledge that our car still needs a lot of work done before it's properly competitive. Looking forward to Malaysia next weekend, I think we've got a tough few days ahead of us, but hopefully we can now do some number-crunching in an effort to understand our car a bit better and extract a bit more performance out of it there."
Sergio Perez – 11th "That was a very, very tough race. I got a good start, which is always a bonus, but, after that, even though the team did a great job with the strategy, we just didn't have enough pace to make significant further progress. Having said that, I nearly managed to score a point, but in the end I couldn't quite get up to 10th place at the end. To finish 11th is never really satisfying, but I think Jenson and I both drove pretty good races today. In fact I want to say 'well done' to Jenson, who maximised the performance of his car really well to finish ninth. Our engineers are aware that our car isn't yet as quick as it needs to be, but I know I'm now part of the best team in Formula 1 so I'm certain they'll improve it fast. Going back to this afternoon's race, I don't think the Albert Park circuit suited our car very well – it accentuated its problems in fact – so I'm hoping we'll be able to put up a better showing in Sepang next weekend. Last but not least, today will always be a very special day for me, because it was the day I made my McLaren debut, which is something that every driver always dreams of. As I say, it would have been even better if I could have scored points, but that'll come soon."
Martin Whitmarsh, team principal "Jenson and Checo both drove very hard and very well today, in difficult conditions, making no errors, so I want to say 'bravo' to both of them. As always, Jenson managed the very challenging tyre degradation issues he faced quite brilliantly, his ninth-place finish pushing his career total of world championship points past the thousand mark: a truly remarkable personal milestone. Checo made a storming start from 15th place on the grid, surviving a very busy first few corners with an impressive mixture of forcefulness and diligence, and only very narrowly missed out on scoring a point on his Vodafone McLaren Mercedes debut. Believe me, very few 11th-place finishes have been harder earned or better deserved than Checo's was today. Having said all that, a ninth-place finish and an 11th-place finish don't constitute much of a result by our sky-high standards, and ultimately the 2013 Australian Grand Prix weekend must therefore go down as a disappointing one for all at McLaren. Our car simply hasn't been quick enough here, but undoubtedly our drivers and engineers got the maximum out of it this afternoon and you can't ask for more than that. Now the task that faces us is simple, if not easy: we'll work incredibly hard to bring more pace to the MP4-28′s performance envelope. Our engineers are the best in the business, so I'm confident that they'll do just that."
Mercedes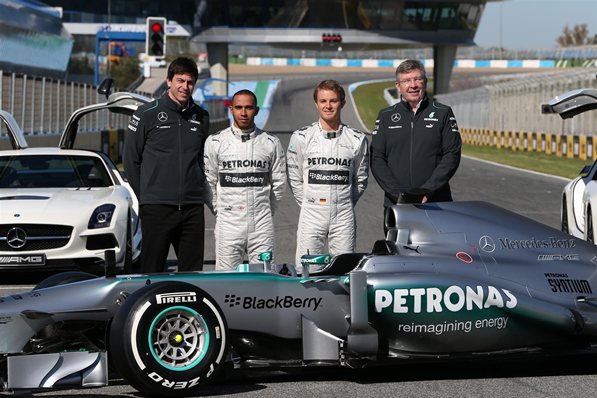 Lewis Hamilton – 5th "I'm happy with our result today and it's much better than we expected for the first race of the season. The car felt really good out there; I had a strong first stint and was able to make the supersofts last longer than most of the others. We'd planned for two stops but converted to a three-stop strategy during the race. I don't quite know where we lost the ground to the cars ahead so we'll have a look at the race again now and figure it out. The important thing is that we have a car that we can really work with and the team have done a fantastic job to get us to this position. Thanks to everyone here and back at base for their support over my first race weekend with Mercedes. Now we'll look forward to Malaysia next weekend and hopefully build on this positive start with an improved performance."
Nico Rosberg – DNF "An electric problem finished my race which was a shame as I was on a two-stop strategy and in a good position to score a decent result. There are lots of positives that we can take from the weekend however. The team have developed a solid car over the winter, I had a good qualifying pace and the car also ran well in the wet. It looks like we have started to close the gap to the front runners and we can build on that."
Ross Brawn, team principal "We had a very good opening stint of the race, making the supersoft tyre last until lap 13 for Lewis and lap 14 for Nico. That convinced us that a two-stop strategy was feasible this afternoon. However, the balance on the medium tyre was not what we needed. Having committed to two stops, and adjusted our pace accordingly to preserve the tyres, the decision to convert to a three-stop strategy compromised Lewis relative to those cars who had gone for three from the start. The behaviour of the tyres is something we will have to think about and understand over the next days. Nico was running strongly when he was forced to retire. We saw a drop in voltage from the battery and that stopped the car. Overall, we have made a good step with the car and learned a lot this afternoon. If we can put the pieces of the puzzle together, we have the ingredients to race well."
Red Bull
Sebastian Vettel – 3rd "I think you're always a little disappointed when you start first and don't finish first, but overall it was a good weekend for us. We had a good day today with a pole and a podium – but in the race we were a little too aggressive with the tyres and lost the front and the rears, while others did a little better. There are always areas where you can improve, but the result we got today is fair. We didn't see Kimi on the track, he was too quick and Fernando jumped us at a vulnerable time – but we can be happy with third." Mark Webber – 6th "We had a few issues on the grid, getting the telemetry from the car to the pits, which wasn't ideal in terms of the guys knowing where to set everything up for the start. We lost KERS also for the first part of the race. It looked like we were quite heavy on the first set of tyres and we weren't that quick to challenge for the win as a team today. We had a slow pit stop (which was due to a front jack failure), which put me behind Jenson. We salvaged something in the end, but that was Melbourne today and it was disappointing not to get more out of it. It was hard to fight against others on a two-stop."
Christian Horner, team principal "Starting from the front row, third and sixth obviously wasn't the result we were targeting, but all things considered with the way that the race panned out, I think it was the optimum we could achieve. Lotus seemed very light on its tyres, with Kimi being able to make a two-stop race really work for him. I think in the cooler conditions today we weren't in the optimum window with these tyres, but nonetheless it was a very positive start to the Championship with a podium finish and a sixth place. Mark made a good recovery after a difficult start and an ECU related KERS issue in the first part of the race. We managed to reset the system and his recovery was strong from then on. We leave this race knowing we've got a good car and we're looking forward to warmer temperatures in Malaysia next week."
Sauber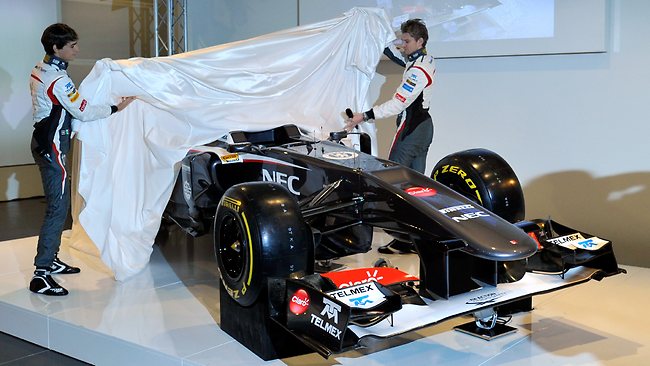 Nico Hülkenberg – DNS "I'm bitterly disappointed about what happened today, but at the same time I'm not blaming anyone. Things like this happen in racing. What is particularly bothering me is the fact that I lost all this mileage today, which is so important particularly at the beginning of the season. It would have given me a lot of valuable data and information for the next races. Obviously, Melbourne is not a good place for me. It was my third Grand Prix here and the third time that I leave this place empty handed. The only good thing is that the next race takes place next weekend."
Esteban Gutiérrez – 13th "My main goal was to finish the race, and to achieve that is really enjoyable. I want to thank the whole team, because yesterday in qualifying we had a good chance and today we were able to recover some of what we lost yesterday. We have a good base and in the future we will try and push forward."
Monisha Kaltenborn, team principal "This was not the way we expected the new Formula One season to start, particularly after things looked quite good in the free practice sessions. The problem with the fuel system was unlucky, particularly at this point in the race weekend. We are very sorry for Nico. Esteban drove a solid first race, however, starting from P18 was too much of a handicap for him. I'm confident we will solve the problems we had and that we will be in better shape in Malaysia."
Toro Rosso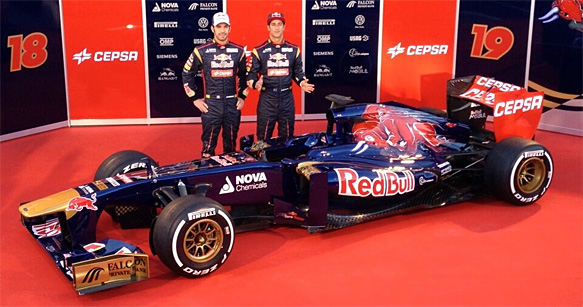 Jean-Eric Vergne – 12th "It was a hot start, I was pushed to the outside and I ended up going through a gravel trap at one point. After that, the first stint on the Option was only average, but the last two sections on the Prime tyre were very good and competitive and I was even in the points for a couple of corners right at the end, but as I passed Grosjean I flat-spotted my two front tyres and overshot my braking point when I tried to chase Button. Overall, I think the weekend showed we have a good car with which we ought to be able to go hunting for points in every race. So I'm disappointed at not scoring here, but my hopes for the coming races are now higher than when we first started this weekend. I think that fundamentally, we have a good car."
Daniel Ricciardo – DNF "In the end I had to retire with a problem linked to the exhaust. I reported back to the pit wall that I could hear strange noises and I tried to fix it by changing a few functions, but it was not to be. At the start of the race, I struggled to find grip and it felt like I was driving on ice, as it took a very long time to warm up the tyres. But afterwards, after about ten laps, I got up to speed and my lap times were not too bad, but by then I had lost too much time in the early stages. I think we have more homework to do when it comes to the tyres. Not the ending I wanted for the first Grand Prix of the season, especially here in my home race."
Franz Tost "To look at the positive aspects of this opening Grand Prix first, our car proved to be very competitive in the wet, both our drivers performed well from Friday onwards and, by Sunday afternoon, we had also managed to improve the pace of the STR8 in the dry. However, on the negative side, we missed an opportunity to qualify better this morning, when we did not choose the best tyre strategy and this afternoon, Daniel struggled to find any grip in the early stages and was then forced to retire with a reliability problem. From 13th on the grid, Jean-Eric drove hard to try and get in the points, but was unable to do so. This performance does not reflect our true potential and we must do better, starting in a few days' time in Sepang."
Williams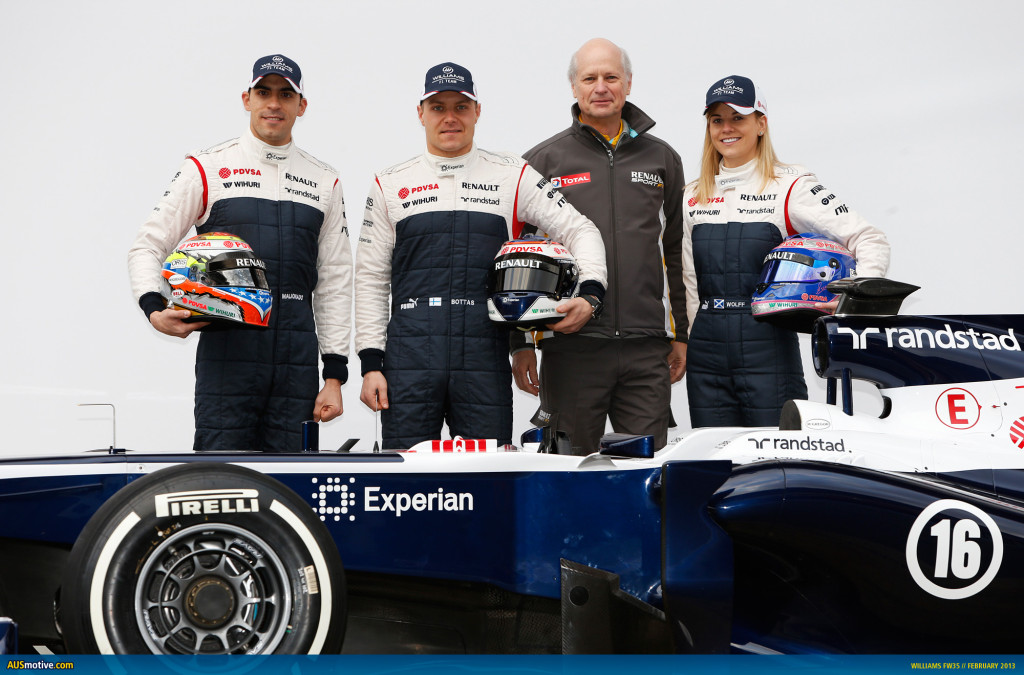 Pastor Maldonado – DNF "It was a disappointing end to a difficult weekend for myself and the team. The car was not responding as we hoped in the conditions today and unfortunately I lost the back end and ended up in the gravel. We need to work hard to solve the problems in the car to be ready for the next race in Malaysia." Valtteri Bottas – 14th "I had a good start from my grid position and it felt great to be back racing again. A small mistake a few laps in cost me some places though. We got the maximum performance we could from the car today and although the pace isn't there yet, there are still some positives to take away. The next race is only a week away, so we will work very hard to prepare as best we can and try to score our first points of the season."
Mike Coughlan, technical director "It was a difficult race for us. We opted to try two different strategies starting Valtteri on the supersoft option tyre and Pastor on the medium prime. In the end, I don't think one strategy would have had a big difference in benefit over the other. It was good that Valtteri was able to bring the car home in his first race, but we have work we need to do now as a team to improve the performance. We have some ideas we are taking forward to the next race so we'll be pushing hard in Malaysia."