Australian Grand Prix: Qualifying round-up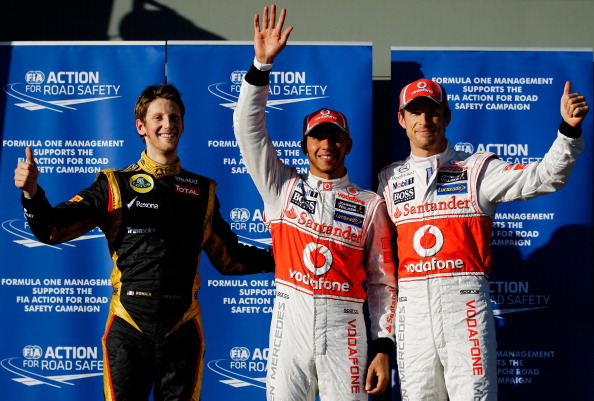 Qualifying at Albert park for the opening race of 2012 formula one season is completed. Times tumbled, expectations got trashed and as the chequered flag waved for the final time on Saturday, the starting grid for tomorrow's race emerged with a promise of an exciting Sunday afternoon.
After the platypus noses, the most noticeable thing on track today was the number of drivers braking late at turns 1-2 and 9-10 chicanes. Everyone had a go at the grass on the outside of turn 1, with Lewis Hamilton ploughing out most of the muck of all the drivers in Q1. Apparently, Fernando Alonso, never one to lose a chance at going one-up ahead of Lewis, decided to better Hamilton in Q2. Result? a Ferrari pointing towards the wrong way in the gravel trap off turn 1. If that wasn't enough, Felipe Massa who had started FP1 with a spin, couldn't make it out of Q2 either, leaving both Ferraris cooling their wheels after Q2. The Ferrari package itself seems to be off the peak pace, but the difference between Alonso [P12] and Massa [P16, with a few more go's at Q2 than Alonso] doesn't bode well for their Constructors' title bid. The prancing horses need to find some pace, and quick.
The attrition of the World Champion club though, had started well before Alonso's exit. The returning Kimi Raikkonen seemed to have one last timed run to go at the end of Q1, when a mistake at turn 12, saw him fail to start his flying lap before the chequered flag came out. With Romain Grosjean finishing P3 in Q1, it proved to be a grave error by Lotus and Raikkonen to hold back for that extra minute before going out for the last run in Q1. That means Raikkonen will start from P18, in a Lotus that Romain Grosjean [P3] with his remarkable skills has demonstrated to have the pace to challenge a few of thee front runners, let alone other mid-fielders. I, for one would be looking closely at the no. 9 Lotus coming off the starting grid. On the same note, Romain Grosjean's heroic run to P3 in the final qualifying, beating both Red Bulls and Mercedes cars is no mean feat. Lotus had shown good pace at the beginning of the 2011 season as well, but as the season progressed, they were left a long way behind by the front runners. Lets hope they can keep up this time around and make it an even tighter contest for both the championships.
Q3 also saw the old master of F1, Michael Schumacher getting his campaign to a good start, going P2 for a brief moment, before finishing at P4, ahead of his teammate Nico Rosberg, who starts P7. Rosberg's pace has been somewhat unsettling for Schumacher who has found it difficult to consistently finish ahead of his young teammate. The Mercedes engine is the most powerful engine on the grid this season, and team Mercedes also seem to have put together a decent car.  McLaren, also running the Mercedes engine seem to have retained the momentum they picked up towards the end of last season. They certainly have the best looking car on grid, and Hamilton's dominant performance to snatch pole today, followed by an equally strong Jenson Button on P2 puts them in the best place for tomorrow's race.
The Red Bulls though, seemed to have a subdued run in qualifying. Mark Webber nailed his only Q3 run to finish P5 after holding on to P2 for a long time. However, the late late charge from Sebastian Vettel that we were so used to seeing all through last season where it would take one late flying lap from Vettel to lock out Pole, never came today. Vettel made his share of mistakes and a lowly [by his standards] P6 is all he could manage. Both Red Bull Racing cars will start on Row 3.
When the red lights go out tomorrow, it will be most fascinating to watch the cars funneling down through turn 1. Lewis Hamilton would be the favourite to take the opening win, but the progress of Raikkonen, Alonso and Vettel from the back, mid and almost-mid field is sure to provide a lot of highlights through the 58 Laps of the 2012 Australian Grand Prix.